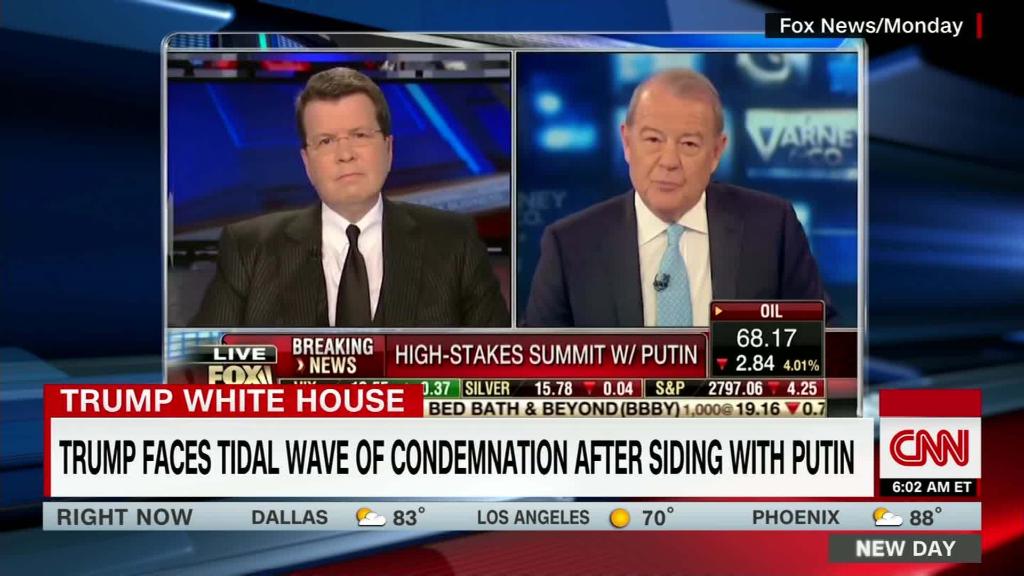 The "daily" White House press briefing is a thing of the past.
The White House has only held three on-camera briefings in the past 30 days, according to the administration's own records on WhiteHouse.gov.
Press secretary Sarah Sanders' most recent briefing was on July 2, more than two weeks ago.
Since that time, EPA administrator Scott Pruitt has resigned; Bill Shine has started working as Trump's new communications chief; Trump has nominated a new Supreme Court justice; he has assailed America's alliances and sidled up to Russian president Vladimir Putin; and the administration has struggled to reunite parents and children who were separated at the southern border.
In other words: There's a lot for the press corps to ask about.
Sanders did not respond to a request for comment about the press briefing drought.
But there will be a briefing on Wednesday. Not long after this story was originally published, the White House added a 2 p.m. briefing to the schedule. While Sanders tangles with the press, Trump will sit down with CBS' Jeff Glor for an interview that will air on the network's "Evening News" broadcast Wednesday night.
Related: Trump finds few defenders as news media covers his 'betrayal'
The lack of a briefing was especially glaring on Tuesday, when Trump and his aides returned from a long trip to Europe. Journalists were clamoring to ask about Trump's widely criticized treatment of Putin. But no briefing was held, and Trump did not take any questions during an attempt to clean up his pro-Russia remarks from the day before.
The pros and cons of the briefing format have been debated endlessly. (I'm not going to rehash it all here!)
Suffice it to say, press briefings matter for both symbolic and practical reasons. Symbolically, televised briefings show that the White House is open for business and willing to answer questions. And on a practical level, briefings are an efficient way for the administration to address a numerous topics and engage with a wide variety of news outlets.
In practice, it doesn't always work. Deflections and downright laughable spin have been staples of White House briefings for decades. But past administrations held the briefings more often than Trump's White House has.
Beat reporters say several things have changed in the briefing room in the Trump age. The briefings take place less frequently; they tend to be short; and relatively uninformative.
In private, some members of the press corps call Sanders' briefings "useless," citing her evasive responses and combative stance. But they still care about the existence of the briefing. The sessions should be a chance to glean accurate information, challenge government stonewalling, and hold elected officials accountable.
So why the drought right now? Well in some ways it's a continuation of a trend that Chris Cillizza observed in May. He said the White House is "increasingly disinterested in answering questions from reporters in any sort of structured environment."
Related: Trump ratchets up 'fake news' rally cry overseas
The press briefing schedule bears that out.
In the past 30 days, there were briefings on June 18; June 25; and July 2. In between, there were also a few off-camera "gaggles," typically aboard Air Force One.
Trump has had a busy travel schedule, and that's always a factor when counting the number of briefings.
And he has held several news conferences, both formal and informal, in recent weeks. But that fact doesn't preclude the White House from holding regular briefings.
Shine's arrival may be a factor as well. His appointment as deputy chief of staff for communications was announced on July 5. He may have brought a new point of view about the value of briefings.
But the biggest factor is probably the one that's visible to everyone: The White House is in a constant state of crisis. Trump routinely contradicts himself, distorts the truth and sparks world-rattling controversies. Sometimes he undercuts in tweets the things that Sanders says at her briefings. And his frequent cries of "fake news" are evidence that he doesn't care about the work the press does to inform the public.
With that as the backdrop, the briefing is becoming so brief that it's almost nonexistent.