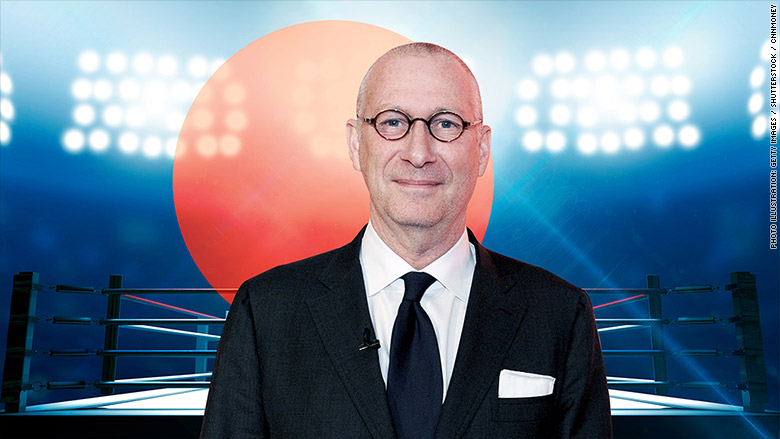 Scoop: Netflix CEO Reed Hastings is writing a book about Netflix and the secrets to its success, an industry source tells me. The book will be co-authored by business writer Erin Meyer and offer a behind-the-scenes look at Hastings' leadership strategy and the company's culture. It has been sold to Ann Godoff's Penguin Press and will publish sometime next year.
Sign of the times: More Brits now subscribe to streaming platforms like Netflix than traditional satellite and cable services.
---
The Stream: A 'Netflix of Sports'
Former ESPN chief John Skipper, now the executive chairman of Perform Group, is bringing a sports-only streaming service to the United States.
The Big Picture: Sports, one of the last assets keeping broadcast and cable alive, is slowly -- so, so slowly -- moving to streaming. Amazon, Facebook and YouTube have experimented with rights to NFL and MLB games while companies like ESPN and Turner have introduced their own streaming services.
Perform's DAZN will be the US' first sports-specific streamer:
• Skipper announced Tuesday that DAZN, pronounced "The Zone," will launch in the US on September 10 and cost $10 a month.
• DAZN will start with exclusive rights to more than 70 boxing and MMA events and plans to expand to other sports down the line.
• Perform Group hired Michael Buffer, the man behind the famous "Let's get ready to rumble" call, to introduce fight nights.
Will It Work? It's early days. Sports streaming still pales in comparison to traditional TV, which has multiyear rights to the biggest events.
But that could change once the rights come up for sale: The first big year will be 2021, when Major League Baseball, NFL's "Monday Night Football" and the UEFA Champions League all go up for sale.
Silicon Valley has a major financial advantage over Hollywood, so if it really wants those rights it can probably get them.
Oh, and .... Sports rights are likely to become even more valuable now that the Supreme Court has enabled states to legalize sports gambling.
---
Today's PACIFIC
Good morning. Today on Golf Channel: The British Open. Tonight on ABC: The ESPYs.
Tonight in San Diego: Comic Con, the annual conference for fantasy, sci-fi and comic book fans, kicks off with a media preview. One Hollywood insider describes it as the event "where a few hundred thousand geeks decide what's big and what's nothing in pop culture for the year ahead."
---
Brussels Tussle: EU fines Google $5.1b
The European Union has hit Alphabet's Google with a record $5.1 billion fine for abusing its power in the smartphone market.
Margrethe Vestager, the EU antitrust chief and the face of Europe's efforts to combat big tech, says Google is disadvantaging competitors by forcing smartphone makers to favor Google search and the Chrome browser over others:
• "In this way it has cemented the dominance of its search engine," Vestager tweeted. "Denying rivals a chance to innovate and compete on the merits. It's illegal under EU antitrust rules. @Google now has to stop it"
The Big Picture: The EU's aggressive regulation of antitrust, data privacy and other issues has forced big tech to price in fines as the cost of doing business in Europe. Companies like Google can afford the penalties, but as one tech exec told me recently, "losing billions of dollars never feels good, no matter how much money you have."
What's Next: Google CEO Sundar Pichai says the company will appeal. In a blog post, he argues that the company's operating system has given smartphone makers, app developers and consumers more choice, not less.
---
Future of Retail: Walmart wants streaming
Walmart, which is already at war with Amazon in brick-and-mortar retail and delivery, both at home and abroad, is now in talks to launch a subscription streaming video service to compete with the Amazon Prime Video, The Information reports:
• Walmart "sees an opportunity to undercut Netflix and Amazon on price [with] a service priced below $8 per month."
• "Walmart executives believe their customers, particularly in the middle of America, would be interested in a lower-cost option than what is currently available ... Netflix and Amazon are seen as more popular with people on the [coasts]."
The Big Picture: "Launch of a subscription service would be a major expansion in entertainment. In taking such a step, Walmart would join numerous tech and telecom companies that see TV shows as a way to attract customers."
Bonus: Over at Axios, Sara Fischer notes a larger trend:
• "Mass market retailers and grocers are developing their own content and advertising businesses to compete with legacy media:"
• "Ad-serving and video creation has become so democratized that any company with an audience is now able to steal advertising dollars or content budgets away from traditional media companies."
---
What Hollywood is Reading
• The Hollywood Reporter's new cover story on entertainment industry jitters in the age of disruption, consolidation and Trump.
• Variety's new cover story on Steph Curry's foray into Hollywood.
---
At The Movies: A 'Skyscraper' theory
Sonny Bunch, The Washington Free Beacon's executive editor and film critic, says differences between 1988's "Die Hard" and 2018's "Skyscraper" -- two films with a remarkably similar plot -- tell us how America and the film industry have changed:
• Militarization: "Bruce Willis's John McClane was, more or less, your average cop. ... [Dwayne] Johnson's Will Sawyer [is] a member of the elite FBI Hostage Rescue Team, fully militarized and heavily skilled ... a reflection of the way our police forces have been militarized over the past few decades."
• China-fication: "The action has moved from Los Angeles to China ... a reminder that, for Hollywood ... the foreign market is king now, and even if American stars are still needed to put butts in seats, the real action is overseas."
• Genericization: "Skyscraper's villain is ... just a bland, inoffensive, apolitical white guy looking to do evil. ... Part of the appeal of Hans Gruber ... in 'Die Hard' was the manner in which he feinted at social relevance, initially posing as a leftist revolutionary."
The Big Picture: "Skyscraper" is "a somewhat depressing sign of our cinematic times: generic action scenes and bland villains with boring motivations, all designed to appeal to a global audience that asks little of its action films."
---
What Next: Netflix's first look at "Narcos: Mexico," which will launch as a new original series later this year, via THR.
See you tomorrow.