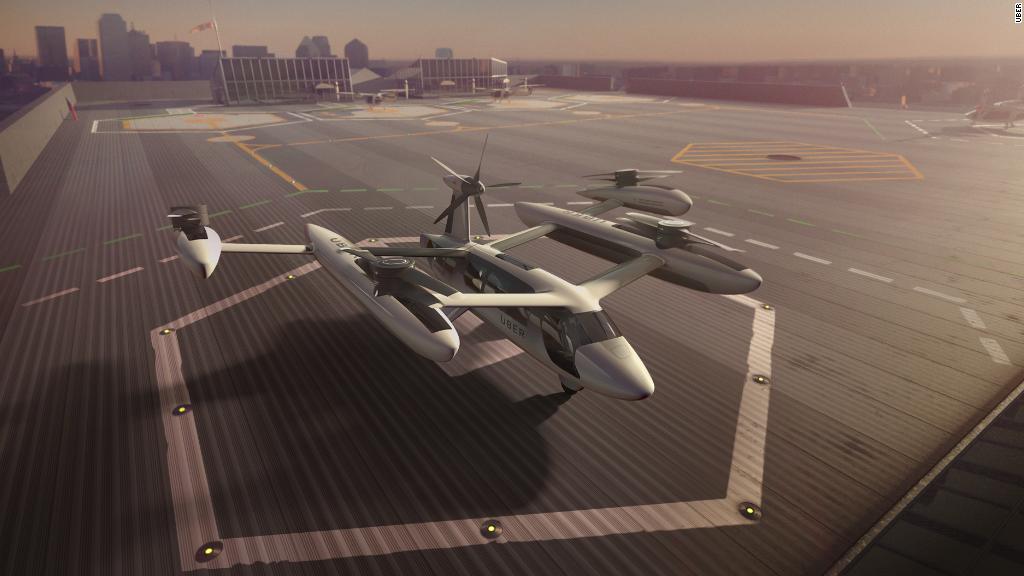 Six months after jumping into the bikesharing game, Uber has made a fascinating discovery: New riders taking a spin on its red Jump electric bikes in San Francisco are more likely to continue riding the bikes instead of hopping in one of its ubiquitous cars.
In other words, Uber is disrupting itself -- and the company says it couldn't be happier about it.
"This is having a positive impact on the things cities care about, notably congestion and reducing carbon," said Andrew Salzberg, who leads transportation policy and research at Uber. "Those [things] are exciting."
Uber isn't alone in feeling that way. Mobility advocates said Uber's findings show people will happily take two wheels instead of four if given the chance -- something the company hopes will lead cities to loosen restrictions on bikeshare fleets.
Uber started dabbling in e-bikes in February when it first allowed users to book rides on a Jump bike through its app. As of July 1, overall trips by new Jump riders on the Uber platform climbed 15%, even as their trips in cars and SUVs declined 10%.
The greatest shift away from cars occurred each weekday between 8 a.m. and 6 p.m., when traffic congestion is at its worst. Uber and Jump anticipated that, figuring that passengers would seek alternatives to slogging through gridlock in a car.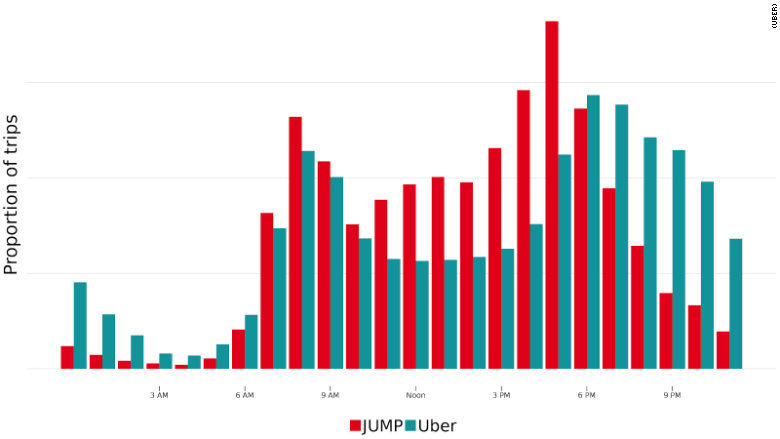 "This validated a lot of things we thought would be true and hoped would be true," Jump Bikes CEO Ryan Rzepecki said. "To see an increase in the overall engagement with the Uber platform was positive, and to tangibly see a mode shift happening."
Related: The case for bikes' inevitable triumph over cars
Uber, which acquired Jump in April, expects to see similar findings in the five other cities where it offers e-bikes. Many of those cities strictly limit how many bicycles bikeshare outfits can provide. Uber hopes those cities might ease their restrictions once they see how startups such as Jump can ease congestion and reduce pollution.
"People who are serious about moving people more efficiently and fighting congestion should be leaning into the idea of allowing modes like bikes and scooters to be prevalent," Salzberg said.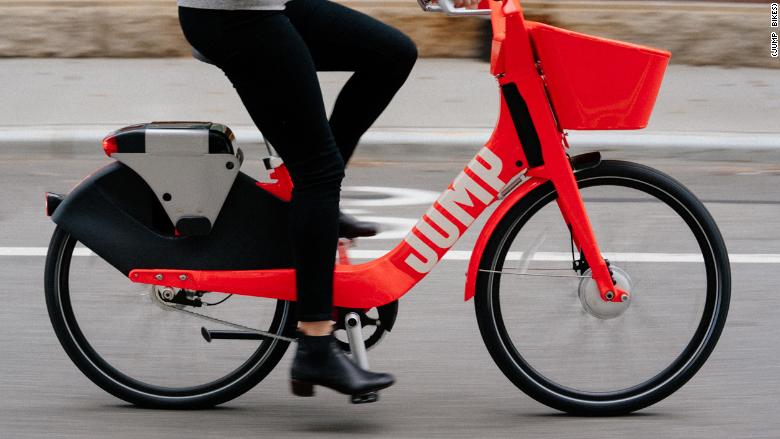 Transportation experts said Uber's data underscores the potential of electric bicycles to remake cities.
"There's this incredible opportunity to get us to choose smaller footprint, zero emission vehicles which are way better for cities, people's budgets and environmentally," said Robin Chase, who co-founded Zipcar and helps lead the World Resources Institute's new mobility efforts. 
Related: Electric bikes emerge as a hot trend in the US
Uber isn't alone in embracing e-bikes. Its biggest rival, Lyft, purchased bikeshare startup Motivate this month, and plans to introduce more bikes and scooters. And then there are all the scooter-sharing outfits popping up lately. Bird and Lime have raised money faster than Uber and Lyft did in their early days.
Gabe Klein isn't terribly surprised by this. Klein, who co-founded the transportation consulting firm CityFi after leading the Chicago and Washington, D.C., transportation departments, said he recognized the transformative potential of Jump's electric bikes the first time he rode one. He has since bought two electric bicycles of his own.
"People are realizing vehicles can be much smaller and simpler and electric," Klein told CNNMoney. "You don't need a giant GMC Suburban for a trip under a mile."
More and more Uber riders seem inclined to agree.