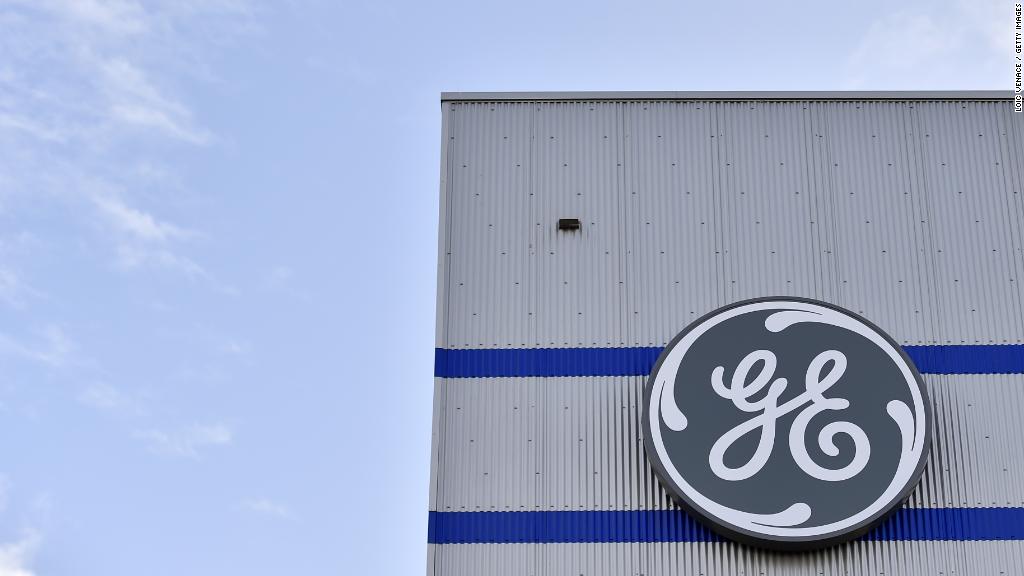 General Electric is transforming itself for the future, but the iconic company is still dogged by major problems from the past in its power division.
Profit at GE Power plunged 58% during the second quarter as orders for gas turbines tumbled, GE (GE) said on Friday.
The slump at GE Power, the company's largest division by revenue, underscores the challenges facing GE even as the company breaks itself apart by selling off its rail, health care, light bulb and other businesses.
GE's power struggles drove overall earnings down by 30% last quarter, offsetting strength in aviation and health care. And GE said it expects its 2018 free cash flow to be at the low end of its forecast.
After initially rising, GE shares dropped 4% on Friday. GE has lost about a quarter of its value this year.
"The biggest challenge we face continues to be working through the turnaround of our power business," GE CEO John Flannery said during a conference call on Friday.
Flannery said demand for orders has been soft, pressuring GE's cash flow and working capital.
GE Power has been caught unprepared for the rapid rise of renewable energy. Power plants are switching away from fossil fuels like coal and natural gas in favor of wind and solar.
Related: Meet the new GE: It's a shell of its former self
The good news is that many on Wall Street feared worse results from the company, which was recently kicked out of the Dow. GE managed to grow overall revenue by 3%, driven by strength in aviation and oil and gas. And despite the continued trouble at GE Power, management maintained its earnings outlook for the rest of the year.
GE is also making progress with slashing costs in an effort to stabilize the company. GE said it has already cut $1.1 billion of industrial costs this year and it's on track to exceed its goal to save $2 billion. Much of that belt tightening has occurred at GE Power, which announced plans late last year to cut 12,000 jobs.
Flannery pledged to fix GE Power urgently, but he cautioned that it won't be a smooth or quick turnaround.
"It's going to be a multi-year fix, with some volatility," he said.
Of course, power isn't the only part of GE that's hurting. Profit declined by double digits as GE's locomotive division as well. Even renewable energy, which is primarily onshore wind, suffered a 48% plunge in earnings as orders declined and prices slumped.
The bright spot at GE remains aviation, which makes and services jet engines. Profit, revenue and orders all rose solidly. GE said equipment orders spiked 62% thanks to strong demand for its GEnx and LEAP engines.
Related: Inside the dismantling of GE
GE downplayed concerns about the trade war with China, where the company makes about $7 billion per year in revenue. GE also imports roughly $2.9 billion of parts from China that are ultimately re-exported as MRI machines, jet engines and wind turbines.
"We don't see a major impact yet financially," Flannery said, adding that he's "watching this carefully."
GE estimates that the gross impact from tariffs could be $300 million to $400 million, before the company takes mitigating steps to shield itself. One option: GE said it could adjust its supply chain to avoid tariffs.
While GE is "built for fair and open trade," Flannery said he hopes and expects the trade standoff to "reach a sensible negotiated conclusion."
Last month, GE announced plans to shrink itself by saying goodbye to its health care, oil and gas and locomotive businesses. It was a dramatic shift for one of America's great conglomerates.
GE has promised to use the cash to pay down a mountain of debt and simplify a company that grew far too complex in recent years. At one point, GE owned everything from an appliance business and NBC to one of America's biggest banks.
"We are progressing on our plans to make GE simpler and stronger," Flannery said on Friday.