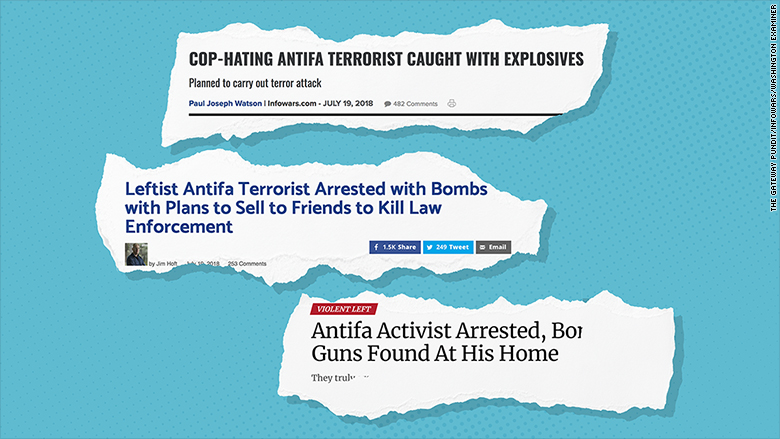 After he was arrested earlier this week by authorities in South Dakota, Mark Einerwold immediately became a character in an ongoing narrative within conservative media, where he was depicted as the latest example of a left-wing domestic terror threat.
Headlines from a variety of right-leaning outlets asserted that Einerwold was a member of "Antifa," the radical anti-fascist group that has reportedly been accused of domestic terrorism by the Department of Homeland Security and has been the subject of stories on the likes of Fox News and Breitbart.
Einerwold was arrested on Tuesday in Sioux Falls, South Dakota, on burglary charges for thefts in surrounding communities. Law enforcement there said they found bomb-making materials and illegal guns in his home, as well as a two-page anti-government document and a jacket that contained the word "Antifa" in his car.
But a cursory glance at Einerwold's Facebook account suggests that he is anything but supportive of Antifa. The profile is littered with pro-Second Amendment memes, and posts that lionize the American flag and criticize welfare recipients.
His "likes" include the Tea Party, online conservative personality Graham Allen and the pro-police movement Blue Lives Matter. Just last month, in fact, Einerwold posted a news report about Antifa -- though he hardly endorsed the group. "This is what the social justice looks like," he wrote. "These are the people taking over our campuses. They are militant, they are dangerous."
Minnehaha County Sheriff Mike Milstead told CNN that local reporters spotted the jacket as police removed it from Einerwold's vehicle.
The day after the arrest, Minnehaha County Sheriff's Captain Jason Gearman said at a press briefing that the "association with Antifa really concerns us."
Milstead said the jacket remains Einerwold's "only link" to Antifa, but that singular detail soon echoed throughout the right-wing media sphere.
The fringe website Gateway Pundit picked up on the story, running the headline: "Leftist Antifa Terrorist Arrested with Bombs with Plans to Sell to Friends to Kill Law Enforcement." The conspiratorial website InfoWars ran a similar headline for a story written by editor-at-large Paul Joseph Watson: "Cop-Hating Antifa Terrorist Caught With Explosives." And the narrative was pushed by Laura Loomer, a far-right personality, who claimed that Einerwold is representative of the anti-Trump movement.
"This is the 'resistance' the Democrats keep telling you to become a member of!" Loomer tweeted to her 196,000 followers.
Jim Hoft, the proprietor of Gateway Pundit, could not be reached because his voicemail inbox is full. Watson did not respond to a request for comment.
Loomer, who tweeted out a piece about Einerwold that was published by Big League Politics, responded to a direct message on Twitter by pointing out that she "didn't write the story."
She said in a subsequent message that she would cover the matter even if Einerwold turned out to be a supporter of President Donald Trump.
"It's all newsworthy," Loomer said. "We shall see."
Luke Rohlfing, the author of the Big League Politics story, did not respond to a request for comment.
Meanwhile, Einerwold's brother, Bob, insists that all of these descriptions are wildly off the mark. "He's conservative, he's pro-gun rights," Bob Einerwold told the Argus Leader of Sioux Falls. "He can't stand liberals." As for the Antifa" jacket, Bob said, "He didn't wear it out of pride, I can tell you that."
Bob Einerwold could not be reached for comment.
In an interview with CNN on Friday morning, Milstead said the coverage of the arrest went beyond the scope of his department's current findings. He said investigators are aware of Einerwold's social media footprint.
"We never definitively said he's a terrorist but that's what's being reported in some places," Milstead said. "We don't know what his intent was."
"It's something that we've learned is uncontrollable," he said of the media coverage. "People will take stories and it's a little like uncontrolled filtering; it gets changed every time it's told. But that's something we have no control over. We're in the middle of an investigation."