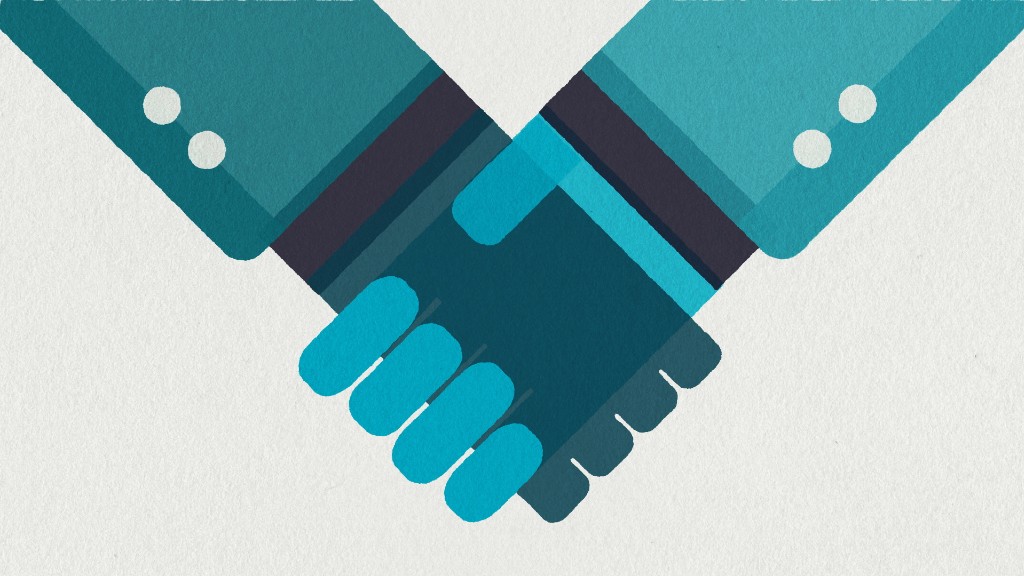 Europe is hoping crunch talks with the United States this week will head off the threat of car tariffs and a transatlantic trade war.
But expectations for the meeting between President Donald Trump and European Commission President Jean-Claude Juncker could hardly be lower.
"Anything short of an outright disaster would be considered a success," Judith Lee, an international trade lawyer at Gibson Dunn, said of the talks scheduled for Wednesday in Washington.
The United States has put tariffs on aluminum and steel imports from the European Union, and the bloc has retaliated with new taxes on American products. Trump is now threatening to hike tariffs on cars and auto parts from the European Union to 20%.
EU trade commissioner Cecilia Malmström, who is also making the trip to the United States, said the purpose of the trip was to lower the temperature.
"The aim of President Juncker's visit is to try to establish a good [relationship], try to see how we can deescalate the situation ... and see if there's a forum where we can discuss these issues," Malmström said on Thursday.
Related: Europe and the US have the world's most important business ties
The United States and European Union have the world's largest bilateral trading relationship, worth over $1.1 trillion a year. But some analysts say that Trump will continue to chip away at the vital business link.
"Everybody expects Trump to carry on imposing more tariffs," said David Henig, a trade expert and director at the European Centre for International Political Economy.
Trump has not adopted a conciliatory stance ahead of the meeting, tweeting his reaction this week to an EU antitrust ruling that went against Google (GOOGL).
"I told you so! The European Union just slapped a Five Billion Dollar fine on one of our great companies, Google. They truly have taken advantage of the U.S., but not for long!" he said on Twitter.
On Friday, he accused Europe (and China) of keeping their currencies artificially weak while the dollar strengthened, "taking away our big competitive edge."
'I don't know if it would work'
Top White House economic adviser Larry Kudlow said Wednesday he expects Juncker to bring a "very important free trade offer."
But it's unclear whether the European Union will be able to offer concessions that would satisfy Trump. The bloc would be looking for the United States to make concessions as part of any deal.
The European Union charges a 10% tariff on cars imported from the United States. But 85% of cars assembled in the United States and sold in Europe are exempted because they contain European parts. The United States charges a 2.5% tax on cars imported from Europe.
Malmström said Thursday that the bloc would consider "outside the box" solutions including an effort to coordinate with other major auto-producing nations to lower tariffs on cars produced in the United States.
"It is one idea of many. I don't know if it would work at all," she said.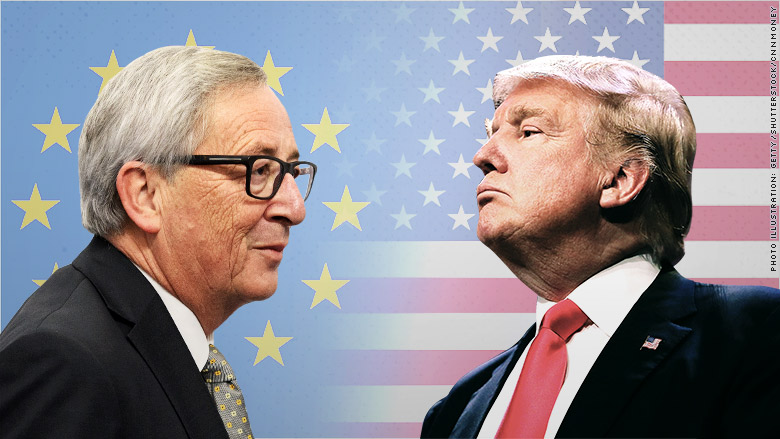 The United States has already turned down an EU offer to slash its car tariffs during talks over the steel and aluminum tariffs, and analysts have warned that offering further concessions could have negative consequences.
"As soon as we give in ... on cars, he'll smell blood in the water and move on to the next [thing]," said Ross Denton, a trade expert and partner at Baker & McKenzie in London.
While tensions continue to simmer, US Treasury Secretary Steven Mnuchin struck a measured tone over the weekend at a meeting of finance ministers of the world's 20 biggest economies.
"I don't take away that we are divided," said Mnuchin, who held bilateral meetings with finance chiefs from countries including France and the United Kingdom. "We had good conversations. We have trade disputes that we are trying to resolve."
'Beyond economic rationalities'
Trump has framed his trade actions as part of an effort to shrink the US trade deficit and boost its exports.
About 35% of the US trade deficit is attributable to auto imports, according to analysts at UBS. The European Union, which is home to Volkswagen (VLKAY), BMW (BMWYY) and Mercedes owner Daimler (DDAIF), exports over €50 billion ($58 billion) in cars and auto parts to the United States each year.
But analysts say that lower tariffs would do little to shift the trade balance.
"Americans love European cars... Do Europeans like American cars, generally? Not so much," said Denton.
Carsten Nickel, a research director at Teneo Intelligence, said that lower car tariffs might please Trump, but they probably wouldn't translate into any real economic benefit.
"The story here goes beyond economic rationalities," he said.
Malmström said that work is already underway on a list of American products that would be hit if Trump moves ahead with the car tariffs.
The bloc warned earlier this month that nearly $300 billion of US exports could be hit by retaliatory tariffs if the Trump administration decides to penalize automobile imports from around the world.