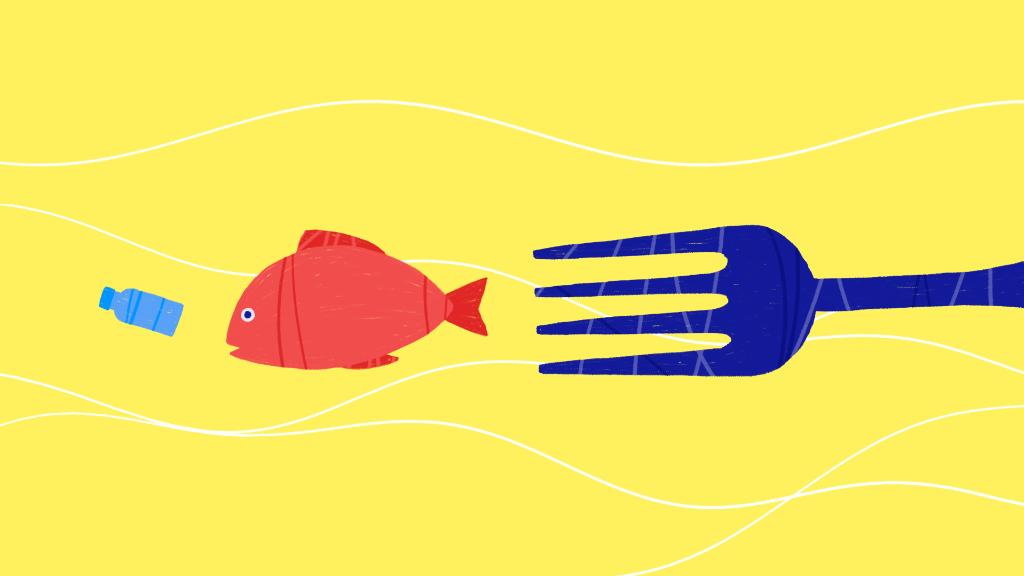 People are turning against plastic straws. Christina Ramirez wants them to think about another piece of plastic they use every day -- the toothbrush.
The movement to ban plastic straws is being backed by big businesses like Starbucks (SBUX) and McDonald's (MCD).
"I've been waiting for this moment for years," said Ramirez. "Plastic is bad for the environment and for your body because of chemicals in it. Why would you want to put it in your mouth?"
She isn't referring only to straws.
Ramirez is an entrepreneur. Her startup, Plus Ultra, has been on a mission since 2012 to raise awareness about another throwaway plastic item -- toothbrushes— and replace them with toothbrushes made from bamboo.
She launched Plus Ultra while working as a Whole Foods team member in Venice Beach, California.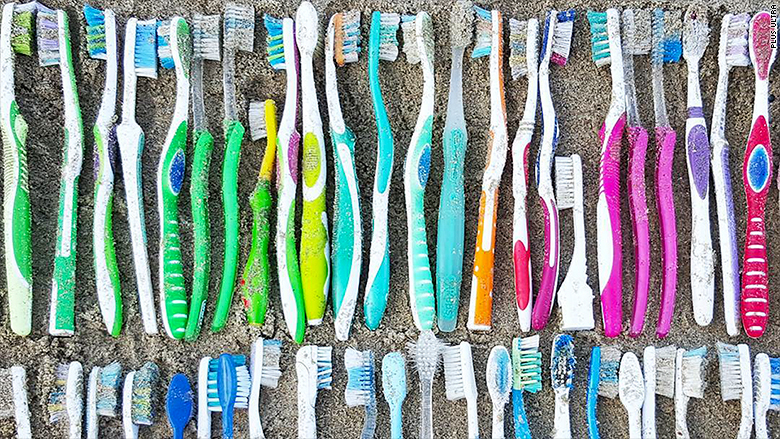 But the idea for it had been percolating in her mind for even longer, going back to a college paper she wrote as a global studies major at University of California, Santa Barbara.
It was about reducing plastic waste by reimagining the conventional toothbrush in an eco-friendly way by replacing the plastic handle with a naturally grown, biodegradable material like bamboo.
Today, the Plus Ultra bamboo toothbrushes she debuted in 2012 are sold in more than 320 retail stores in 22 states, including Whole Foods and Amazon.
"Just like plastic straws, we use toothbrushes several times a day. Just like straws, they end up in landfills and oceans and we don't think about their harmful impact," said Ramirez.
So while the world's attention is on the perils of plastic straws, she wants toothbrushes to quickly become the other shoe to drop in the race to curb the buildup of millions of tons of global plastic waste.
The quantity of plastic in oceans is expected to triple in a decade. Around 150 million tons of plastic are already floating in our oceans -- with an additional eight million tons entering the water each year, according to the World Economic Forum.
It's estimated that by 2050 there will be more plastic than fish in our oceans.
Related: Starbucks is eliminating plastic straws from all stores
Ramirez said her Sherman Oaks, California-based business has sold hundreds of thousands of bamboo toothbrushes in the United States (she won't provide the specific number for competitive reasons).
She estimates those purchases have helped keep at least 1,000 tons of plastic waste from entering landfills and oceans.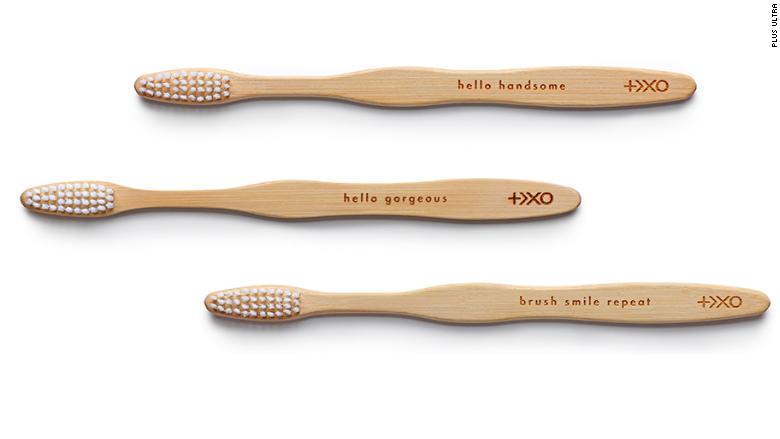 According to advocacy group Plastic Pollution Coalition, consumers on average will use 300 toothbrushes during their lifetime (4 toothbrushes per year). Each of us will also throw away about 12 pounds of plastic toothbrushes in that time.
"These discarded toothbrushes aren't recycled and they don't biodegrade," she said.
The Plus Ultra bamboo toothbrush isn't recyclable, either, because bamboo can't be recycled, said Ramirez.
"[But], overall it is 99% biodegradable, with the exception of the dentist recommended nylon bristles and metal staples," said Ramirez, 33, who added that the bamboo handle is also compostable. "Our toothbrush still has to be effective. We value high performing products, as well as the environment."
Prior to launching her company, Ramirez worked in a marketing job for a few years, which taught her about how to build a brand, do consumer research, and develop marketing and distribution strategies.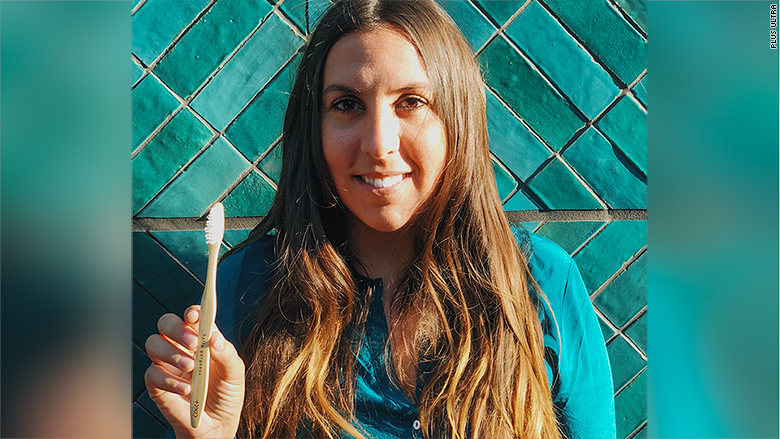 Three years later, the Los Angeles native left that industry for an unexpected move.
With advice from a family member, she decided to go all in to pursue her eco-friendly toothbrush concept.
Related: Adidas joins fight against plastic
"I took a job as a cashier at a Whole Foods because I wanted to work at a retailer where I could see my toothbrush being sold one day," she said. It paid $11 an hour with no steady work shifts.
It was a big pay cut from her previous $40,000 annual salary and benefits. She could only afford a 350 square-feet shoebox apartment with her new pay -- but could not pay for a car.
"So I'd walk to work every day," she said.
To make ends meet, she took a second job as a receptionist at a local yoga studio.
At Whole Foods, she moved up quickly to become a department buyer, among other roles higher up the rung. "I was with Whole Foods for four years and used the opportunity to really understand how retail worked," she said.
On the side, Ramirez bootstrapped (through her own money and with help from her family) the prototype for her bamboo toothbrush. She found manufacturers in China and ordered 80 samples and tested them with dentists and incorporated their feedback.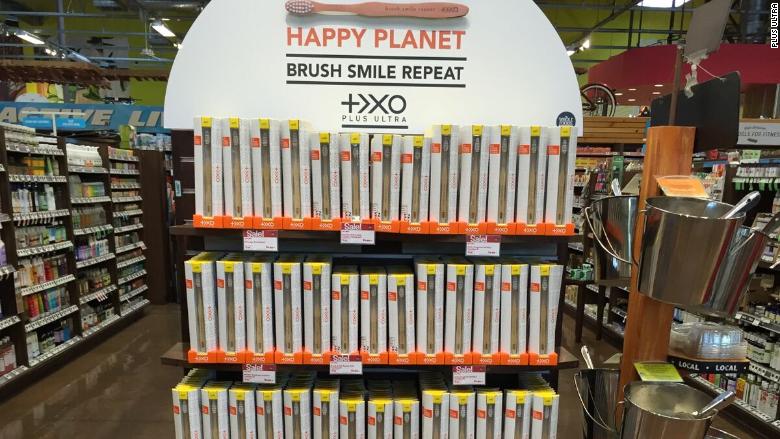 In 2011, she took $3,000 from her 401(K) plan and flew to China to meet with manufacturers. Once she locked in her supplier, she pitched her bamboo toothbrush to Whole Foods the following year.
"I was already a Whole Foods employee and customer and now I wanted to become a vendor, too" she said.
Whole Foods signed on.
In the first three years, she supplied Plus Ultra toothbrushes (priced between $3.99 to $7 each at retail) to 33 Whole Foods stores in California, Arizona, Nevada and Hawaii. She's up to 55 stores now and expects to exponentially grow her distribution to Whole Foods stores nationwide by next year.
The startup, which has 3 full-time and 3 part-time employees, is profitable and generates between $1 million to $2 million in sales a year, she said. And through a partnership, the business had expanded its sales team to over 100 sales reps.
Related: Are you eating plastic
Toothbrushes are the tip of her bamboo lifestyle brand.
Ramirez wants to expand to other products found in the bathroom.
"We're developing bamboo travel covers for toothbrushes so you don't have to use the plastic one," she said. Razors made with bamboo handles is another idea.
"In five year, I'd love for us to be even bigger with a full collection of eco-friendly products that give consumers an affordable alternative to using plastic products," she said.