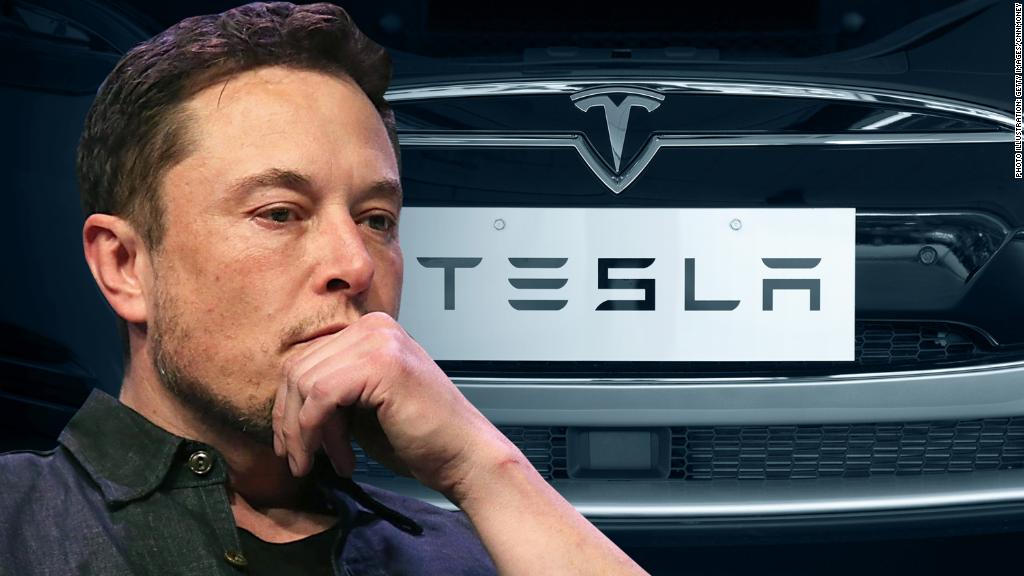 Another tweet from Elon Musk, and Tesla stock is tumbling.
Shares are down more than 3% after The Wall Street Journal reported that Tesla (TSLA) is asking some suppliers for partial refunds, another sign of a cash crunch at the company.
Tesla burned through $700 million in cash last quarter, and its cash reserves dipped 20%. Analysts say Tesla needs to sell a lot more cars. Musk has pushed back on naysayers, arguing that the company will be profitable this quarter and next.
The Journal cited a memo from a manager to a supplier, saying that all suppliers are being asked to help Tesla become profitable.
Musk, Tesla's co-founder and CEO, confirmed on Twitter that Tesla is asking for money from its suppliers.
He wrote early Monday: "Only costs that actually apply to Q3 & beyond will be counted. It would not be correct to apply historical cost savings to current quarter."
Related: Tech analyst tells Elon Musk: Time to take a break from Twitter
A Tesla spokesman told CNNMoney that it asked "fewer than 10" suppliers for money back for long-term projects that began in 2016 and have not yet been completed, The spokesman said the cost savings will help Tesla increase its production volume, though he claimed Tesla would be profitable without the concessions.
"Now that we're in a stronger position with Model 3 production ramping [up], it is a good time to improve our competitive advantage in this area," a company spokesman said. "We're focused on reaching a more sustainable long term cost basis, not just finding one-time reductions for this quarter."
The Journal said Tesla confirmed that it is "seeking price reductions from suppliers for projects, some of which date back to 2016, and some of which haven't been completed."
Related: 24% of Tesla Model 3 orders have been canceled, analyst says
Tesla in late June finally hit an important production target for the Model 3, its most accessibly priced electric car.
Analysts are also concerned about erratic tweets from Musk. He has lashed out at journalists for critical coverage of Tesla, and earlier this month he tweeted an unfounded and disparaging claim about a cave diver who participated in the rescue of a Thai soccer team.