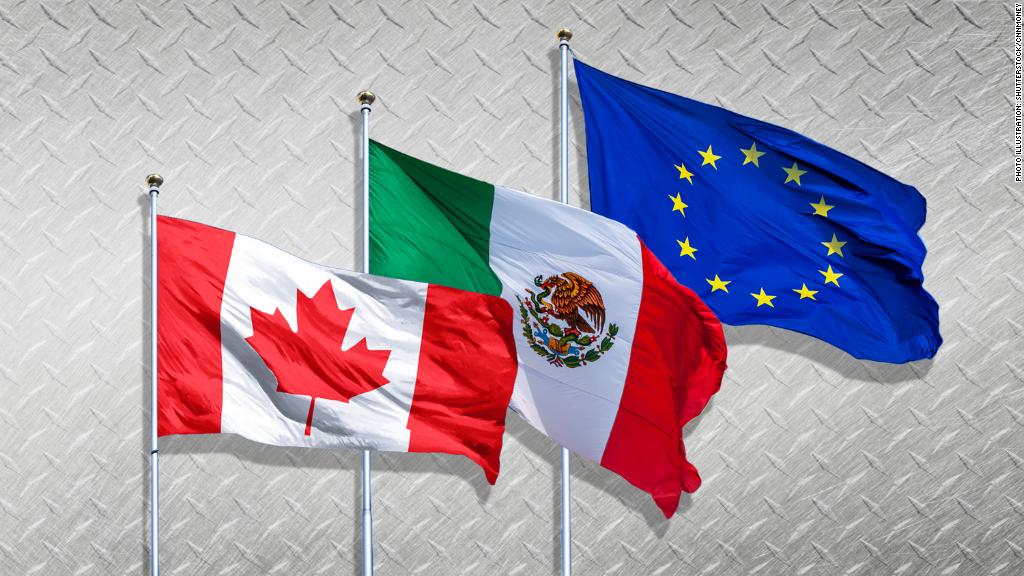 The trade war is making things difficult for American automakers.
General Motors and Fiat Chrysler reported lower profit Wednesday and cut their forecasts. Fiat Chrysler stock dropped 12%. GM fell 4.6%.
GM (GM) cited rising commodity prices. Steel and aluminum prices have gone up since the Trump administration imposed tariffs on those imports. That includes domestic steel and aluminum, which are more expensive without the threat of lower-priced imports.
The Trump administration is also considering a tariff on imported cars and trucks, as well as on auto parts. Every car assembled at US auto factories includes parts from foreign manufacturers.
Related: Sergio Marchionne, the CEO who saved Fiat and Chrysler, dies at 66
Automakers typically have contracts that lock in prices for most of the commodities they buy. Richard Palmer, chief financial officer of Fiat Chrysler, said the company is already seeing some higher prices and is wary about prices later, after existing contracts expire.
"I'm not overly concerned today," he told investors on a conference call, "but we do need to keep an eye on commodity prices as we move into the first part of 2019."
GM said commodity costs rose $300 million in the second quarter, and have risen $500 million this year.
The trade war is causing problems for automakers despite strong sales, especially in United States, where low unemployment is helping business.
GM reported higher sales in North America and in China, now its largest market for car sales. It was hurt by currency devaluation in South America.
Fiat Chrysler reported higher revenue, led by market share gains in North America, which accounts for more than half of its sales.
Shares of Ford (F), which is scheduled to report results after the market closes, also were lower in early trading.