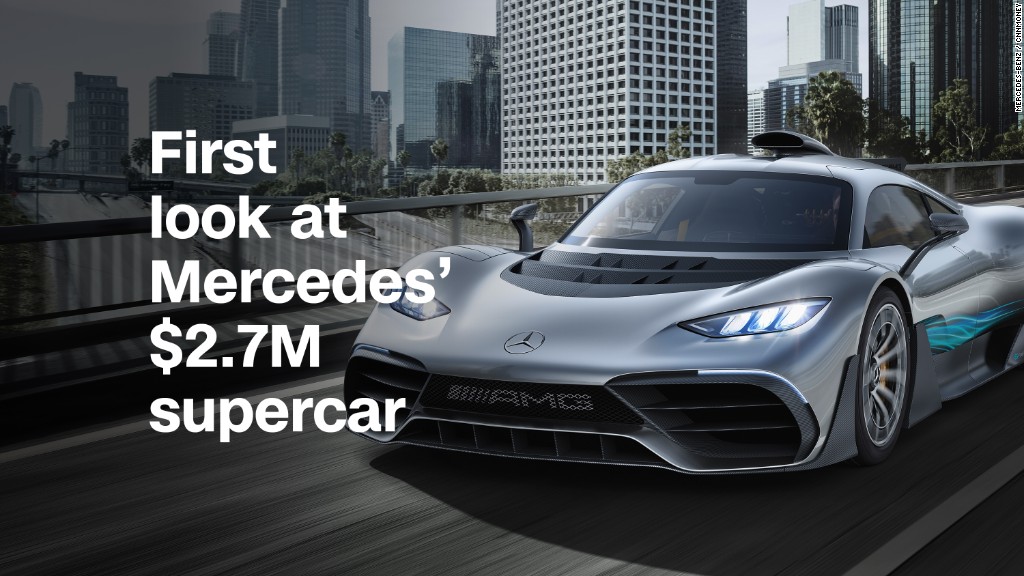 Mercedes-Benz introduced the A-Class sedan, its newest entry-level luxury car for the American market Wednesday night. Prices will start below $35,000, making it Mercedes' least expensive model in the US.
Mercedes is entering tricky territory for a high-end automaker. "Affordable luxury" is an oxymoron and it can be difficult to manage the inherent contradiction. Relatively inexpensive luxury cars like this have sold well for Mercedes and competitors like BMW and Audi. But, in terms of the experience they provide, they don't always lived up the expectations created by the brands' more expensive products.
The Mercedes-Benz CLA, for instance, which already sells in roughly the same price range as the A-Class, has among the lowest owner satisfaction ratings of any car in Consumer Reports' surveys.
"Most mainstream sedans, let alone a typical Mercedes-Benz, deliver a better experience than the CLA," Consumer Reports states in its online review.
Related: With the Jaguar I-Pace, electric SUVs are off to a great start
Mercedes (DMLRY) has offered an A-Class in Europe for a long time but that car, available as a hatchback, wasn't considered right for the American market, executives say. The new A-Class sedan shares much of its engineering with the CLA, but it remains to be seen if the new car delivers a better driving experience. As usual when a car has just been unveiled, Mercedes has not yet offered test drives.
One thing the new A-Class clearly offers is advanced technology. Mercedes is introducing a user interface called MBUX, which includes a touchscreen -- a first in a Mercedes-Benz -- as well as a sophisticated voice command system that responds to a variety of natural phrases. For instance, a driver can say "Hey, Mercedes, I'm cold," and the car will automatically turn up the heat.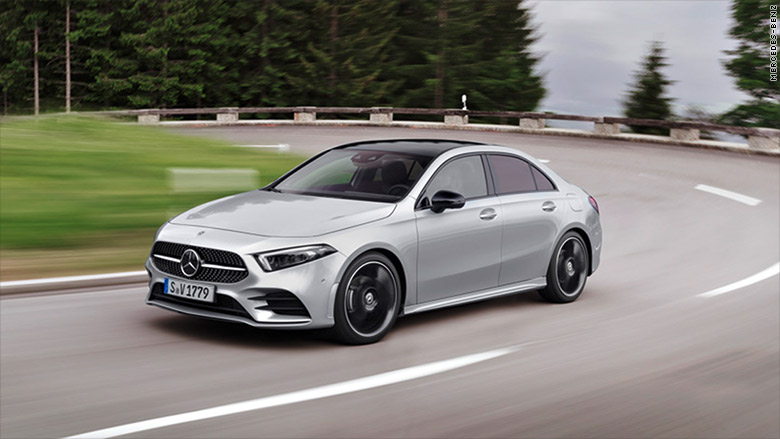 This a break from Mercedes' tradition in which new technologies are usually introduced first on the very expensive S-Class sedan then rolled out in progressively less expensive cars.
The exterior of the A-Class looks stylish in a more upright and conservative way than the CLA, and the interior looks much nicer and more interesting. A freestanding screen stretches atop the left two-thirds of the dashboard. On one side, it displays entertainment, phone and other secondary controls. On the left side, in front of the driver, it shows a digitally rendered gauge cluster. There's room below the screen for big, round backlit air vents and there are lines of accent lighting throughout the cabin.
Related: Driving the Subaru 360, one of the worst cars ever
The first cars that will arrive at US dealers later this year, called the A220, will be powered by a turbocharged 4-cylinder engine producing up to 188 horsepower.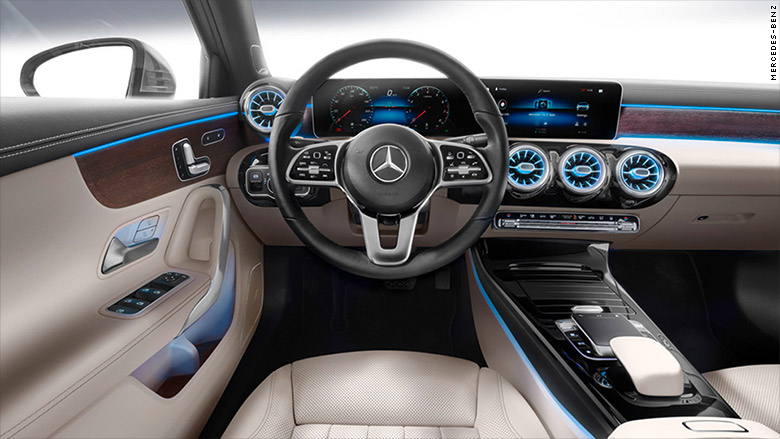 Cars like the CLA and A-Class are important for Mercedes because they bring new customers into the brand. Half to two-thirds of CLA buyers had never owned a Mercedes-Benz before. Similar numbers can logically be expected for the new A-Class sedan.
Inexperience with luxury car ownership could be one reason for the low owner satisfaction ratings, said Bernie Glaser, director of product management for Mercedes-Benz USA. Customers can have unrealistic expectations based on experience with Mercedes models costing far more. Also, if they've only owned non-luxury cars before, they may be unprepared for the relatively high cost of service for a European luxury car.
In the end, at least half of all A-Class buyers are expected to become loyal Mercedes customers. Mercedes is hoping their if their first taste of luxury is good enough, that the figure will be even higher.