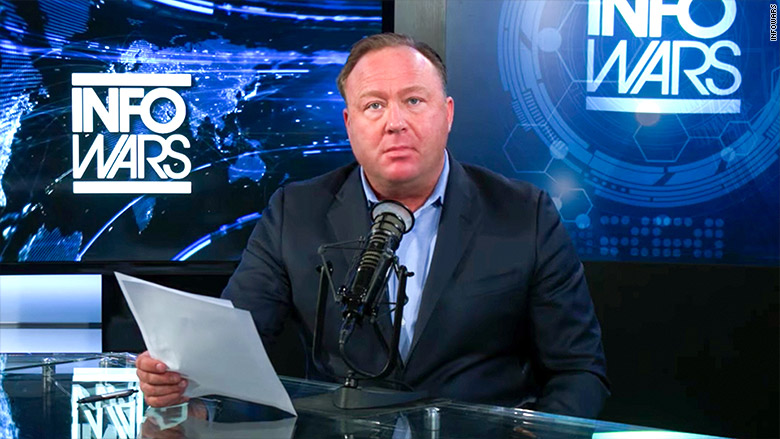 Facebook suspended the personal profile of controversial InfoWars founder Alex Jones on Thursday, and removed four videos associated with his namesake page and that of InfoWars, a spokesperson for the social media company said.
"We received reports related to four different videos on the Pages that Infowars and Alex Jones maintain on Facebook," the spokesperson said in a statement provided to CNN. "We reviewed the content against our Community Standards and determined that it violates. All four videos have been removed from Facebook."
It was not immediately clear which videos Facebook removed, but the spokesperson said that the company's community standards "make it clear that we prohibit content that encourages physical harm [bullying], or attacks someone based on their religious affiliation or gender identity [hate speech]."
Jones had previously been sent a notice that he had violated Facebook's policies and that his personal profile would be subject to a 30-day suspension the next time he did so, the spokesperson said.
The suspension means that Jones cannot post content to his personal profile, or use it to post content to the Alex Jones and InfoWars pages.
However, Jones' personal profile remains online, as do the InfoWars and Alex Jones pages. The Facebook spokesperson said the pages were "close" to meeting the unspecified threshold of violations that would result in Facebook unpublishing the pages, but that for now the pages had not crossed that line.
As a result, the pages remain up and other administrators can still post content to them. As of Friday morning, content continued to be posted to both pages.
The Facebook spokesperson said that three of the four videos were reported to Facebook Wednesday. The other video was reported a month ago, but was not taken down at the time, the spokesperson added. The spokesperson said the company made a mistake when it initially reviewed the video and corrected it upon reviewing the content again.
Related: Facebook's rhetoric on misinformation doesn't match its actions
InfoWars is an organization notorious for spreading demonstrably false information and conspiracy theories on a host of issues, including suggesting that the Sandy Hook massacre was a hoax, and that the September 11 terrorist attacks were an inside job orchestrated by the US government.
Asked for comment, Jones responded in a statement sent through a representative after this article was initially published. In the statement, Jones accused CNN of publicly calling for the banning of his free speech and of being on a "campaign against competing news organizations and the First Amendment," which he called "outrageously anti-American." He demanded that CNN "cease and desist."
CNN has not called for anyone to ban Jones or InfoWars from speaking, but has been reporting on social platforms' stance towards InfoWars, especially as those platforms claim to be combatting misinformation.
Facebook's action against InfoWars came one day after YouTube removed four videos posted by Jones. YouTube issued Jones a "strike," meaning he is unable to livestream content for three months.
CNN reported last week that the InfoWars Facebook page has skirted a number disciplinary measures that Facebook has in place to enforce its community guidelines.
Related: YouTube deletes four Alex Jones videos and gives him one strike
For weeks, Facebook has suffered a public relations crisis over how it handles misinformation and false news on its platform.
The trouble started for Facebook when it invited reporters earlier this month to its Manhattan offices to tout the various ways in which it combats misinformation. Asked by CNN how they can claim to be serious about tackling the problem of misinformation online while simultaneously allowing InfoWars to maintain a page with nearly one million followers, company executives struggled to provide an answer.
Last Wednesday, when Facebook CEO Mark Zuckerberg attempted to explain Facebook's position on the matter, he gave new fuel to the controversy by saying he did not know if Holocaust deniers intended to deceive others when sharing Holocaust-denying material. Zuckerberg later walked back his comments.
Correction: This post has been updated to reflect that Alex Jones' personal profile was suspended for 30 days. Facebook's initial statement to CNN incorrectly suggested that the profile had only been given a notice warning of a possible future suspension.