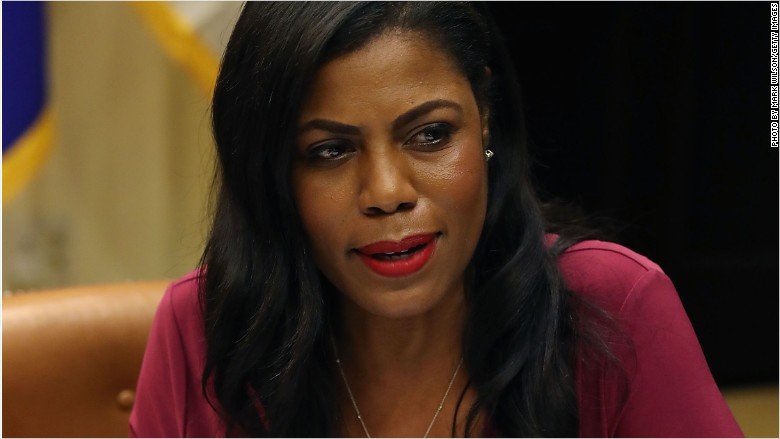 The publishing house Gallery Books has an August surprise for the president and the public: A "tell-all" book by former Trump administration aide, Omarosa Manigault-Newman.
The former "Apprentice" star worked in the White House Office of Public Liaison for nearly a year. She resigned last December. She gave a couple of interviews and appeared on the CBS program "Big Brother," dropping hints about White House turmoil along the way.
There was talk about a possible book deal. But Gallery Books kept the actual book under wraps for several months.
On Thursday, the publisher announced it with a bang, revealing that the book is already finished, and will be out for sale on August 14.
Most books in this category are announced months ahead of time. The book's pre-order page on Amazon showed up late Thursday morning, after the press release came out.
The book title -- "UNHINGED: An Insider's Account of the Trump White House" -- suggests it will not be flattering for the president or his allies.
It calls to mind "Fire and Fury: Inside the Trump White House," the Michael Wolff book that came out in January.
"Fire and Fury" remains the best-selling book of the year, according to Amazon's overall rankings.
Thursday's announcement said little about the contents of Manigault-Newman's book, except this: "A stunning tell-all and takedown from a strong, intelligent woman who took every name and number, UNHINGED is a must-read for any concerned citizen."
The press release also pointed out Manigault-Newman's long history with Trump, then said "that relationship has come to a decisive and definitive end."
"Omarosa is finally ready to share her side of the story in this explosive, jaw-dropping account," the publishing house said.
Gallery Books is an imprint of Simon & Schuster, a division of CBS Corporation.
The book may provoke an argument over Manigault-Newman's credibility.
When she appeared on "Big Brother" and said the situation inside the White House was "bad," a White House spokesman criticized her and downplayed her connection to Trump.
"Omarosa was fired three times on 'The Apprentice,' and this was the fourth time we let her go," spokesman Raj Shah said. "She had limited contact with the President while here. She has no contact now."