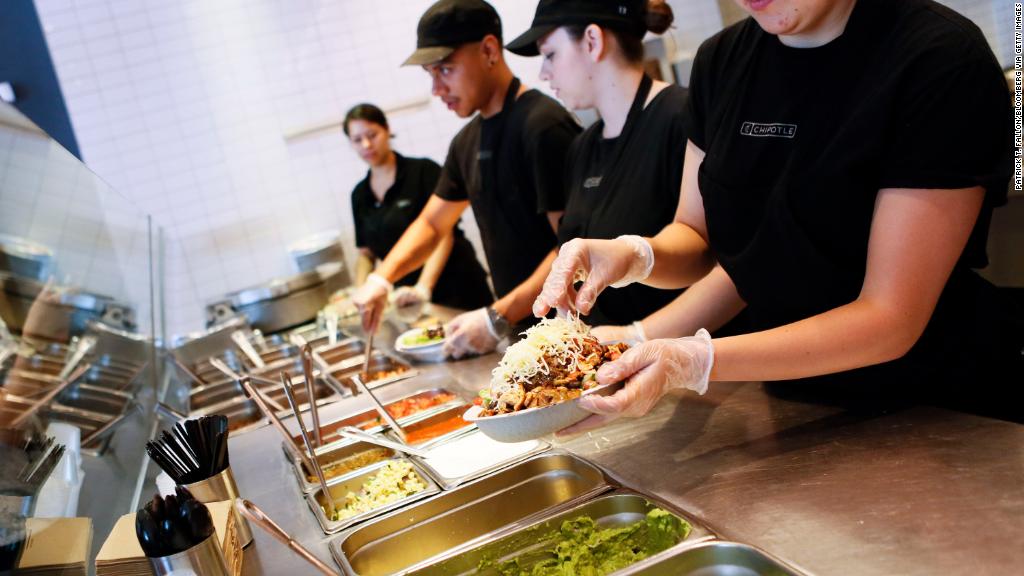 Chipotle's blowout year continues.
Sales at stores that have been open for at least a year grew 3.3% last quarter, exceeding Wall Street's expectations and sending shares of Chipotle up 6% during after-hours trading.
After struggling for much of the past three years, Chipotle has been on a tear under Brian Niccol, the former Taco Bell CEO who took over in March. Chipotle's stock is up close to 55% this year.
Related: How Chipotle plans to win you back
Chipotle (CMG) said that higher prices and customers adding queso to their orders lifted sales growth last quarter. Although traffic was down from a year earlier, Chipotle increased menu prices by 4%.
Niccol said Chipotle had not seen evidence that the price increases turned away customers.
Higher prices and a reduction in spending on marketing and promotions helped increase Chipotle's operating margins. Chipotle also got a boost last quarter from lower avocado prices, even though beef prices were up from a year ago.
The menu price hike also helped offset wage inflation.
Related: What higher wages means for Domino's and McDonald's
Chipotle has been raising wages to reduce employee turnover. Analysts say it's been a lingering problem for Chipotle, and increasing pay is one way to attempt to keep workers.
Labor costs are rising at the company. Chipotle spent upwards of $341 million on labor last quarter, a 12% increase from the same time last year.
"We are doing a better job staffing our restaurants," Niccol said. "We have lower year-over-year hourly turnover, which tells us we are making progress on training and building great teams."
Digital sales, including delivery orders, increased 33% last quarter and now make up a tenth of total sales.
Chipotle believes that getting more customers to order on the app will shorten lines. Customers also spend around $5 more when they order off their phones than in the store.