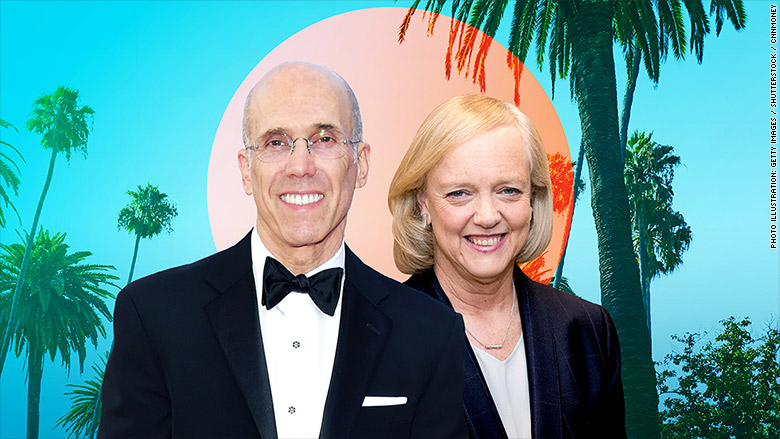 What's Next: Scoop: Jeffrey Katzenberg has closed his first $1 billion round of funding for WndrCo's "New TV," a mobile video platform that will aim to cater to our increasingly limited attention spans with short-form premium content -- or, as Katzenberg has been heard referring to it, long-form content broken up into shorter segments.
Sign up for PACIFIC: The new CNNMoney newsletter about the center of change and innovation
The Investors, per sources familiar:
• Disney, 21st Century Fox, Warner Bros, Entertainment One and other media companies have collectively invested around $200 million.
• Institutional investors, primarily from the US and China, have invested the rest.
The Risk: "New TV" is surrounded by question marks:
• Do people want it? There is skepticism in Hollywood about consumer interest in short-form premium content. There is little available evidence that consumers want to watch five or ten-minute episodes of shows like "Game of Thrones" or "Stranger Things."
• How will it be distributed? Katzenberg has looked to partner with tech and telecom companies like Facebook and Verizon, sources said, but those companies do not appear to want to scrap their existing services for someone else's. So will "New TV" be a stand-alone service?
• Who owns the content? It's not yet clear whether WndrCo will own the IP. If Katzenberg doesn't own the content or the distribution, what is he but a middle man for companies that might just as easily do deals directly?
• Why did he hire Meg Whitman as CEO? The former Hewlett Packard and eBay chief has a very impressive track record in Silicon Valley and is a savvy fundraiser, but has no experience running a media company.
The Reward: As one Hollywood exec put it, "No one bets against Jeffrey." Between Paramount, Disney and DreamWorks he's got one of the most impressive CVs in the business. These are also very, very small bets for the big media companies. It "New TV" fails, its a rounding error on their balance sheets. If it succeeds, the payoff could be handsome.
Bonus: The Barry Factor: Ever since Barry Diller launched IAC, there has been a pattern of old media titans launching new media companies to break into the digital space -- Peter Chernin with Otter Media, Katzenberg with WndrCo, etc. Whether they succeed or fail, the endeavors provide the 20th Century's most accomplished executives an opportunity to stay in the game.
---
Today's PACIFIC
Good Morning. We got our hands on the guest list for Google Camp, the super-private summit of mega-wealthy celebrities and business leaders that kicks off this Sunday at the Verdura Resort in Sicily.
Citizens of PACIFIC include ... Barry Diller & Diane Von Furstenberg ... John & Ann Doerr ... Kevin Durant & Cassandra Anderson .... Daniel & Sofia Ek ... Mike & Michelle Fries ... Brian & Veronica Grazer ... Reed Hastings ... Ben & Felicia Horowitz ... Jeffrey & Marilyn Katzenberg ... Gayle King ... Rich & Jana Kleiman ... Joshua Kushner & Karlie Kloss ... Robert & Luz Kyncl ... Martin & Millie Lau ... Carolyn McCall & Peter Frawley ... Lorne Michaels ... Neal & Hema Sareen Mohan ... James & Kathryn Murdoch ... Guy & Michelle Alves Oseary ... Jonah Peretti & Andrea Harner ... Richard Plepler & Lisa Plepler ... Eric Schmidt ... Shane & Tamyka Smith ... Evan Spiegel ... plus, top minds from Alphabet, Deep Mind and Google.
---
Disney vs. Comcast: The Sky wars aren't over
Sky Broadcasting added 500,000 new direct subscribers over the last year and saw sales increased 5% to £13.6 billion, or $18 billion.
That kind of growth is why Bob Iger and Brian Roberts are likely to continue their war over Sky, sources familiar with both companies plans tell me:
• Both companies are building direct-to-consumer relationships globally. Europe is a major piece of the puzzle. Sky now controls access to 23.5 million Europeans.
• This morning on Comcast's earnings call, Roberts called Sky "a great business and a good use of capital."
What's Next: Based on conversations with sources, we believe Iger and Rupert Murdoch will counter Comcast's $34-billion bid later this summer.
Tomorrow: 21st Century Fox holds a special shareholder meeting in Manhattan to vote on the Disney acquisition. They are expected to approve.
Sign up for PACIFIC: The new CNNMoney newsletter about the center of change and innovation
---
Facebook's Fall: Zuckerberg Unfazed
Facebook's $125 billion loss in value and 20% share drop following yesterday's earnings report feels cataclysmic on paper, but Zuckerberg and other top execs believe this is a market overreaction and have faith in their longterm strategy, Facebook sources tell me.
Here's why:
• Facebook's real total audience, including Instagram, WhatsApp and Messenger, is 2.5 billion people. That new stat may help to mask Facebook's core growth troubles, but it's a real number -- and it's massive.
• Facebook hasn't figured out how to monetize Instagram Stories as successfully as Facebook and Instagram feeds. But Stories is growing in popularity, which means the consumer base will be strong once they figure it out -- and Facebook does believe it will figure it out.
• Facebook lost 3 million daily users in Europe as a result of the new privacy laws, but that represents a mere 1% of its overall user base there -- which is a small number when you think about all the hype over GDPR.
• Revenue is still up.
What's Next: This is definitely a near-term problem for Facebook -- CFO Dave Wehner told investors yesterday that overall revenue growth would continue to slow for the rest of the year -- but it's not necessarily a long-term one.
Fun Fact: If yesterday's after-hours slump holds, it would be the largest market cap drop for a company in the history of the market.
---
The Trust Crisis: Sandberg, Dorsey to Hill
Facebook's Sheryl Sandberg and Twitter's Jack Dorsey have agreed to appear before the Senate Intelligence Committee in September, my colleagues Donie O'Sullivan and Jeremy Herb report:
• The committee also has invited Google's Sundar Pichai to appear and is awaiting a response.
• The tech exes have been asked to answer questions about their companies' role in "protecting elections from misinformation and disinformation."
Is this Twitter's time in the frying pan?
• Twitter recently revealed that it got rid of 143,000 apps that may have violated people's privacy, but hasn't yet committed to notifying people if their data was abused.
• President Trump this morning hit Twitter for what he called "shadow banning" prominent Republicans. "We will look into this discriminatory and illegal practice at once!" he wrote. "Many complaints."
Sign up for PACIFIC: The new CNNMoney newsletter about the center of change and innovation
---
Milking It: The Goop model
How do you monetize your life? The New York Times Magazine's Taffy Brodesser-Akner goes inside "the big business of being Gwyneth Paltrow":
• "The first iteration of [Goop] was ... lists — where to go and what to buy once you get there — via a newsletter she emailed out of her kitchen."
• "At first, Goop ... appealed to an audience that admired G.P.'s rarefied lifestyle. ... She wanted you to have what she had: the $795 G. Label trench coat and the $1,505 Betony Vernon S&M chain set."
• "Goop's ethic was this: that having beautiful things sometimes costs money; finding beautiful things was sometimes a result of an immense privilege; but a lack of that privilege didn't mean you shouldn't have those things. Besides, just because some people cannot afford it doesn't mean that no one can and that no one should want it."
• "Goop [is now] a clothing manufacturer, a beauty company, an advertising hub, a publishing house, a podcast producer ... a portal of health-and-healing information, and ... a TV-show producer."
The Big Picture: "G.P.'s business ... really started when she was being hunted by the paparazzi and living in such a lonely, high-altitude world that she could basically be friends with only Madonna. ... Her business [depends] on no one ever being able to be her ... [and] their ability to think they might."
---
What Next: Los Angeles has claimed three spots on Eater's 18 Best New Restaurants in America list, more than any other city. Your next reservations: Bavel, Dialogue and Majordomo.
See you tomorrow.
Sign up for PACIFIC: The new CNNMoney newsletter about the center of change and innovation