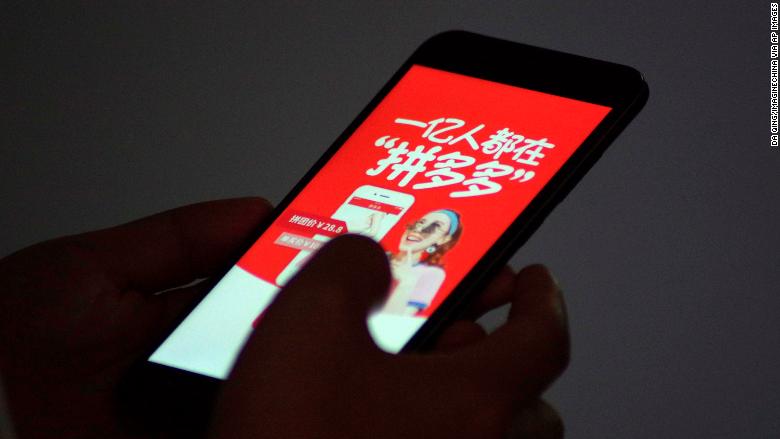 A three-year-old startup taking on Alibaba in China just smashed its Wall Street debut.
Pinduoduo closed up 40% on the Nasdaq Thursday, valuing the company at $29.6 billion.
The company raised about $1.6 billion in its initial public offering.
Pinduoduo is an online shopping platform on which people can buy goods for cheaper prices when they recruit friends to purchase the same item. There are also flash sales, as well as free gifts and coupons for getting friends to follow companies on social media. It's like a mash up of Groupon (GRPN), Gilt and Amazon (AMZN).
In a letter to shareholders, founder Colin Huang said he sees Pinduoduo turning into "a combination of 'Costco' and 'Disneyland.'" Pinduoduo's blockbuster IPO values Huang's 46.8% stake at $13.8 billion, making him the 13th richest person in China, according to Forbes.
Related: Xiaomi's IPO flop: Shares fall in Hong Kong debut
The entertainment aspect of the app's shopping experience has helped Pinduoduo lure more than 343 million active buyers and about a million merchants onto its platform.
"It was impressive how quickly they built their platform, so obviously they had the right formula," said Mitchell Kim, an analyst with Kim Eng Securities.
But sustaining and continuing to grow the business will be a different challenge, he added.
Pinduoduo, which is backed by Chinese tech giant Tencent (TCEHY), relies heavily on merchants subsidizing their wares, providing steep discounts or even product giveaways on the app.
A business model based on extreme discounts and promotions "is not sustainable," said Jason Ding, an analyst with consulting firm Bain & Company.
Just ask Groupon, a company with a similar business model that is struggling to rebuild its brand after years of steady decline.
Social media played a big role in propelling Pinduoduo's meteoric growth. The app is heavily promoted on Tencent's popular messaging platform WeChat.
But that could also be the company's downfall. If shoppers are unhappy with product quality and services, they can quickly "become detractors instead of promoters. That will hurt new user acquisition and existing user retention," said Ding.
Related: The wave of massive Chinese tech IPOs has begun
Like many tech companies that go public, Pinduoduo has also yet to turn a profit.
While revenue grew from 504.9 million yuan ($74 million) in 2016 to 1.74 billion yuan ($255 million) last year, net losses nearly doubled to 525.1 million yuan ($77 million) in 2017.
Moreover, the company has already had a number of problematic goods listed on its platform, and was forced to offer customer refunds, according to Kim. Pinduoduo warned investors that it could be liable for counterfeit and illegal goods being sold on its platform.
Indeed, soon after filing for its IPO, Pinduoduo was hit with a trademark infringement lawsuit in the United States. Diaper maker Daddy's Choice filed the complaint in a federal court in New York, accusing Pinduoduo of allowing the sale of knockoff products bearing the company's name.
Pinduoduo declined to comment on the matter.
Powerful rivals are another challenge that lies ahead for the company.
During recent earnings calls, analysts have repeatedly asked market leaders Alibaba (BABA) and JD (JD) about Pinduoduo. Alibaba dominates e-commerce sales in China, accounting for more than 58% of the market, according to research firm Emarketer. JD is second with about 16% and Pinduoduo is third with about 5%.
If Alibaba and JD -- with their broad customer bases and far-reaching delivery systems -- decide to add some version of discounted group purchases to their platforms, Pinduoduo would be in big trouble.
Pinduoduo is part of a wave of Chinese tech companies going public this year. Online services Meituan Dianping filed for a huge Hong Kong IPO in June, and Tencent announced it will soon list its streaming music business in the United States.