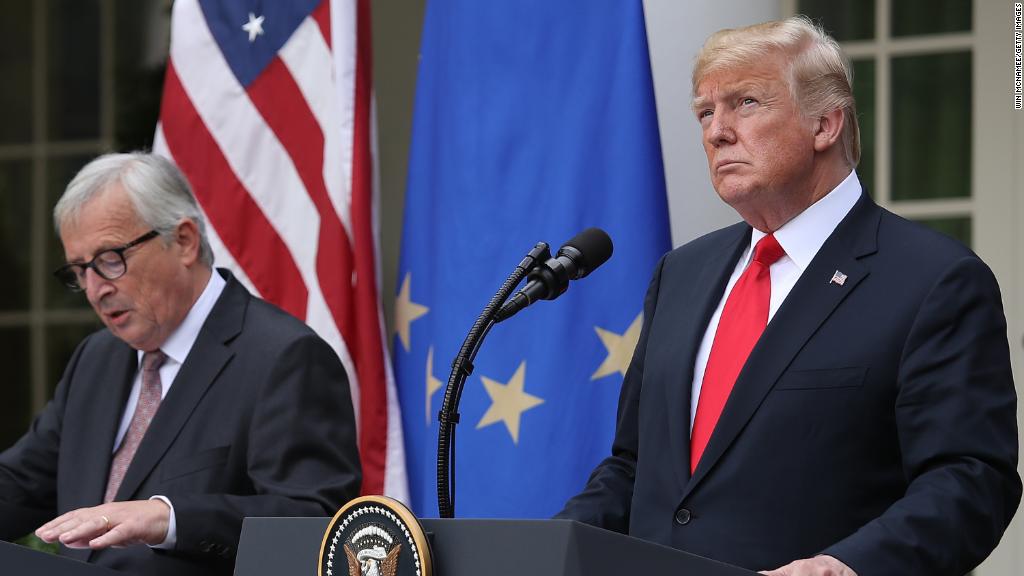 A trade war and a huge oversupply of frozen meat are bad news for Tyson's chicken business.
Tyson lowered its 2018 profit forecast nearly 12% on Monday, a dramatic action in an already rocky year for the food company. The stock fell 6% and is down 26% for the year.
Tyson said uncertainty about tariffs has sent chicken and pork prices lower. That's really bad timing, because the United States is also in the middle of a historic meat glut. American meat producers are storing a record 2.5 billion pounds of beef, chicken, pork and turkey, according to the US Department of Agriculture.
Grain prices have been falling, so food companies can produce more meat inexpensively. But demand has fallen, too, because Mexico and China have placed large retaliatory tariffs on American pork. China is the biggest market for American pork.
Related: WeWork is banning meat
Beef and pork prices have fallen sharply. That means people are buying more red meat and pork — and less chicken, Tyson said. So the company had to lower the price of its signature product, eating into profit.
"The combination of changing global trade policies here and abroad, and the uncertainty of any resolution, have created a challenging market environment of increased volatility, lower prices and oversupply of protein," said Tom Hayes, Tyson's CEO.
Hayes claimed that Tyson would be performing well if not for the tariffs and meat glut. He said the company's fundamentals are strong, and Tyson is working on a fix. But this quarter has gotten off to a slower than expected start.
If only the bad news stopped there. Tyson (TSN) also said that it won't get quite the bump it had anticipated from the lower corporate tax rate that Republicans passed late last year. The company will save about 10% less than it expected.
The company will report its quarterly finances on August 6.