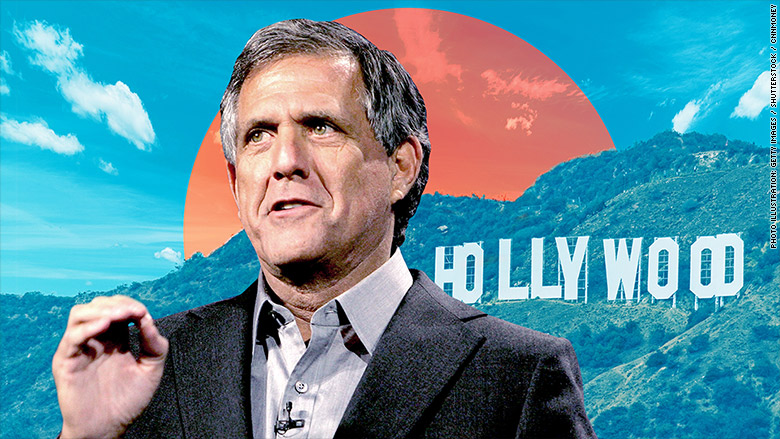 What's Next: Moonves Awaits His Fate: After a weekend of private phone calls and conversations about the fate of their chairman and CEO, CBS's board of directors will meet today at 9 a.m. PT and select a special committee to oversee the investigation into the sexual misconduct allegations against Les Moonves, "60 Minutes" EP Jeff Fager and the larger culture at CBS, sources familiar with the matter tell me.
The special committee will select a law firm to conduct the investigation and decide whether Moonves and Fager should step down during that time. The investigation is likely to take weeks, a source familiar with the matter said. In the meantime, Moonves will be judged in the court of public opinion as critics and defenders alike try to influence the narrative through the industry trades.
In today's PACIFIC:
• CBS Circles The Wagons: Top Moonves deputies across the CBS organization are coming to his defense and calling for nuance in our response to the accusations.
• Hollywood Stays Silent: There has been a lack of outcry from the Hollywood community that condemned Harvey Weinstein after revelations about his misbehavior.
• The Shari Factor: Moonves and CBS/Viacom chairwoman Shari Redstone are locked in a bitter dispute over the company's future.
The Big Picture: Les Moonves is the first chief executive officer operating at the height of his powers to find himself at risk of being brought down by the #MeToo movement that began nine months ago. His fate therefore has major implications not just for CBS and Hollywood, but for the movement itself.
---
Today's PACIFIC
Good Morning, and welcome to a special Les Moonves edition of PACIFIC.
Here's the toughest question being asked inside CBS right now, per a source familiar: How can we fire Charlie in November and not fire Leslie in August?
---
Camp Moonves: CBS circles the wagons
Top Moonves deputies from across the CBS organization have come to Moonves' defense in the last 18 hours:
• CBS Films president Terry Press: "[I]t is difficult to reconcile the portrait put forth in that piece with the man who I know today as honorable, compassionate, and a big booster of women inside CBS. ... I do not believe that it is my place to question the accounts put forth by the women but I do find myself asking that if we are examining the industry as it existed decades before through the lens of 2018 should we also discuss a path to learning, reconciliation, and forgiveness?"
• CBS ad sales chief Jo Ann Ross: "I fully support Leslie Moonves ... My experience with him on a professional and personal basis has never had any hint of the behavior this story refers to. Leslie has always been an advocate and mentor to me showing me the deepest respect at all times. He has never been threatening or abusive. In fact, Leslie has been my 'go to' through any challenges."
Moonves' wife Julie Chen, who co-hosts two shows on CBS, also came to her husband's defense on Friday, calling him "a good man and a loving father, devoted husband and inspiring corporate leader."
What's Next: Watch for Camp Moonves to echo Press' call for "learning, reconciliation, and forgiveness," as well as her emphasis on the time that the conduct took place. They will make the case that it was a different era, he's sorry now and he's ready to move on -- if CBS will let him.
---
Talk of Tinseltown: Hollywood stays silent
Hollywood execs, media investors, comms chiefs and others reached out over the weekend with some questions for Hollywood:
• Why is Hollywood so silent about Moonves?
• Why haven't so many of the usually outspoken #MeToo voices weighed in?
• Will there be a talent boycott? Will showrunners take their talents elsewhere? Is Oprah going to keep doing "60 Minutes"?
• Will there be more accusers?
---
Empire Strikes Back: The Shari factor
Camp Moonves has intimated that CBS/Viacom chair Shari Redstone had a hand in bringing the allegations against Moonves to light.
In its statement Friday, CBS said "the timing of [the New Yorker] report comes in the midst of the Company's very public legal dispute," which has pitted Moonves vs. Redstone over the future of the company. Redstone wants to unite Viacom and CBS; Moonves does not and sued to block the merger.
Redstone's response:
• "The malicious insinuation that Ms. Redstone is somehow behind the allegations of inappropriate personal behavior by Mr. Moonves or today's reports is false and self-serving," Redstone spokeswoman Sara Evans said. "Ms. Redstone hopes that the investigation of these allegations is thorough, open and transparent."
Bloomberg's Tara Lachapelle weighs in:
• "It's hard to see how Moonves remains at the company. And without him leading the charge, the power would shift back to Redstone, enabling her to finally carry out the Viacom deal."
• "It's been clear that one of them—Moonves or Redstone—would have to go, and that it was a battle Moonves would likely lose."
---
Ticking Clock: The fate of Fager
It's received less attention, but Ronan Farrow's report also includes detailed accusations against "60 Minutes" EP and former CBS News chairman Jeff Fager:
• Nineteen current and former employees say he condoned harassment at CBS News and protected men accused of misconduct.
• Six former employees say Fager touched employees in ways that made them uncomfortable while he was inebriated at company parties.
What Fager says:
• "It is wrong that our culture can be falsely defined by a few people with an axe to grind who are using an important movement as a weapon to get even, and not by the hundreds of women and men that have thrived, both personally and professionally, at '60 Minutes.' ..."
What's Next: Like Moonves, Fager's fate will be decided by the internal investigation.
---
Tools of the Trade: How Ronan Farrow does it
The New Yorker's David Remnick tells my colleague Brian Stelter how Farrow became one of the #MeToo era's foremost journalists:
• "If you present yourself to the world as somebody who's aggressively pursuing the truth in a certain trench, you're going to start getting tips too."
Farrow says Moonves' accusers "began coming to me immediately after the Harvey Weinstein story," which was published last October.
---
What Next: Postcards from Google Camp at the Verdura Resort in Sicily, via Daily Mail.
See you tomorrow.