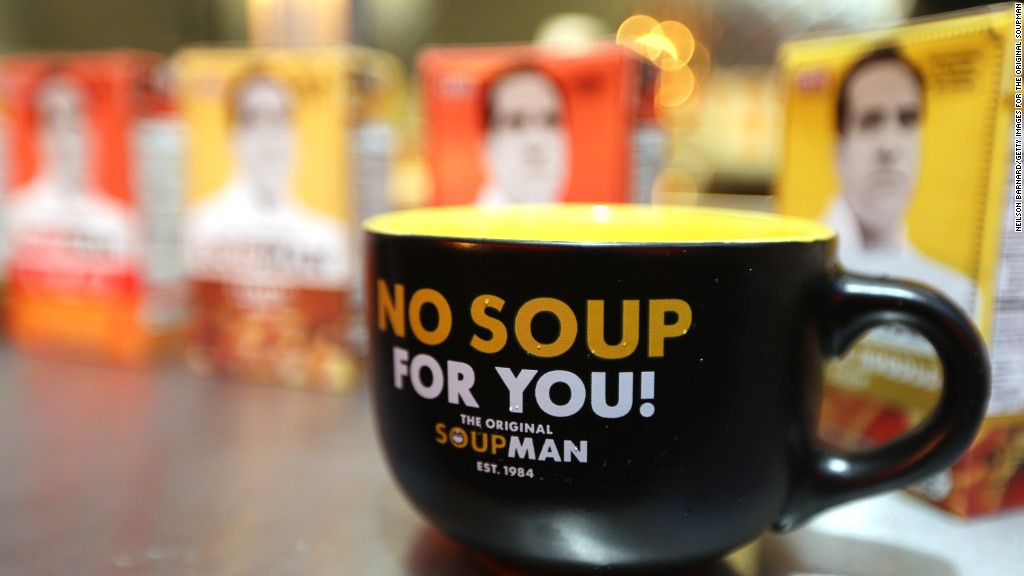 Campbell Soup's stock has passed its expiration date.
Shares are down 20% in the past year, which may be why activist investor Dan Loeb is reportedly looking to spice things up.
The Wall Street Journal reported late Tuesday that Loeb's investment firm, Third Point LLC, now has a more than $300 million stake in Campbell Soup. Shares of Campbell Soup (CPB) rose 2% on the report.
Separately, The New York Post reported Loeb has hired an investment banker and is pressuring the company and its top investors to put Campbell Soup up for sale.
Third Point declined to comment about the reports.
A spokesperson for Campbell Soup said the company doesn't comment on rumors or speculation, but added that "we maintain an open, engaged dialogue with all of our shareholders, and welcome all investments in our company."
The company announced in May that it would conduct an operational review of its business. The review is expected to end in late August.
So it's still possible that the board will recommend a sale of Campbell Soup. And that could make sense given the turmoil in the executive suite.
CEO Denise Morrison, who had been atop Campbell Soup since 2011, abruptly announced her retirement in May after the acquisition of snack maker Snyder's-Lance. Campbell Soup paid $6 billion for the company, but the integration didn't go smoothly, according to reports.
Keith McLoughlin, the former head of appliance maker Electrolux (ELUXF) and a board member at Campbell Soup, was named interim CEO
Related: Campbell Soup Denise Morrison leaves the company
The WSJ said in its report Tuesday that Loeb has been talking to McLoughlin about a strategic review because of poor earnings.
Soup sales have slumped lately too. And a push into fresh and organic food hasn't panned out as well as hoped.
But if Loeb wants Campbell Soup to put itself on the shopping block, he must convince family ownership that it's a good idea. Three descendants of condensed soup maker John Torrance collectively own about 42% of its shares.
Those shareholders may be amenable to the idea of a deal though. After all, the packaged food industry has played host to a flurry of mergers recently. Companies are trying to get bigger in an attempt to have more pricing power.
Many food makers have been hurt by deflation in the grocery industry. Intense competition between Whole Foods owner Amazon (AMZN), Walmart (WMT), Costco (COST) and supermarket king Kroger (KR) have led to a drop in prices for a lot of food items.
Related: Campbell Soup is piping hot after reported M&A interest
That's great news for consumers, but it's terrible for the food companies and their investors.
And while many of the food deals have been smaller acquisitions for niche companies, ConAgra (CAG) recently announced plans to buy Birds Eye maker Pinnacle Foods (PF) for nearly $11 billion. Campbell Soup is worth about $12.5 billion.
Kraft Heinz (KHC) -- backed by Warren Buffett -- as well as cereal giant General Mills (GIS) have been reported to have interest in a deal for Campbell Soup.