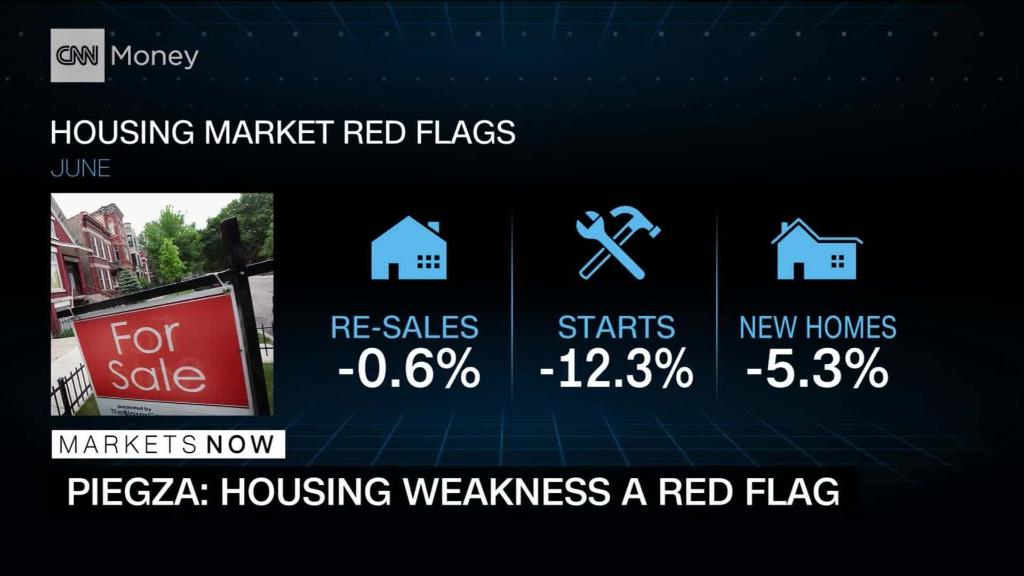 Programming note: Explore how the 2008 financial crisis unfolded on Sunday's episode of "The 2000s" on CNN TV and CNNgo at 9:00 pm ET/PT.
Housing and rates are worrying some economists that a recession is looming.
"One of the biggest concerns is the housing market," said Lindsey Piegza, chief economist for Stifel, on CNNMoney's "Markets Now" live show Wednesday. "It's throwing up a very large red flag and suggests maybe this 4% growth we saw in the second quarter is not sustainable."
Home sales have declined in four of the past five months as housing prices have grown -- but paychecks have remained stagnant. Many people can't afford to buy homes, and those who can are taking on a lot of debt to get into them.
Piegza says that echoes what happened right before the Great Recession in 2008.
"We're not there yet, but this is what led us to the housing crash," she said.
Related: How the US economy is doing now in four charts
How could this happen again? Piegza believes that a decade of rock-bottom interest rates helped people forget about the dangers of borrowing too much.
"I don't know if we learned our lesson from the Great Recession," she said. "We are going back to a lot of the easy lending that we used to see."
Although Piegza said a recession isn't necessarily imminent -- especially after quarterly growth just came in at the fastest pace in almost four years -- there are signs of waning momentum in the economy.
Interest rates, for example, are starting to become a bad omen.
The Federal Reserve, which is finishing up its two-day meeting Wednesday, is expected to raise its target rate two more times this year. Higher rates have boosted short-term US Treasury bond rates. But the longer-term bond rates haven't risen along with the shorter-term rates, because investors are growing wary about the economy over the long haul.
With two more interest rate hikes planned, the Fed could boost short-term rates higher than long-term ones, inverting the so-called yield curve. An inverted yield curve has preceded every recession in modern history.
"We could easily be there by the end of the year," Piegza said. "I think we'll see pressure on the longer end by the end of the year, but the Fed will still be raising rates on the short end."
Fed Chairman Jerome Powell has said that he is not concerned about an inverted yield curve. Piegza strongly disagrees.
"It is a predictive measure of a recession," she said.
"Markets Now" streams live from the New York Stock Exchange every Wednesday at 12:45 p.m. ET. Hosted by Quest and others, the 15-minute program features incisive commentary from experts.
You can watch "Markets Now" at CNNMoney.com/MarketsNow from your desk or on your phone or tablet. If you can't catch the show live, check out highlights online and through the Markets Now newsletter, delivered to your inbox every afternoon.