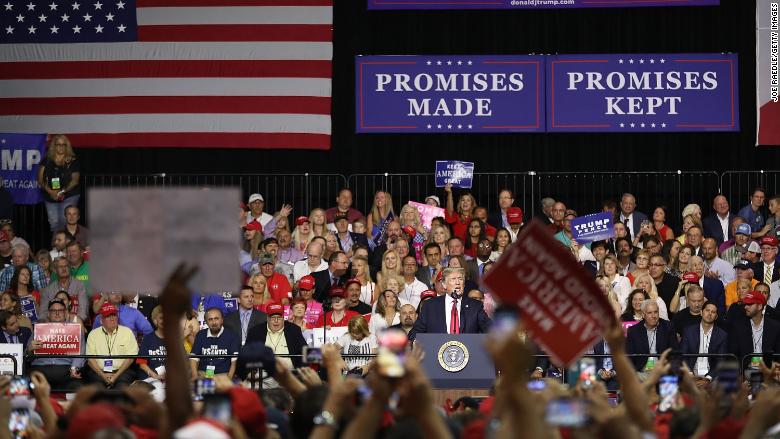 Exec summary: Happy August! Or should I say, happy August? We shall see. I'm back from a few days up in Burlington, VT... Thank you, Oliver Darcy, for manning this letter while I was away... Now here's the day's media news...
Worsening hostility
President Trump's rallies are a stage for his supporters as well as the star of the show. Every rally showcases venomous attitudes toward the press (he says "fake news"), Democrats (the crowd says "lock her up") and other groups that he disparages as his opponents. And it's liable to get worse as the midterms approach.
Case in point: Tuesday's rally in Tampa. Before Trump took the stage, some of his fans booed CNN's Jim Acosta and shouted "CNN sucks" at the press area. It seemed like they were projecting criticism of Trump onto others -- by calling Acosta a "traitor" and a "liar."
Normally I'd shrug this off. It's unfortunately common. But the NYT's Katie Rogerssaid "this was as hostile as I've seen people" at a Trump rally. She was replying to a tweet from Acosta, who posted a video of the "sad scene." Acosta said "I'm very worried that the hostility whipped up by Trump and some in conservative media will result in somebody getting hurt. We should not treat our fellow Americans this way. The press is not the enemy."
THE MEGAPHONE, PART ONE: Eric Trump encouraged the nastiness by retweeting a video of the "CNN sucks" chants and saying it's the "truth." The president retweeted his son...
THE MEGAPHONE, PART TWO: "The people of this country, they're screaming at you for a reason," Sean Hannity claimed on Tuesday night. Of course, the people who wait in line to attend Trump rallies are not representative of the public at large. But their rage against the media / DC / machine is influential...
NEXT: Trump is holding a rally in PA on Thursday and OH on Saturday...
Press briefings, emphasis on the brief
If you're like me, and you care about the existence of the "daily" W.H. press briefing, July was a discouraging month. Per CNN's Allie Malloy, Sarah Sanders only held three briefings in July, down from five in June.
POTUS had a few pressers of his own during the month, but we're seeing a serious curtailing of the briefing schedule. CNN's Chris Cillizza has details here...
Mueller v. Manafort, day one
If you relied on major media sources on Tuesday, you heard all about the beginning of the Paul Manafort trial.
If you turned on "Hannity," you saw this banner: "FIRST TRIAL OF MUELLER'S WITCH HUNT BEGINS."
So that's how it's going to go...
Today's CBS updates
-- CBS CEO Les Moonves remains at work... The company reports earnings on Thursday... And Fox's Charlie Gasparino hears that Moonves "is planning to speak on the company's earnings call..."
-- LAT's Meg James: "Wall Street analysts and others have offered dire assessments of Moonves' chances to remain in the job. But perhaps the most stinging rebuke came from inside CBS," from Stephen Colbert on Monday's "Late Show." I'll circle back to that...
-- After two days of steep declines, CBS stock rebounded a bit on Tuesday, closing up 2.7%... It's trading higher after-hours as well...
-- NBC News reported on Tuesday that a woman went to L.A. police last December and said Moonves "sexually abused her in the 1980s, but prosecutors have declined to pursue the case because the statute of limitations has expired..."
-- Ronan Farrow tweeted in response: The L.A. case appeared to be about "allegations not included in our story, from a different, additional woman..."
-- There's been no further word from the CBS board about which law firm is being retained to investigate the allegations...
-- The board is catching heat for taking no action against Moonves on Monday. "Depending on who you ask," it was either "a dereliction of duty on the part of the CBS board, or a sign that Hollywood may be rethinking what had mostly been a one-size-fits-all approach to bad behavior," Dylan Byers wrote in PACIFIC...
-- Speaking of the board, the NYT's Edmund Lee noted that the average age of the directors is 73... And only 3 of the 14 are women...
Redstone v. Moonves rolls on...
Jill Disis emails: Shari Redstone is accusing Les Moonves and other CBS execs of destroying potential evidence, according to court documents. In a court motion filed last week and made public Monday, Redstone's National Amusements said the execs have used an app called TigerText that automatically deletes messages. National Amusements charged that the use of the app amounts to the "systematic deletion of highly relevant documents" in the case. But CBS said the app was put to use "for cybersecurity reasons following the Sony hack, and was not developed or used for any nefarious or sinister communications as some have alleged."
PLUS, A NEW CLAIM FROM CBS: In another court filing, CBS alleged that Redstone "pushed to remove a board member earlier this year after he recorded a meeting with her father, CBS Chairman Emeritus Sumner Redstone, to document his medical condition," the WSJ reports...
TIMELINE: A trial taking up the issue of control over CBS is scheduled to start in Delaware in October...
The "cloud"
"This is a cloud," CFRA Research analyst Tuna Amobi told Variety. Other Wall Street analysts are also expressing concern. Doug Creutz of Cowen & Co. downgraded CBS stock on Tuesday. He cited "the added overhang of an investigation of uncertain length with an uncertain outcome." And Brian Wieser of Pivotal Research wrote in a note to clients that Moonves is "likely" to be "eventually removed from his role..."
Colbert's brave commentary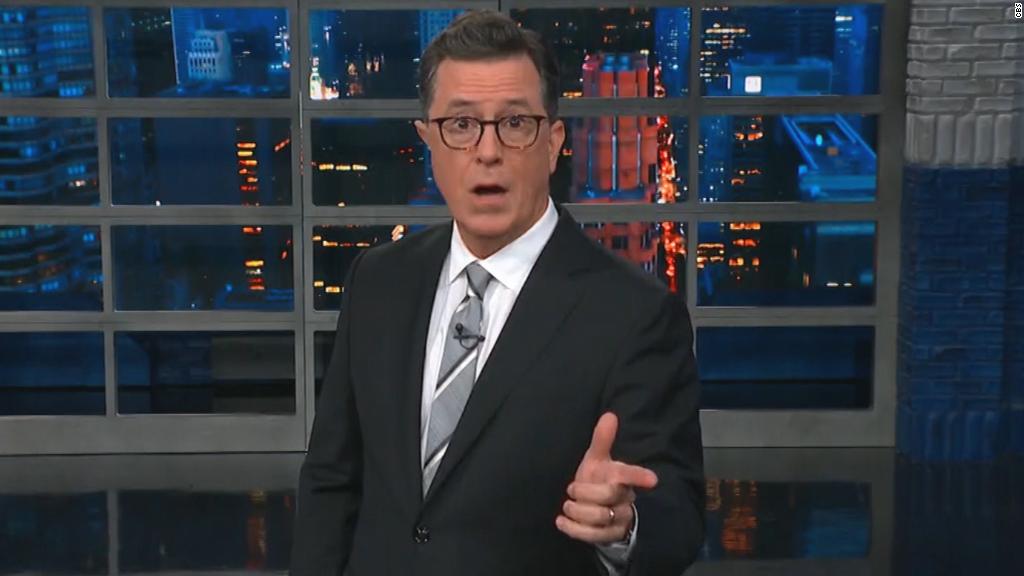 If you missed Stephen Colbert's Monday night remarks, here is Frank Pallotta's full recap.
--> Entertainment editor Megan Thomas flagged this smart analysis from The Cut's Anna Silman. Colbert, she wrote, "did something that many people in the #MeToo movement have not: He took his boss to task..."
For the record, part one
-- Steven Perlberg reports: "The Kushner family--owned New York Observer has cut ties with a writer who has, since 2014, authored dozens of pro-Kremlin articles for the website..." (BuzzFeed)
-- "Chris Hardwick will return to work at NBC, the network announced on Tuesday..." (TheWrap)
-- Cliff Levy is the NYT's new Metro editor... (NYT)
-- Joe Pompeo says Levy's appointment "throws a monkey wrench" in the future NYT exec-editor runoff... (VF)
-- ICYMI: WaPo profiled NYT publisher A.G. Sulzberger, who "turns 38 next week..." (WaPo)
What's "indefinitely" for Anna Wintour?
Chatter about Anna Wintour's impending exit has become so intense that Condé Nast CEO Bob Sauerberg sought to put a stop to it on Tuesday.
"Anna Wintour is an incredibly talented and creative leader whose influence is beyond measure," Sauerberg said in a statement. "She is integral to the future of our company's transformation and has agreed to work with me indefinitely in her role as editor in chief, Vogue and artistic director of Condé Nast."
Get your media fix with the Reliable Sources newsletter
"I know Wintour has been frustrated with reports of her departure, she wants to go out on her terms," Yashar Ali tweeted. His Monday story about Beyoncé's "unprecedented control" over Vogue's September cover said it is "likely to be Wintour's last September issue, according to four sources familiar with her plans." I recall "Wintour out" buzz really took off after Page Six wrote about it last April...
Dylan's Q
Dylan Byers tweeted: "Anna Wintour agreeing to stay at Conde Nast 'indefinitely'probably means they're selling Conde Nast — right?'
Speaking of the Beyoncé cover...
Lisa Respers France emails: Beyoncé's reported Vogue takeover is peak blackness. It's not the first time the superstar has used her power to further the conversation about race and culture... Read more here...
Facebook warns: It's happening again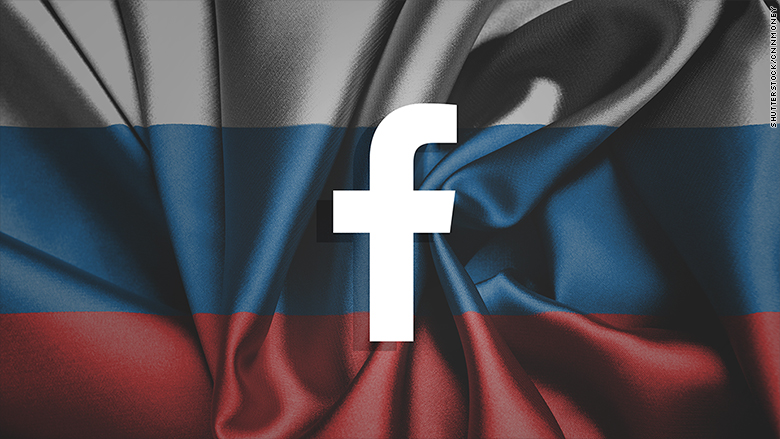 Donie O'Sullivan emails: Facebook's announcement on Tuesday that it had found a network of suspicious pages organizing political events across the US confirms something we had all suspected: bad actors using social media to deceive Americans and further divide America is still happening, right now. Facebook was careful not to publicly attribute the campaign to Russia, but they said there were signs it was tied to the infamous troll group indicted by Robert Mueller.
There was plenty back and forth on Twitter about whether Facebook should be commended for their work catching this or if it's part of a publicity campaign. Whatever it is, it's better we know about the campaigns seeking to deceive us now, than finding out about it 12 months after the election (like last time!)
Wednesday's headlines
On Page One of the NYT: "Facebook Busts A Shadowy Plot To Jolt Elections."
And the WSJ: "Facebook Deletes Suspect Accounts."
This is going to be a big story every day til election day...
...And I hope newsrooms treat it that way. There's so much terrible manipulation of public opinion happening on tech platforms. As BuzzFeed's Charlie Warzel wrote on Tuesday, "major political discussion topics are being gamed by propagandists," which casts doubt on the legitimacy of the "larger social conversation..."
For the record, part two
-- There's a key hearing in one of the lawsuits against Alex Jones on Wednesday... Elizabeth Williamson has a preview here... (NYT)
-- Meet Matthew Lee and his blog Inner City Press: "The intrepid reporter who got expelled from the UN..." (CJR)
-- Correction: Last night's newsletter accidentally included a second T on Bret Baier's name. But he'll always be Bret with one T...
T-minus six weeks til Bob Woodward's book
The reactions to the Bob Woodward book news kept coming on Tuesday...Politico's Annie Karni wrote that, "unlike previous administrations, this White House had no process for making officials available to the legendary reporter."
She quoted a former official who told her: "It's gonna be killer. Everyone talked with Woodward."
Right now, 24+ hours after the announcement, "FEAR" is the #1 best selling book on Amazon, thanks to the rush of pre-orders...
Marvin Kalb has written "Enemy of the People"
On Tuesday, Brookings Institution Press announced that press critic Marvin Kalb's next book is "Enemy of the People." It'll be out on September 25. The publisher says Kalb "writes with passion about why we should fear for the future of American democracy because of the unrelenting attacks by the Trump administration on the press..."
For the record, part three
-- Paul Farhi's latest: How cable news chyrons "took on a life of their own..." (WaPo)
-- A documentary about Nation of Islam leader Louis Farrakhan was scheduled to start streaming on Netflix in August, but the company "says this will not be the case, blaming an error for the film being included on the list..." (TheWrap)
-- "The Daily News, facing some blowback, has slammed the brakes on plans to hike its daily newsstand price by 50 percent on Aug. 6 — but sources say it is only being rolled back, not canceled entirely," Keith Kelly reports... (NYPost)
Today's MoviePass drama
Mitch Lowe, the CEO of MoviePass, tried to "personally apologize" for the service's "inconsistencies and unreliability" in a letter to customers on Tuesday. He outlined some of the service's changes -- read: cutbacks and limitations -- in the letter.
As Jill Disis reports here, MoviePass is "raising the price of its standard plan from $10 to $14.95 per month." And "some major releases will be 'limited in their availability' on the service for the first two weeks they're in theaters."
Is this thing going to survive? Here's a brand new Q&A by Frank Pallotta...
Meanwhile, AMC's rival $20 service is on the rise...
Pallotta tweeted: "AMC has 175,000 members for its movie subscription service, Stubs A-List, after five weeks. That's ahead of expectations, according to the company, which hopes to have 1 million members by June 2020..."
This is how NBC is wrapping up "Timeless"
Brian Lowry emails: NBC's decision to produce a two-hour movie to wrap up "Timeless" -- a series the network cancelled after a cliffhanger episode, much to the chagrin of its small but loyal fan base -- feels like a bit of a watershed. For years, I've argued it's bad customer service to get viewers hooked on a show, then leave them completely dangling. This seems like a tacit admission that in this case, anyway, NBC agrees...
J.Lo's turn
Jennifer Lopez will receive the Video Vanguard Award at next month's MTV VMAs, Chloe Melas writes...
"Hollywood Is More Talk Than Action When It Comes To On-Screen Diversity, Claims USC/Annenberg Study"
That's the headline from Deadline. Brian Lowry emails: The Annenberg Inclusion Initiative at USC's Annenberg School for Communication and Journalism has issued a study that finds a notable lack of progress in terms of diversity and inclusion in the movie industry over the last decade. The caveat would be that by focusing on the top 100 movies at the domestic box office during that span, the findings don't recognize or chart what would surely show increased opportunity in TV, streaming and independent film...
For the record, part four
-- Chloe Melas emails: Sources close to Demi Lovato tell me that she's experiencing "complications" one week after her apparent drug overdose...
-- Lisa Respers France emails: Kim Kardashian told Jimmy Kimmel she was nude when Trump called her to set up their meeting. As for his policies, she said "I have nothing bad to say about the president..."
-- Compare and contrast Kim's comment with LeBron James, who told Don Lemonon Monday that "I would never sit across" from Trump...
-- One more from Lisa: In an interview on "CBS This Morning," Alan Alda has revealed he has been living with Parkinson's disease for the past few years...
Lowry reviews "The Sinner" season two
Brian Lowry emails: "The Sinner" told a closed-ended story, but USA Network and producer Jessica Biel have effectively revived the franchise with a new "whydunnit" case -- that is, a limited series that begins with a murder and the perpetrator, then backs into the motive. This time, Carrie Coon plays the key role, with Bill Pullmanreprising his detective character. Details here...