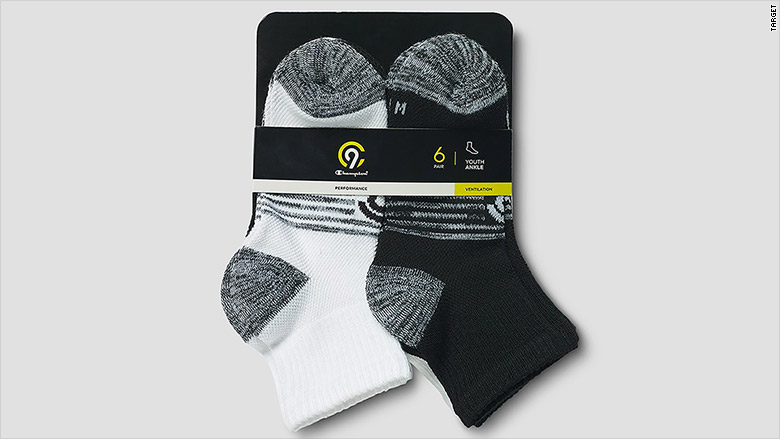 Champion is phasing out an exclusive line at Target and Wall Street isn't pleased.
Hanesbrands (HBI), the parent of Hanes, Champion, Maidenform and Playtex, plunged 19% on Wednesday after it told investors that it would end a longtime deal with Target (TGT).
The company reported that its profit last quarter fell 18% from the same time last year because costs and expenses both grew, adding to the stock selloff.
Hanesbrands has partnered with Target, selling the C9 by Champion men's, women's and children's activewear clothing and shoe brand for 15 years. But the company won't renew its contract for the line with Target when it expires in early 2020.
Related: Walmart and Target are spending like crazy to stop Amazon
Once the deal lapses, Hanesbrands will still sell clothes there. The retailer accounted for 13% of the company's $6.4 billion in sales last year and was the biggest customer in its activewear business. Target was Hanesbrands' second largest buyer overall behind Walmart.
C9 has been a big cash driver for Hanesbrands, raking in $380 million in sales over the last 12 months. The line also includes sports equipment and extends to plus-size shoppers and pregnant women.
Related: Vans sneakers are crushing it
Champion is the company's second-largest brand behind Hanes, and it has been growing as it heads to retailers in new markets, including Europe and Asia. Champion has benefited from partnerships with designers and brands like Supreme.
"Consumers are demanding brands with athletic authenticity," CEO Gerald Evans told analysts on a call Wednesday. "We have driven a brand elevation strategy for Champion to capitalize on these consumer dynamics."
Related: Nike's digital reboot is working
The brand's global sales grew 18% last quarter, and Hanesbrands projects Champion will reach more than $2 billion in sales by 2022.
Although the company said ending the C9 contract with Target won't affect its long-term forecast for Champion, analysts grilled Hanesbrands executives for answers on why the deal expired and how it planned to replace C9 sales.
Evans said Hanesbrands hasn't determined whether it will end the line after 2020, but he left the door open to continuing C9 at another retailer: "There is equity in that brand."
One analyst on the call, Doug Thomas at Gamco Investors, believed Target made a mistake by walking away from C9.
"I just feel like Target must be really out of touch with maybe their core consumers," he said. "This is the time in my view— and I guess a lot of other people's view— to redouble their commitment to Champion."
In a statement through a spokesperson, Target said discontinuing the C9 line in 2020 was part of a "multi-year, broad strategy" to overhaul the exclusive brands it sells in stores. Target has introduced more than a dozen brands over the past year and plans to announce adding a new lineup of performance brands soon.