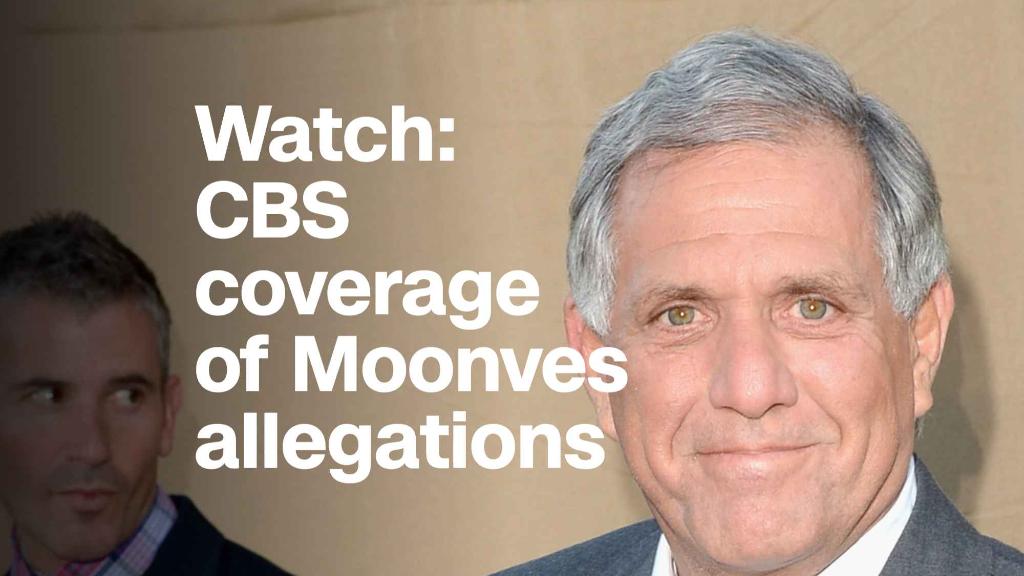 The ongoing sexual harassment controversy involving CBS chief Les Moonves was the topic on most observers' minds when the company held its earnings call Thursday, but the company declined to address the elephant in the room.
A company representative said at the top of the call that it would keep questions limited to quarterly results "on the advice of counsel." Less than a week ago, The New Yorker published allegations from six women who said Moonves sexually harassed them.
Moonves spoke to investors on the call, touting a strong second quarter for the company. CBS reported that revenue was up 6% compared to the same time period last year.
It was aided in part by strong subscriber gains for its streaming services, CBS All Access and Showtime OTT. The company expects to have 8 million subscribers combined from those services by 2019, a year ahead of schedule.
Moonves, meanwhile, is still holding onto his job for now. The CBS (CBS) board of directors opted not to take any action against him, though it did announce on Wednesday that it will hire two law firms to investigate the claims.
Moonves has acknowledged that he "may have made some women uncomfortable," calling those moments "mistakes." He also insisted that he respected women and that he "abided by the principle that 'no' means 'no,' and I have never misused my position to harm or hinder anyone's career."
But it's not clear whether Moonves will be able to hang on for long. He's already locked in an ugly legal battle with Shari Redstone, whose family has a controlling stake in CBS that Moonves is trying to challenge. The New Yorker investigation could cripple his ability to lead.
Related: Six women tell The New Yorker that CBS chief Les Moonves sexually harassed them
Wall Street, meanwhile, has been shaken by the potential for fallout. CBS stock has dropped nearly 9% since news of the allegations surfaced last Friday.
"The added overhang of an investigation of uncertain length with an uncertain outcome will make share outperformance difficult," wrote Doug Creutz, a senior research analyst at Cowen. He downgraded CBS this week.
"As much as we expect CBS staff to try to soldier on, at some level this has to be a distraction," he added.
Moonves has been a favorite among investors, who credit him with the company's success over the past decade. Since the Redstone family split CBS from its other media company, Viacom (VIA), in 2006, CBS stock has more than doubled. The company's broadcast network has been the most-watched for 15 of the last 16 years.
But The New Yorker report is already staining that legacy. The CBS board's decision to keep Moonves on is troublesome, said Brian Wieser, an analyst at Pivotal Research. He questioned why the board did not begin investigating the allegations sooner.
"It makes it look like the board is in the pocket of management," he added.
The problems are complicated further by the battle with Redstone.
The legal dispute dates back to Redstone's attempt to bring CBS and Viacom back together as one company earlier this year. The argument for doing so would be to create a larger company that is able to compete with tech giants and other major media companies, some of which have explored mergers of their own.
There are plenty of questions about whether it would work. Even though Viacom has touted its growth over the last year, CBS is widely seen as the stronger of the two businesses. Earlier this year, Wieser told CNNMoney that CBS would have to invest heavily in Viacom, including in talent, in order to ensure its growth.
Moonves and CBS have resisted the idea, in part because Redstone wanted her favored executive, Viacom CEO Bob Bakish, to take a prominent position at the new company. Moonves wanted his own team.
Related: CBS sues Shari Redstone, its controlling shareholder
That spat led to a dramatic attempt by CBS to lessen Redstone's control over the company. In a lawsuit filed in May, CBS said she "improperly interjected herself into negotiations" about the merger. Court documents also claimed Redstone shooed away a potential buyer of CBS, "depriving the board of the opportunity to consider a potentially value-enhancing transaction."
Redstone's holding company, National Amusements, Inc., has called the suit "outrageous," and her team has argued that it's CBS that doesn't have the best interests of shareholders at heart.
A trial taking up the issue of control over CBS is scheduled to start in October.
Some analysts, including Barton Crockett, a senior analyst at B. Riley FBR, say the allegations against Moonves may ultimately not matter for the trial's outcome.
"There's no way the board could credibly drop the lawsuit because of something happening to Les," he added. "That horse has left the barn."
Wieser, the Pivotal analyst, says otherwise: If Moonves is ousted, Redstone probably wins.
"At the end of the day, the most persuasive argument was that CBS under Moonves was better off under his leadership than not," Wieser said. "If he's gone, you can't make that argument anymore."
And skeptics of her strategy fear the results could be costly.
A merged company run by Viacom's management team "would likely be value destructive," wrote Creutz, the Cowen analyst. He suggested that outcome would lead to "a very, very difficult integration process that would likely feature an enormous amount of resentment among CBS staff about how things went down."
Crockett said some kind of merger is probably better for the future of both companies than staying apart — though he suggested selling off parts of CBS and Viacom to bigger players, rather than bringing them together. s
Other media competitors are already building scale that way, including Disney (DIS), which is buying most of 21st Century Fox (FOXA), and AT&T (T), which closed a deal for Time Warner earlier this summer. (As a result of that deal, AT&T now owns CNN.)
Regardless of the outcome, many analysts see Moonves as a risk — it's just a matter of how he is replaced.
Creutz posed what he called the company's "least bad solution" in his analyst note: Replace Moonves with COO Joe Ianniello, who has been the chief's preferred choice as a successor.
But Wieser noted that the problems that have been reported in the press were alleged to have been systemic.
"It's a Les Moonves problem. It's a board problem," he said. Short of a sweeping change, like merging again with Viacom, he said, it's "hard to imagine any other outcome."