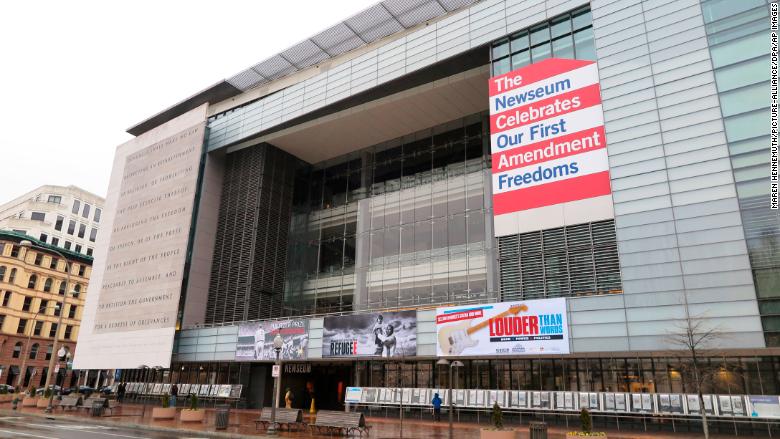 The Newseum in Washington, DC is a unique monument and museum to journalism and the First Amendment. Visitors flock to it to see its hall of front pages from decades past, or its huge news helicopter hanging from the ceiling. It's an event venue for news organizations and political figures.
But the Newseum gift shop offers something alarming. The museum dedicated to the First Amendment and freedom of the press sells T-shirts that tout "You Are Very Fake News" for $24.99 (though they are on sale now online for $19.97).
Poynter reported earlier that the shirts are for sale. The Newseum also sells MAGA hats and other Trump paraphernalia (as it offered Obama gear while he was in office) but the "fake news" T-shirt rankled reporters on Friday.
Michael Barbaro, who hosts The Daily podcast at The New York Times, called the shirts "a very bad idea" on Twitter. "[Y]ou exist to honor, examine and protect the news media, not embrace the bywords by which others seek to undermine it," he wrote.
The Newseum is the same museum that features a moving memorial to journalists around the world who have been killed while reporting. The same museum that is literally inscribed with the First Amendment on its facade, now promoting what has become one of the most damaging phrases about the media to date. It's a phrase now being used by authoritarian regimes around the world to justify their actions limiting freedom of the press.
So why is the Newseum selling the shirts?
The museum's spokesperson, Sonya Gavanka, defended the decision to sell the shirts. "Fake news is a word that is in our popular culture now and this is intended to be a 'satirical rebuke' and appears in our store with T-shirts that include a variety of other 'tongue-in-cheek' sayings," Gavanka said in a statement.
"The mission of the Newseum is to champion freedom of the press along with all the freedoms of the First Amendment, so being a place where people of different viewpoints feel welcome is very important," she added. "All the merchandise in our store goes through a vetting process. Of course, we're well aware of the political temperature in the country, but we will continue to be a nonpartisan organization that champions the rights of all to free speech."
There's another element here — the Newseum is in dire financial situation. The museum has a huge debt, and according to the Washington Post, has considered selling its landmark building. But Gayanka said revenue from the store is a small percentage of the Newseum's budget.
For many the Newseum is a place to foster free speech and celebrate the press -- not a place to sell a cheap joke.