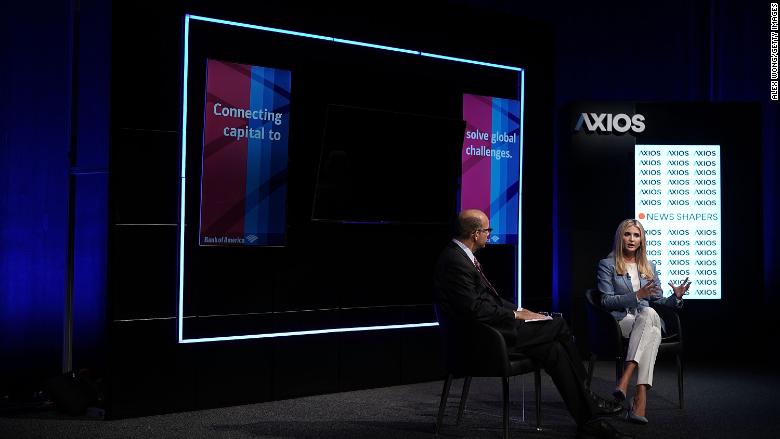 At an Axios breakfast event on Thursday, Mike Allen showed how simple questions can elicit important answers. He asked Ivanka Trump "do you think that we're the enemy of the people?"
She seemed surprised by the question. "Sorry?" The crowd laughed. Allen repeated the question. "No!" she said. "I do not."
One of the president's daughters, and one of his senior advisers, publicly broke from his Stalin-era "enemy" rhetoric. The Allen-Trump exchange stayed in the headlines all day along. So I asked Allen about his strategy behind the question.
"Being a reporter is the opposite of being a trial lawyer: The best questions are when you don't know what the answer will be," he said...
A question for everyone else
A newsletter reader named Rafaella emailed me with an idea: "How about asking every interviewee -- before starting the interview -- the same question live for everyone to see: 'Do you believe the press is the enemy of the people?' If they can't simply reply 'no,' don't offer your platform. Respect their point of view but don't allow them to continue to promote their agenda on live TV offering them CNN's global reach. At some point this nonsense has to stop. It is beyond dangerous."
Trump's wedge
Rafaella's idea, of course, applies to Sarah Sanders and other Trump aides. At Thursday's W.H. briefing, Sanders had numerous chances to say what every patriotic American knows: That the press is not the "enemy of the people." But she passed up every chance, lest she publicly contradict her boss. "Enemy of the people" is "official White House policy."
Was Trump watching the briefing? Probably. Later in the afternoon, he tweeted, "They asked my daughter Ivanka whether or not the media is the enemy of the people. She correctly said no. It is the FAKE NEWS, which is a large percentage of the media, that is the enemy of the people!" This is a common tactic by Trump. He frequently tries to drive a wedge between "good" news outlets he approves and "fake" outlets he condemns. This is one of the reasons why real unity is so important...
Rally Reality
A rally on Tuesday. A rally on Thursday. Another one coming up on Saturday. Here's the thing: Trump is singing the same tune. He's just being louder about it. That's the story of his rallies... and his tweets for that matter. Some of what he says is shocking and unpresidential, but also, on another level, sorta boring.
Get your media fix with the Reliable Sources newsletter
He's acting like "the media" is on the ballot in November. He did much the same thing two years ago. This week there's been a new burst of attention around his hateful rhetoric, and I don't think that's a bad thing, but I think we should specify that he's repeating himself...
Dispatch from Wilkes-Barre
On nights like Thursday, when Trump doesn't say much if anything that's "new," his sustained attacks on the media stand out even more. He called journalists "fake" AND "disgusting" and so on.
Via CNN's Jeff Zeleny, who was there: "Remember when President Trump got good press? He does. He was waxing nostalgic about those heady New York tabloid days -- after spending much of the night railing against the media. 'I didn't need this. I didn't need this. I didn't need it!' Trump said of the presidency. 'I had a very nice life. I used to get actually good press.' He added: 'I didn't need this, but I love it.' It was a momentary riff in a speech that is running more than an hour. But in the next breath, he called the press 'horrible, horrendous people...'"
"A tale of two White Houses"
That's what Anderson Cooper called it on "AC360." On Thursday afternoon the president's top national security officials sounded the alarm about Russia's efforts to "weaken and divide" the United States. The serious discussion in the W.H. briefing room was carried live by all the cable news nets. But Trump didn't mention it at his Thursday evening rally. Instead he said "we're being hindered by the Russian hoax -- it's a hoax, OK?" Thus, two White Houses...
Notes and quotes
-- James Oliphant of Reuters tweeted: Trump "bonds with supporters through a sense of shared grievance. Even though things are going well economically, there is still little positivity at these rallies. There will always be things to be angry about..."
-- The Daily Beast says Trump pal David Pecker and the National Enquirer have made "a conscious decision to pull back on their pro-Trump coverage..."
-- Meantime, is Trump ever going to answer Robert Mueller's questions? Politico has an update...
-- Carl Bernstein just now on "CNN Tonight:" "This is worse than Watergate because the system worked in Watergate..."
-- The Daily Mail obtained a small part of Omarosa's forthcoming book. Drudge's headline about it: "OMAROSA'S REVENGE..."
Moonves and the elephant in the room
Les Moonves had a message on Thursday's CBS earnings call: "I'm in charge, I'm delivering for investors, and I'm not planning on going anywhere."
He didn't say that explicitly -- he said it through his opening remarks and his answers to analyst questions and his confident tone. But he didn't say a word about the sexual misconduct allegations that everyone else is talking about. Nor did he reference his ongoing legal battle with Shari Redstone. It was strange. Here are a few key points...
Why didn't the analysts even try to ask?
Jill Disis emails: It wasn't surprising that the call began with a statement that "the scope of today's call" would "be limited to the quarterly results of the company." CBS cited "the advice of counsel." Okay. But what stunned a lot of observers was that none of the eight analysts who got a chance to ask a question brought up the harassment allegations or Redstone.
One would think that regardless of CBS' request, they would try to ask. I reached out to a few of the analysts, but haven't heard anything back yet. A source tells me that the questions were not pre-screened.
>> Brian Wieser, a senior analyst at Pivotal Research, who listened in but didn't ask a question, on what happened: "Many companies, you'll notice, will only allow certain analysts to ask questions. Suffice it to say, you're likely to have analysts who are likely to ask questions that are not going to push the needle too much..."
"Mooves mum"
Hey, that's not my typo, that's from the "CBS Evening News!" This embarrassing on-screen error is making the rounds in TV news circles... But to the news division's credit, it continues to cover the Moonves story on its newscasts...
Nathanson says CBS is "uninvestable"
Thursday's actual earnings were strong! CBS is growing its revenues, adding more digital subscribers, etc. But "those things don't matter much right now," Michael Nathanson wrote in a blunt note to investors Thursday evening.
His conclusion: "We admit that while we have no clue as to what will happen here, we do know that CBS stock, at this point in time, is simply uninvestable."He cited the uncertainty about Moonves' future. "It is patently obvious that if Moonves is forced out by the CBS Board on the back of sexual harassment, CBS will be materially weakened by the loss of an irreplaceable programming executive...and the stock should fall further." But, he added, "before this issue hit the market, we would have said that CBS is also uninvestable due to the battle taking place between the CBS Board and National Amusements..."
Thursday's other updates
-- Jill Disis has more on the earnings report and the call right here...
-- "Advertisers are remaining quiet," AdAge's Jeanine Poggi reports...
-- There were no updates on the status of "60 Minutes" executive producer Jeff Fager on Thursday. Here's my story from Wednesday...
-- LAT's Meg James and Richard Winton reported Thursday morning: "CBS board members learned several months ago that the LAPD had investigated an alleged sexual assault" by Moonves. No charges were filed...
-- Felix Gillette on CBS and "key man risk:" "By so closely enmeshing its corporate story with its leader's heroic personal narrative for so long, there's little room for CBS to delineate between Moonves's cloudy future and its own..."
The view from the TCA Press Tour
Brian Lowry emails from the twice-annual gathering of TV critics: CBS' statement on its earnings call is almost surely the line the network will employ at its TCA session, which is scheduled for Sunday. It's worth noting that in addition to CBS, two networks it owns in whole or part, CW and Showtime, are slated to present on Monday.
Fox, meanwhile, at its session on Thursday, again touted the benefits of "New Fox" being unencumbered by ties to a major studio. It's an argument, frankly, that runs counter to everything the major networks have been saying and doing over the past few years, when the emphasis has been on owning most of what they produce and exploiting it across multiple platforms, from streaming to international sales...