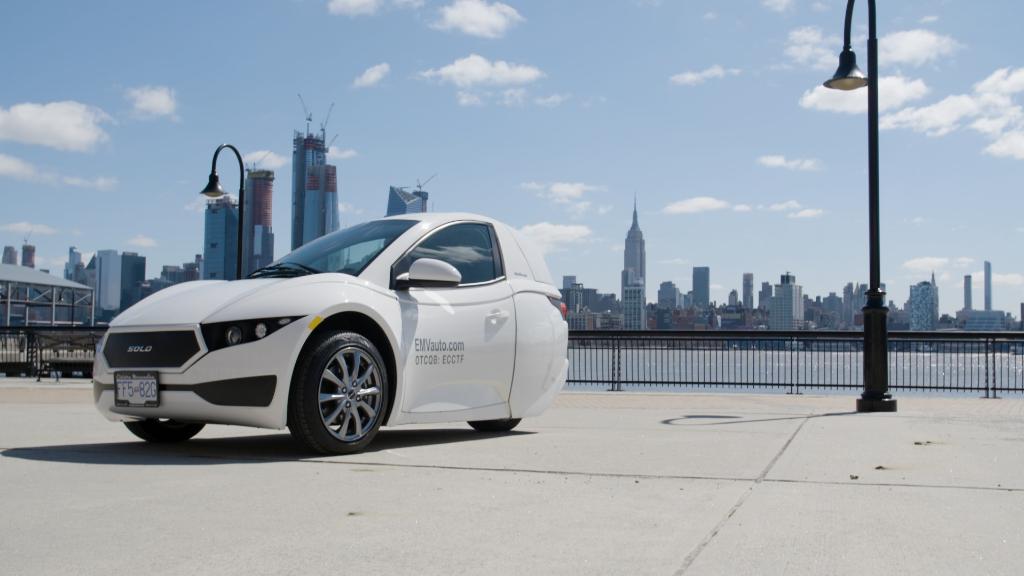 Electra Meccanica, a Canadian company gearing up production of a single-seat car that looks like it's missing its back half, is about to go public.
The company announced Wednesday that it will list a $10 million public offering on the NASDAQ. Shares will be sold starting Thursday under the tickers "SOLO" (for common shares) and "SOLOW" (for warrants). The ticker symbols are a reference to the vehicle it produces -- the "Solo."
The Electra Meccanica Solo is a tiny three-wheeled car designed for those times when all you need is to get yourself, and only yourself, from one place to another. It's basic transportation at its most basic. The electric car has a range, on a full charge, of about 100 miles and a top speed of 82 miles an hour.
The fact that the car has three wheels means that it is not, in most places, considered a car. That frees the Solo from having to comply with various regulations which, in turn, means it can be incredibly small and light. It's about 10 feet long or two feet shorter than a two-door Mini Cooper and weighs 1,100 pounds less.
A prototype of the Solo provided for a test drive proved too rough around the edges, and all the parts in between, to render fair judgment of the final car. One thing it did, however, was garner attention. At every stop light people gathered around clearly wondering what they were looking at.
The bafflement comes from the fact that the Solo doesn't look like a car but it doesn't really look like ... not a car, either. The front end has a "grill," of sorts, and headlights, but once you get back past the windshield it just shrinks away to nothing. One advantage of having just a single seat but two doors is that drivers can easily enter or exit the vehicle from either side.
The company is also developing a two-seat electric sports car called the Tofino that's set to go on sale next year. Plans call for a top speed of 125 mile an hour and range of up to 250 miles with a price around $50,000.
Related: The company that unveiled a $2 million electric car makes one for $11,000, too
Electra Meccanica spun off in 2015 from a company called Intermeccanica, a small volume automaker founded by Canadian Frank Reisner in Turin, Italy, in 1959. That company started out building performance-tuning kits for various cars then, later moved into making its own cars. Intermeccanica is now based in Canada and still makes sports cars that resemble vintage Porsches and an off-road vehicle resembling the World War II era German Kübelwagen.
As far as the Solo is concerned, Electra Meccanica CEO Jerry Kroll called it "sexy" in an interview last April, and said, "I could see Daniel Craig getting out of it and feeling good about himself."
Do not expect to see it as the next "Bond car," though.