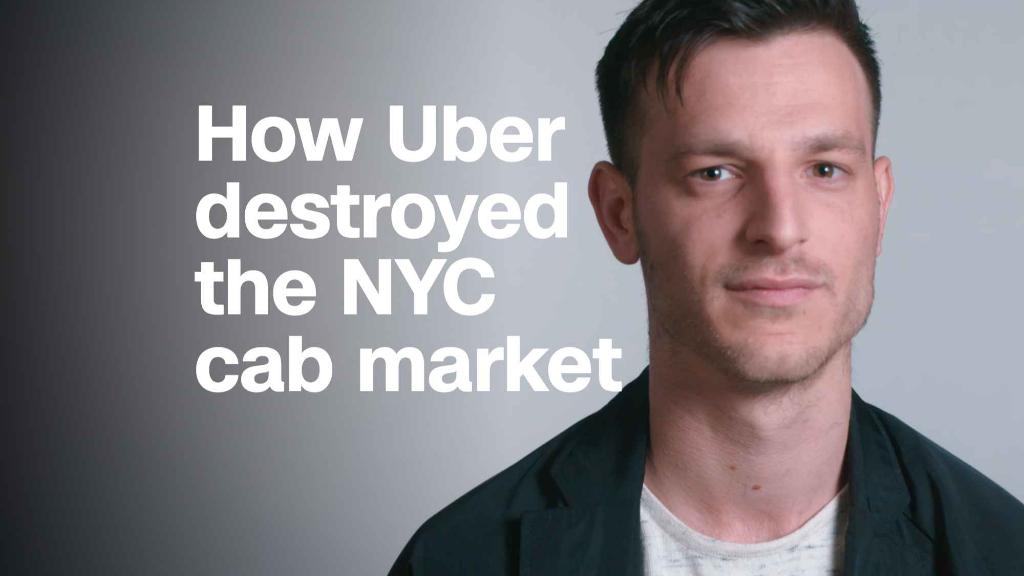 New York just became the first US city to cap the number of ride-sharing vehicles and require Uber, Lyft, and other companies to pay drivers a minimum rate.
Regulatory changes in New York City, Uber's largest US market, could provide a model for other cities eager to rein in ridesharing firms that have increased congestion even as they've revolutionized transportation.
The package of bills approved Wednesday by the New York City Council calls for, among other things, a one-year freeze on new for-hire vehicle licenses as the city explores ways of reducing traffic congestion. It also ensures that rideshare drivers earn at least $17.22 per hour.
Supporters of the law, including Mayor Bill de Blasio, said it will ease gridlock and improve wages. But critics said it will make it harder, and more expensive, to get around.
"These sweeping cuts to transportation will bring New Yorkers back to an era of struggling to get a ride, particularly for communities of color and in the outer boroughs," Joseph Okpaku, Lyft's vice president of public policy, said in a statement. "We will never stop working to ensure New Yorkers have access to reliable and affordable transportation in every borough."
The cap does not apply to wheelchair accessible vehicles or underserved areas that have not been affected by congestion. City officials plan to use the time to study regulations and standards for the ride-hailing industry.
Related: Uber brings back a former Otto executive to lead Uber Freight
This comes in the wake of reports that the rise of ridesharing services has depressed the price of taxi medallions and sharply cut into driver earnings. The situation has grown so dire that at least six taxi drivers committed suicide in the first half of 2018.
About 80,000 drivers in the city are affiliated with four ridehailing companies — Juno, Lyft, Uber and Via — according to a recent report commissioned by the Taxi and Limousine Commission and conducted by The New School's Center for New York City Affairs. That's up from 12,600 in 2015. There are about 14,000 taxi drivers in the city.
"Our city is directly confronting a crisis that is driving working New Yorkers into poverty and our streets into gridlock," the mayor said in a tweet. "The unchecked growth of app-based for-hire vehicle companies has demanded action -— and now we have it."
Many Uber drivers joined the taxi industry in supporting the proposal.
"Workers and New York leaders made history today. It's not easy taking on Silicon Valley behemoths, but we kept on fighting for what we know is right and today the workers prevailed," said Ryan Price, the executive director of the Independent Driver's Guild. The organization represents more than 65,000 app-based drivers.
Related: Avis will start providing rental cars to Lyft drivers
New York's move could shape regulations being considered in other cities concerned by the rise of ridesharing services. Uber in particular has clashed with authorities in Austin, Texas, and in cities throughout Europe. London threatened not to renew Uber's license to operate in the city, but relented after Uber agreed to share anonymous trip data with city planners, limit its operating hours, and make other changes.
Uber is already planning moves to sidestep New York's cap, which applies to vehicle licenses, not drivers. With that in mind, Uber said it will ask current drivers to share their vehicles with new drivers. And it hopes to poach drivers from competing services, expanding its presence in the city.