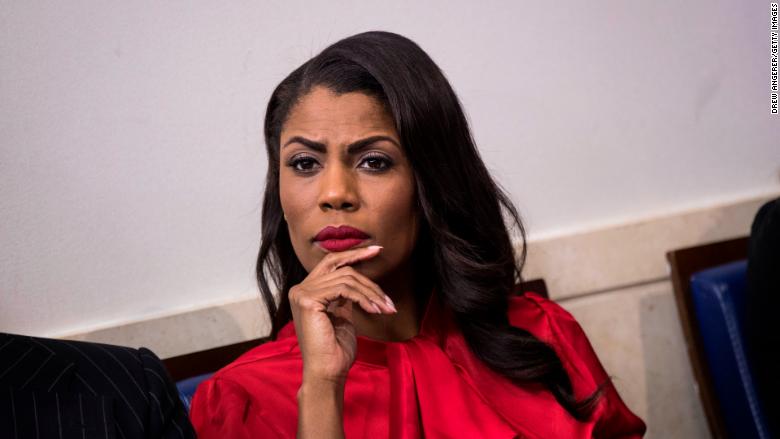 A version of this article first appeared in the Reliable Sources newsletter. You can sign up for free right here.
Who's "Unhinged?"
Is former "Apprentice" star Omarosa Manigault-Newman a reliable source of info about the Trump White House? Buckle up for debates about that in the coming week. Because she's about to betray Trump in a new tell-all book.
Omarosa's recap of her time in the administration, "Unhinged," comes out next week... And on Wednesday we found out what the press rollout will look like. Her first interview will be on "Meet the Press" this Sunday. Then she'll be on "Today" Monday morning.
The Daily Beast reported on Wednesday that she "secretly recorded conversations with the president..." And she "leveraged" the tapes while shopping the book.
A source who has read "Unhinged" confirmed to me that "she has tapes documenting what she details in the book." So, I asked, is Omarosa planning on sharing the tapes during her NBC interviews? The source said no...
Here's my theory about the tapes
The Beast said the tapes are just "anodyne, everyday chatter" between Manigault-Newman and Trump. Nothing dramatic. But the tapes may prop up her tenuous credibility.
Think about it: The W.H. has already criticized her... Saying "she had limited contact with the president while here..." So if Trumpworld attacks her when the book comes out... perhaps by downplaying her relationship with Trump... she'll be able to point to the tapes as proof that she WAS in the room with him...
>> REALITY CHECK: Above and beyond the NBC rollout, this book is going to get tons of attention from entertainment media outlets...
Tribune's decision day
Is the Sinclair-Tribune deal about to die? It sure looks that way. As Hadas Gold and I reported here, the deal between the two companies allows either side to break up, as of 12:01am ET on Thursday. With Sinclair stuck in regulatory limbo, sources at both companies believe Tribune is likely to walk away.
Tribune has scheduled a conference call for 8am ET Thursday, so we'll know more then...
Remember the context for this...
Until recently, it seemed like the FCC, chaired by Trump appointee Ajit Pai, was clearing the way for the merger. In fact, Democratic lawmakers and other critics had assailed Pai for making changes to FCC rules that benefited Sinclair. It looked, to them, like back-scratching: Sinclair had boosted the Trump admin and the admin returned the favor.
Get your media fix with the Reliable Sources newsletter
But then the FCC's inspector general got involved. The NYT reported in February that the IG was examining whether Pai and his aides "had improperly pushed for the rule changes and whether they had timed them to benefit Sinclair." We don't know what the IG has found. But last month Pai surprised many observers by saying that he had "serious concerns" about how Sinclair planned to sell off certain stations to comply with regulations. Pai said the company may have shown a "lack of candor" in their dealings with the FCC, essentially dooming the deal to a lengthy hearing process. So Tribune is poised to find another buyer...
Tribune, of course, spun off its papers in 2014... The publishing division became known as Tronc...
Who's bidding for Tronc?
There was something poignant about the Chicago Tribune breaking this story on Wednesday. The Tribune's parent company, Tronc, is "weighing an offer to sell" all of its newspapers "to a private equity firm, sources close to the company said Wednesday."
The Trib's Robert Channick had the sources. "A bid of between $19 and $20 per share is on the table," he wrote... "That represents about a one-third premium to the stock's $14.77 per share closing price Tuesday, and a total offer that could be upward of $700 million for the entire company..."
SO: Which private equity firm is it?
FLASHBACK: Politico reported on a similar bid last month...
THURSDAY: Tronc will report Q2 earnings after the bell...
Downloading Alex Jones
"Just days after Google, Facebook and Apple purged videos and podcasts from the right-wing conspiracy site Infowars from their sites, the Infowars app has become one of the hottest in the country," the NYT's Jack Nicas reports. "On Wednesday, Infowars was the No. 1 overall 'trending' app on the Google Play store, a metric that reflects its sudden momentum... And the app stood at No. 66 overall on Google, excluding game apps, while on Apple it reached No. 49, above popular apps like LinkedIn, Google Docs and eBay."
Just a temporary blip, or something more? Read on...
Jack Dorsey speaks
"Facing mounting scrutiny for allowing conspiracy theorist Alex Jones to remain on the platform, Twitter CEO Jack Dorsey gave an exclusive radio interview to Fox News host Sean Hannity on Wednesday, explaining how such decisions are made," Time's Katie Reilly writes.
Dorsey's call with Hannity was actually scheduled before this Jones controversy erupted... And Dorsey will be doing more interviews soon...
There's more to come...
Normally I wouldn't talk about this until it's taped... But hey, now it's public...
Dorsey "is planning to speak with NBC's Lester Holt on Nightly News next week and CNN's Brian Stelter on Reliable Sources next Sunday," David McCabe of Axios reported Wednesday, citing "sources familiar with the sit-downs."
McCabe: "The interviews, which sources say were in the works before Hannity's show, come as Dorsey defends his status as the last CEO of a major online platform company not to take down content associated with Jones and InfoWars..."
Read more of Wednesday's Reliable Sources newsletter... And subscribe here to receive future editions in your inbox...