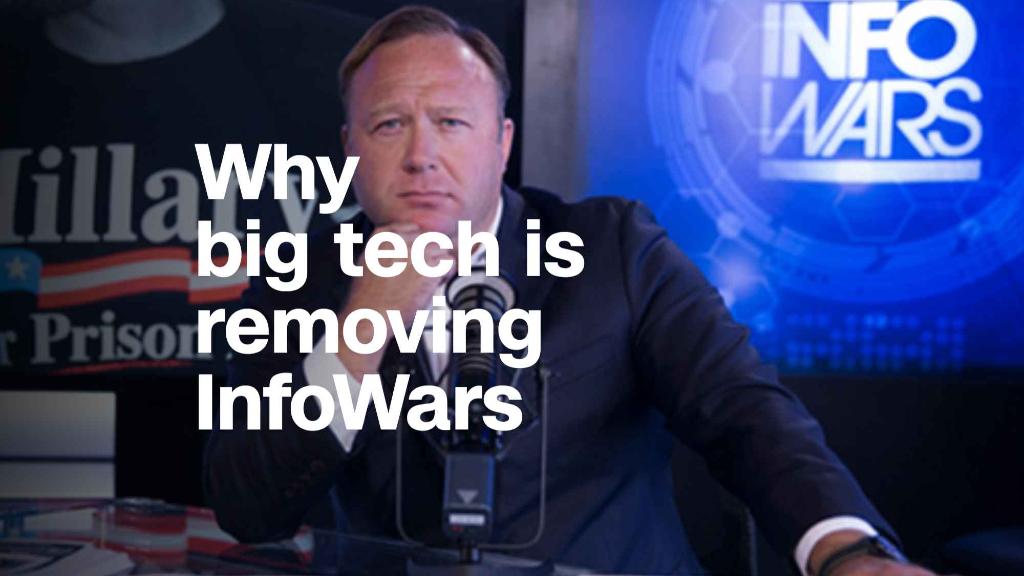 Twitter's vice president for trust and safety, Del Harvey, told employees in an email on Wednesday that if far-right conspiracy theorist Alex Jones and his fringe media organization InfoWars had posted to Twitter the same content that led YouTube and Facebook to take action against Jones and InfoWars, Twitter would have done something too.
"It's worth noting that at least some of the content Alex Jones published on other platforms (e.g., Facebook and YouTube) that led to them taking enforcement against him would have also violated our policies had he posted it on Twitter," Harvey wrote. "Had he done so, we would have taken action against him as well."
But a CNN review of Jones' accounts show that all of the videos that initially led the other tech companies to take action against Jones were in fact posted to Twitter by Jones or InfoWars. All were still live on Twitter as of the time this article was published. CNN noted this in a request for comment from Twitter on Wednesday morning, before Harvey's email was made public. The company declined to comment at the time.
Those videos were not the only content CNN found in its review of Jones' and InfoWars' Twitter accounts that suggest the social media platform's statements about its stance are incorrect, or that its rules are not being applied to Jones and InfoWars.
Content that appears to violate Twitter's rules appears over and over again in the hundreds of hours of video available on the accounts that Jones and InfoWars maintain on Twitter and Periscope, a livestreaming video service that Twitter owns. Jones has repeatedly degraded individuals of the Muslim faith. He has attacked people on the basis of gender identity. And he has engaged in the harassment of individuals.
CNN on Wednesday morning presented Twitter with examples of such content available on both the InfoWars and Jones account. A spokesperson at the time said the company had no comment beyond a statement CEO Jack Dorsey made on Tuesday in which he said neither Jones or InfoWars had "violated our rules" and other previous statements by the company. When asked if Twitter would be reviewing the videos and content CNN had asked about, the spokesperson declined to answer. On Thursday afternoon, after another request for comment, a different Twitter spokesperson notified CNN that the company was reviewing the content.
After this story published, the tweets included in this article were removed from Twitter. A Twitter spokesperson told CNN that Twitter had not removed the content, and that the company was still reviewing it. The Twitter spokesperson said that either Jones or someone with access to his accounts had likely removed the tweets. A spokesperson for Jones and InfoWars did not immediately respond for comment.
On Monday, after his accounts were deleted from other platforms, Jones tweeted, "We've been banned completely on Facebook, Apple, & Spotify," and asked, "What conservative news outlet will be next?" He then pointed readers to InfoWars' website, calling it "The one platform that they CAN'T ban." Wednesday, he posted on Twitter a video message directed to Dorsey. In it, Jones said, "The mere fact that you are saying you are standing up for [free speech] is a good thing. And you're being attacked so I'm glad you've doubled down at least for now."
Twitter is one of the only major social media companies that has not taken any action against Jones or InfoWars in the last week. Since Sunday, Jones has seen much of the social media infrastructure for his media empire crumble. Apple removed the full library of his podcasts, Facebook unpublished his pages, YouTube terminated his account, and other technology companies took similar action. (InfoWars apps do, however, remain available on both the Google Play store and Apple's app store.)
Twitter's policies prohibit users from abusing others. "You may not engage in the targeted harassment of someone, or incite other people to do so," Twitter's rules say. "We consider abusive behavior an attempt to harass, intimidate, or silence someone else's voice."
Twitter's rules also do not allow for "hateful conduct," or the harassment of people "on the basis of race, ethnicity, national origin, sexual orientation, gender, gender identity, religious affiliation, age, disability, or serious disease." The hateful conduct policy also prohibits the promotion of violence against the aforementioned protected groups of people and states that Twitter does "not tolerate" content "that degrades someone."
Below, examples of some of the content CNN has found that appears to violate Twitter's rules.
Sandy Hook conspiracies
Jones and InfoWars are notorious for spreading demonstrably false information and conspiracy theories on a host of issues. Among the conspiracy theories Jones and his media organization have advanced is one that the Sandy Hook massacre was a hoax staged by child actors — a conspiracy theory that has resulted in Jones being sued by parents of some of the victims for mental and emotional distress.
For years, Jones has used Twitter to spread such falsehoods.
Harvey acknowledged in her email to employees that Jones had posted "reprehensible" content about the Sandy Hook shooting on Twitter. She added that at the time he did so, the conduct did not violate Twitter's standards, though she said it would now. (Twitter bolstered its policy regarding harassment and abuse in December 2017.) And, she said, "If people report past content that includes those types of accusations, we would require him to remove it but would not further penalize him as we work to avoid retroactive applications of our policy."
Despite what Harvey said, CNN found multiple examples of Jones advancing conspiracy theories regarding Sandy Hook on Twitter. At the time of publication, the tweets remain online.
For instance, Jones has falsely tweeted that the FBI said "no one [was] killed" at Sandy Hook and suggested that the father of a victim was reading a script ahead of a press conference.
In December 2014, Jones tweeted that people should "check out" a documentary that "blows the lid off suspected #SandyHook cover-up." In the tweet, he linked to an InfoWars story that described the documentary, which YouTube has since removed. The story described the documentary as unearthing "countless anomalies, inconsistencies, and discrepancies evident in the Sandy Hook school shooting investigation." The InfoWars story included a quote that said, "The consensus among the group is that the Sandy Hook event is largely or entirely fraudulent."
In July 2015, Jones tweeted that there had been a "MEGA MASSIVE COVER UP" of the Sandy Hook shooting. He linked to an InfoWars article that claimed a former FBI agent had discovered "inconsistencies" on the matter. The article included a video that has since been removed from YouTube in which the media organization "explores why people believe the Sandy Hook shooting to be a hoax."
Parkland shooting
Jones has also targeted on Twitter the student survivors of the Parkland shooting. The Twitter Rules prohibit the "targeted harassment of someone" or inciting others to do so.
In one video available on Twitter, Jones compared Parkland survivor David Hogg to the Nazis, saying, "The Nazis did wear armbands, David Hogg wears one. The Nazis were a youth movement, they didn't want the guns. And so if the shoe fits, wear it." In another video on Twitter, Jones appeared to compare Hogg with Adolf Hitler, and said that there were "very strong parallels" between Hogg and the Nazis.
A video posted by InfoWars on Twitter also asked, "Are Child Actors Being Used To Push Gun Control in Florida Shooting?" It strongly suggested that student survivors of the Parkland shooting were acting.
Gender Identity
Twitter's "hateful conduct" policy prohibits harassment on the basis of gender identity. The policy says Twitter does "not tolerate" content "that degrades someone." But Jones has repeatedly targeted gay and transgendered communities with videos and rants that appear to harass and degrade gay or transgender people.
Jones and InfoWars have linked gay rights with pedophilia. In July 2015, after the US Supreme Court ruling on same-sex marriage, Jones tweeted that the decision "opens door for pedo politicians." In the tweet, he linked to an InfoWars story that said the ruling "may pave the way for pedophile rights" and make it "easier for perverted politicians to commit their molestations."
Jones has also on Twitter advanced the conspiracy theory that the government has poisoned the water supply with chemicals that turn people gay.
"They are putting chemicals in the food and water where you look at men and women, you can't tell what's what most of the time," Jones said in one video uploaded to Twitter.
In other videos, Jones has gone on extended rants against drag queens.
In one video posted on Twitter, Jones played a clip of the "Drag Tots," an animated show, and drag queens with children. Jones referred to the drag queens as "soul sucked fallen slaves" and suggested they should burn in Hell. Jones accused the drag queens of introducing children to "Satanism" and "satanic rituals."
"We're going to destroy you," Jones said of the drag queens.
That video was one of the pieces of content that YouTube removed and which was the basis for some of that company's disciplinary action against Jones.
In another video posted on Twitter, Jones played a video of drag queens reading books to children. Jones then said they like to "show up" at schools and "have their way with your children" while wearing "demon outfits."
Jones also baselessly accused Michelle Obama of being a transgendered person with male genitalia. In an August 2017 video, he called her a "tranny," a derogatory slur used against transgendered people. Jones repeatedly suggested "she's packing" something in her pants that is "jiggling around, it's flopping around." Jones said, "She adjusts it like a man does. It's incredibly obvious."
An InfoWars video posted in July 2018 falsely declared that the "CIA admits transgenderism is a plot to depopulate humanity." In the video, Jones said it was a plan developed by the British government to "break down" the family unit. "But to do that first, they have to confuse the gender," Jones said.
Muslim Faith
Twitter's "hateful conduct" policy prohibits harassment on the basis of religion. But Jones has repeatedly used Twitter to degrade and attack those of the Muslim faith.
A November 2017 video posted to Twitter by InfoWars claimed The Crusades were a "defensive" measure. In the video, Jones suggesting individuals of the Muslim faith were invading Europe. He shouted, "And we are going to stop you again! Do you understand?!"
Another video posted by InfoWars to Twitter showed Jones portraying Muslim people as violent individuals who are members of an "expansive, intolerant religion of a billion and a half people oppressing their own people, oppressing women, attacking."
In a July 2017 tweet, InfoWars claimed liberal billionaire philanthropist George Soros planned "to use Muslim migrant hordes to destroy the West."
In a January 2018 tweet, Jones linked Islam with pedophilia. His tweet said, "Western Countries Move to Legalize Pedophilia for Muslims."
In May, Jones and InfoWars linked Muslim migrants to crime. In a video posted to Twitter by InfoWars, Jones played a video of French President Emmanuel Macron dismissing the notion that crime rates were linked to migration. Jones responded by mocking Macron, saying, "We are committing suicide. Only 95% of the police say the Muslims are raping!"
In another video posted to Twitter by Jones in May, he claimed Muslims are invading Europe, and listed the dangers he claimed are associated with migration. Jones warned that Muslim migrants are "ending the West," saying parts of Europe were "done" because they had allowed for Muslim immigration.
"It's a takeover of the West," Jones said in the video. "And the women don't care if they are slaves or their daughters are slaves. They have an existential brainwashing like a duck that has been hatched out of the egg. The imprints are tyranny. It just wants to take down Christianity."
Both of the May videos posted by InfoWars and Jones were among the initial pieces of content that YouTube removed and which were the basis for some of the disciplinary action that YouTube took.
Targeted harassment and glorifying violence
The Twitter Rules prohibit content that glorifies violence or "celebrates violence (and/or its perpetrators) in a manner that may promote imitation of the act."
But InfoWars uploaded a video to Twitter in June 2018 that appeared to do exactly that. Titled "How to Prevent Liberalism: A Public Service Announcement," the video showed an adult throwing a young child to the ground. After falling to the pavement, the child screams, seemingly in pain.
YouTube said the video violated its community standards and deleted it.
Twitter's rules also prohibit the targeted harassment of individuals or the incitement of others to do so. But Jones has repeatedly used Twitter to attack and dehumanize people.
In one video posted to Twitter by Jones, the InfoWars founder called CNN Senior Media Correspondent Brian Stelter the "literal demon spawn of the pit of Hell," a "smiling leering Devil," and a "degenerate sack of anti-human trash." Jones referred to Stelter as the "enemy" who was "drunk on children's blood." Jones shouted at Stelter, "You will Pay!" He added, "You will fall!"
In the same rant, Jones targeted journalist and "Fire & Fury" author Michael Wolff. Jones called Wolff "creepy" and said he had a "predator" and "demon" look, among other things.
-- CNN's Paul P. Murphy contributed reporting.