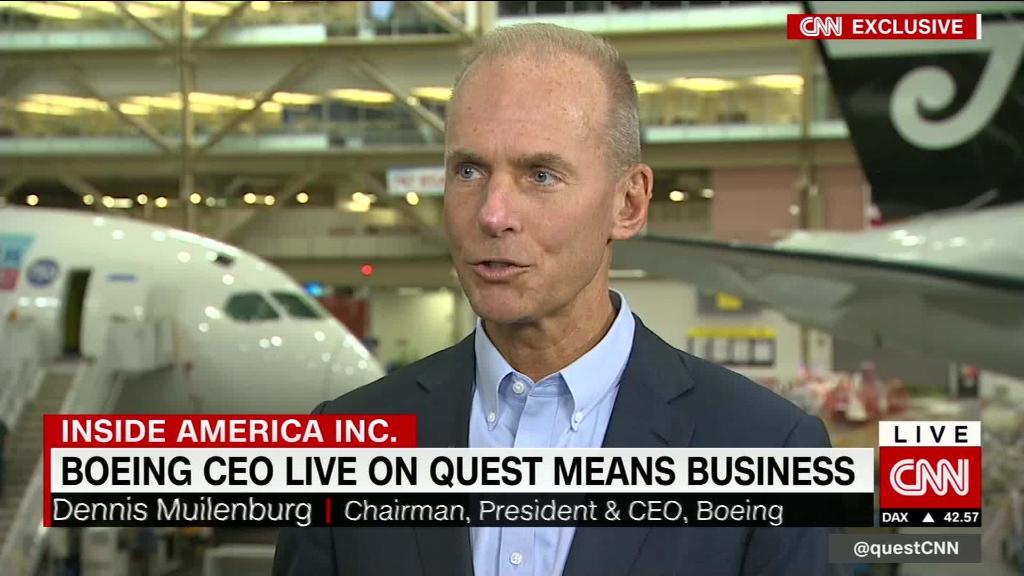 Boeing CEO Dennis Muilenburg says he's concerned about the escalating US-China trade war, but he believes his conversations with the Trump administration about the tit-for-tat tariffs are having an impact.
"We do have some challenges around tariffs, trade, we have some concerns there, but the fact is that we have a voice at the table, and we see the administration leaning forward to support us as a business while we deal with the realities of the trade war situation," Muilenburg told CNN's Richard Quest during an interview Thursday from the Boeing (BA) factory in Everett, Washington.
Muilenburg's comments come amid what China has called the "biggest trade war in history." The United States has slapped $34 billion worth of tariffs on Chinese goods and plans a second round this month on $16 billion more to combat what the Trump administration says are unfair trade practices by the Asian nation. China has hit back with tariffs of its own. Talks are at an impasse.
Boeing has a sizable interest in the resolution of the trade dispute between the world's two largest economies. The company is the United States' largest exporter and is juggling national security contracts with the US government, building rockets for NASA, and delivering aircraft all over the globe.
"Even on the trade front there's an understanding that aerospace generates an $80 billion per year trade surplus for the US," Muilenburg said. "We may not agree on everything, and we engage with both sides of the aisle, we engage with governments around the world," he said.
Boeing expects China to spend nearly $1.1 trillion over the next 20 years buying thousands of new airplanes as the country overtakes the US as the world's largest domestic air travel market.
Trump has criticized Boeing's move to build a factory southeast of Shanghai where it will finish planes for the Chinese market. Trump said Boeing should build the planes in the United States and ship them abroad, instead.
Muilenburg said Boeing's factory in China will help boost production in the United States and create more jobs.
"I think the difference is the structure of the aerospace business," he said. "So, our business grows in the US when we invest in factory capacity outside the US," he said.
He added that he's had "very good conversations" on this topic directly with Trump.
Muilenburg says aerospace remains one of the world's most solid growth industries, with an estimated 43,000 new planes needed in the next 20 years.
Boeing forecasts that 40% of the planes sold in the next 20 years will go to the Asia-Pacific region. That's 17,000 jets — almost as many as will go to North America and Europe combined.
The company also remains locked in battle with its chief rival, Europe-based Airbus (EADSF). Both companies have established industrial presences in China to court buyers who need the blessing of the central government.