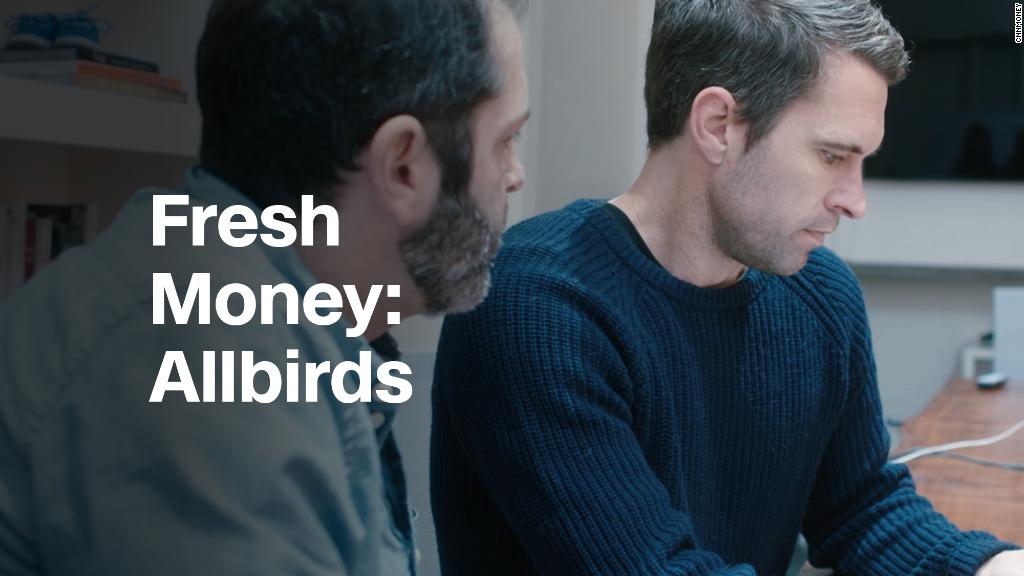 Crocs are hot again thanks to big changes to the business.
The company caught fire a decade ago selling its signature foam clogs. It has since expanded to sandals, flip flops, loafers and sneakers. Sales grew 4.7% to $328 million last quarter compared with a year ago.
Crocs (CROX) has been slowly climbing its way back from a brush with bankruptcy in 2009 and a series of mistakes in the years since.
In the mid-2000s, Crocs was "running on all cylinders," said Mitch Kummetz, an analyst at Pivotal Research Group who has covered the company since it went public in 2006. Even President George W. Bush wore them.
"The brand was super hot and they were expanding distribution like crazy," Kummetz said.
The clogs were for sale everywhere. The company was overextended, and the recession made it worse. Crocs was saddled with excess inventory and forced to liquidate it.
Retailers cut back on buying some of its newer products as shoppers turned on the brand.
Crocs started opening its own stores to make up for lost distribution, but that strategy missed in part because clogs are mainly warmer weather shoes.
"The stores were a real drag to the business in those colder weather months where people aren't looking to buy Crocs," Kummetz said.
Under new management, and after a $200 million private equity investment, Crocs has shut hundreds of owned stores, transferred control of others to distributors outside the United States, and closed factories as it tries to save money.
In May, Crocs closed a factory in Mexico and moved ahead with plans to end production at its final plant in Italy. Once that closes, all of Crocs' production will be outsourced to third parties, primarily in China and Vietnam.
Chief executive Andrew Rees took over in 2017, and he has emphasized cutting underperforming lines, lightening Crocs' inventory levels, and investing in core clogs, sandals and flip flops with different colors and graphics.
Rees' strategic shift has worked, and Crocs has been able to stay relevant with shoppers and adapt to retail upheaval.
Crocs sold close to 18 million pairs of shoes during the quarter, getting a boost from an online musical featuring celebrity endorser Drew Barrymore. Crocs said Barrymore's video turned into its most viewed ad to date.
"Just get comfortable in your own shoes," she sings, highlighting Crocs' versatility.
Clog sales grew 11.4%, while sandal sales rose 18% last quarter.
The company sees a huge opportunity in the $23 billion global sandal market and wants to double that part of its business to $300 million.
"We will continue to focus on molded footwear, particularly clogs and sandals, which are the best reflection of Crocs DNA," Rees told analysts on Wednesday. He pointed to LiteRide, a lightweight foam clog and sandal that the company launched in March, as a product innovation winning over shoppers.
Retailers like Journeys and Dick's Sporting Goods (DKS) that left Crocs during its struggles are showing more interest in selling clogs and sandals at their stores again, an encouraging sign for Crocs' wholesale business. "The brand found a home in the mid-tier and with the family channel," Kummetz said.
In addition, Crocs' higher-margin online business is also growing, driven in part by high school and college students buying clogs to wear before and after sporting events.
Crocs expects its new high-heeled clogs for girls and women, which drew a mixed reaction on social media, to be a popular seller during back-to-school shopping. Either way, all the buzz helped the company: "Crocs benefited from another quarter of increased PR coverage," he told analysts.
But Susquehanna Financial Group analyst Sam Poser believes Crocs' stock, which has more than doubled in the past year, is overvalued. "I think they have some unrealistic expectations for where they're going to get sales growth," he said.
Crocs is making a big bet on sandals, but Poser expects competition from Birkenstock, Merrell and Teva at similar $40 prices to limit its expansion.