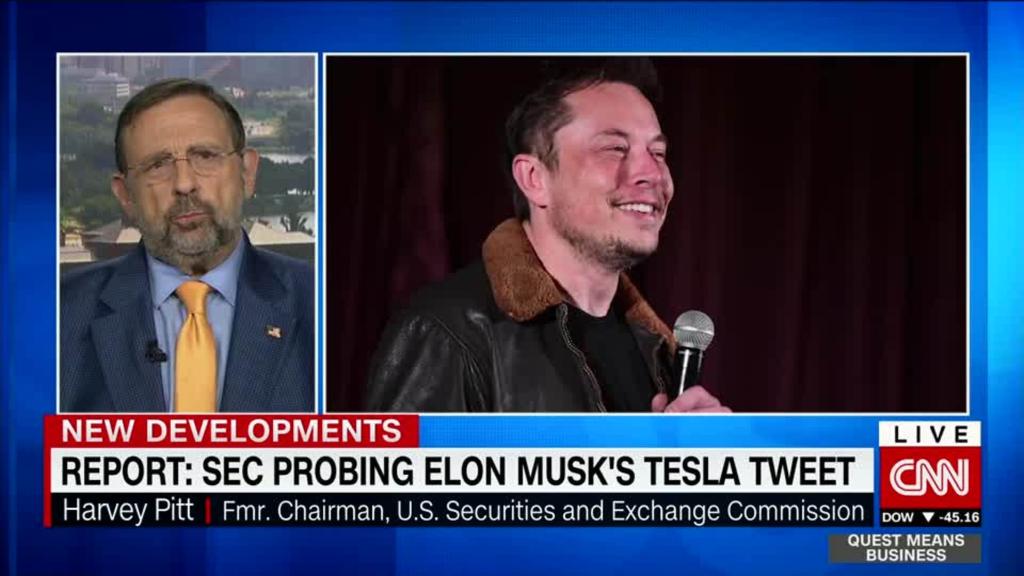 Investors have serious doubts about Elon Musk's plan to take Tesla private.
In two days, the stock has erased the 8.6% gain that followed Musk's surprise announcement on Twitter that he had secured funding to take the electric car maker off the public market. That includes a 4.8% drop on Thursday.
"The number one issue is simply that the investment community is uncertain about where this funding" is coming from, said Rebecca Lindland, an industry analyst with Kelley Blue Book.
Lindland said investors probably took a few days to ask around, and were short on answers.
"The investment community, like almost any industry, is fairly small and tight-knit," she said. "Yesterday was a day of exploration."
Answers aren't coming from Musk, either.
Beyond his tweets and a blog post explaining the move, Musk hasn't offered details on where the financing would come from. He did say he had secured the funding at $420 per share, 19% above Thursday's closing price.
People are asking "how serious this is," said Cowen analyst Jeff Osborne.
Investors also may have been spooked by reports that the SEC is looking into Tesla.
The Wall Street Journal reported Wednesday that regulators are asking whether Musk's tweet "was truthful." And Bloomberg News reported Thursday that regulators were already gathering information about Tesla's public statements about manufacturing goals and sales targets, and intensified their scrutiny after the Musk tweet.
The SEC and Tesla (TSLA) declined to comment to CNNMoney.
There are plenty of other reasons to doubt Musk's plan.
Tesla needs cash for its $2 billion factory in China, to open more stores and to pay off the debt that's coming due in the next eight months. Plus, the new tax law limits how much interest companies can deduct on their borrowing. That will make it more difficult for companies to carry heavy debt loads — and taking Tesla private would means taking on a great deal of debt.
— CNN's Chris Isidore contributed to this report.