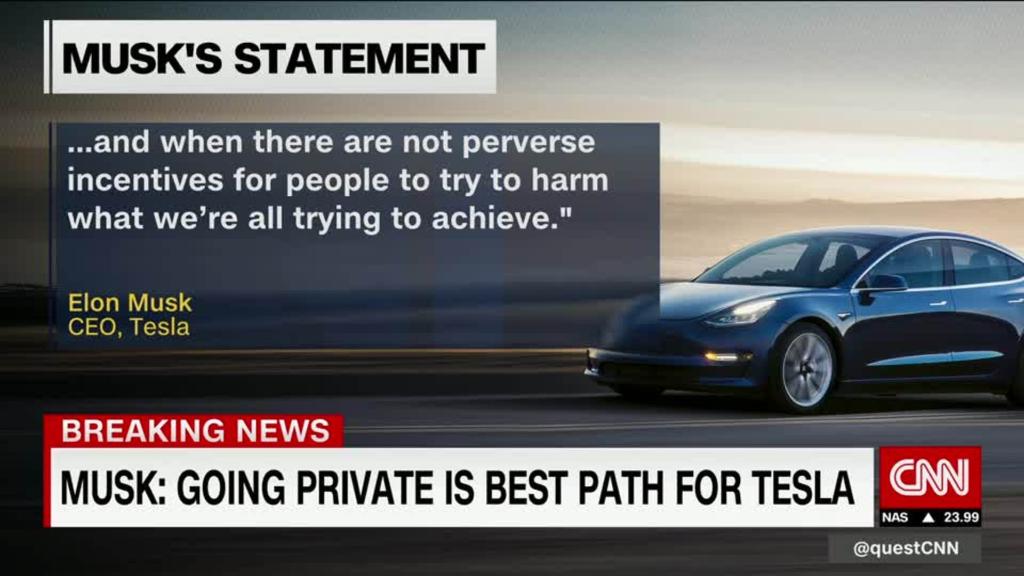 Elon Musk, who tweeted last week that he had "funding secured" to take Tesla private, says he was referring to conversations he had with the Saudi sovereign wealth fund.
In a blog post early Monday, the Tesla CEO wrote that the Saudi fund had approached him "multiple times" about taking the electric car company private.
Musk said he left a July 31 meeting "with no question that a deal with the Saudi sovereign fund could be closed, and that it was just a matter of getting the process moving."
Sovereign wealth funds are investment funds controlled by a national government. The Saudis are trying to diversify away from their interest in oil, and Musk said Monday that they had already taken a stake of almost 5% in Tesla.
A spokesperson for the Saudi fund declined comment on Musk's statement. Tesla also declined further comment.
Musk surprised and puzzled Wall Street on Tuesday with the tweet announcing plans to take Tesla private at $420 per share. Analysts raised questions about where that funding would come from.
In the blog post, he elaborated on his plan.
Buying all Tesla's shares at the $420 price would cost almost $72 billion. But Musk has said he expects to hold on to his 20% stake in the company. He has also said he expects many other investors would retain their shares in a privately held Tesla.
On Monday, he estimated that about two-thirds of the shares held by current investors would remain in those hands, which would reduce the cost of taking the company private to just under $24 billion.
That would still make it the fourth-most-expensive deal on record to take a company private, according to data from Dealogic.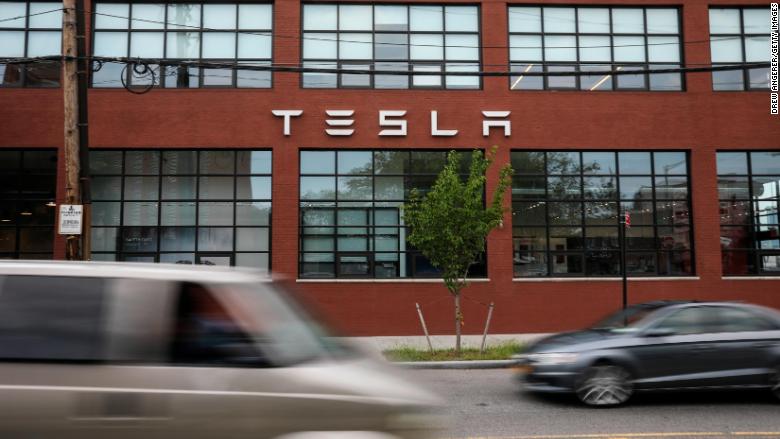 He also wrote that he expects most of the money used to take the company private would come from investors buying equity stakes. Typically, when a company goes private, the company borrows money to repurchase shares.
"I do not think it would be wise to burden Tesla with significantly increased debt," Musk wrote.
The Saudis are probably not the only ones interested in buying an equity stake in Tesla, said Adam Jonas, an auto analyst for Morgan Stanley. Technology funds and other investors looking for a piece of the next generation of vehicles, including self-driving and electric cars, might also be interested.
"Elon Musk may be one of the best positioned players in this ecosystem to explore the size and availability of this pool of capital as anyone else in the market," Jonas wrote to clients on Monday.
But Tesla is facing such great challenges, particularly in ramping up its production, that it must come to a decision soon, he said.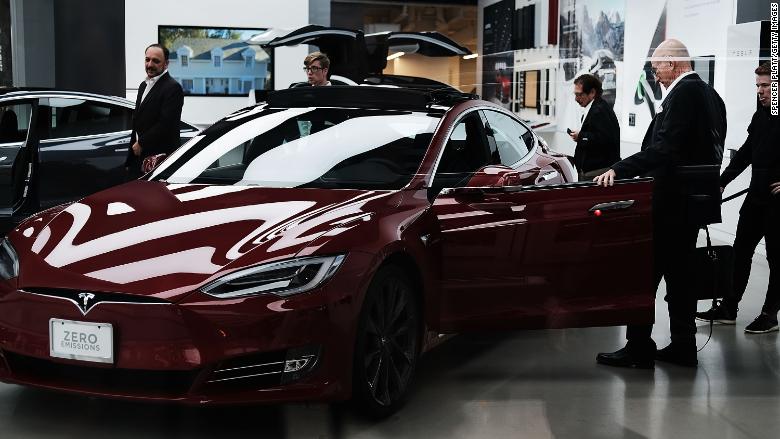 "The longer this situation with no additional details or direction persists, we see reasonable risk that the underlying business could suffer some damage," Jonas said.
Later Monday, Musk tweeted that Goldman Sachs (GS) and investment firm Silver Lake will provide financial advice on the proposal to take Tesla private.
Goldman and Silver Lake weren't available for comment outside of regular business hours.
As a growing company, Tesla needs a lot of cash. About $1.2 billion in debt comes due within the next year, and a planned factory in China will cost at least $2 billion. Analysts have raised concerns about a possible cash crunch at the company.
Musk said he was making the statement "to answer some of the questions that have been asked since last Tuesday." His tweets on the subject last week drew criticism, and even raised the possibility of legal problems.
As for why he made the surprise public announcement last week, Musk wrote that he wanted to be "completely forthcoming."
"It wouldn't be right to share information about going private with just our largest investors without sharing the same information with all investors at the same time," he wrote in the blog post.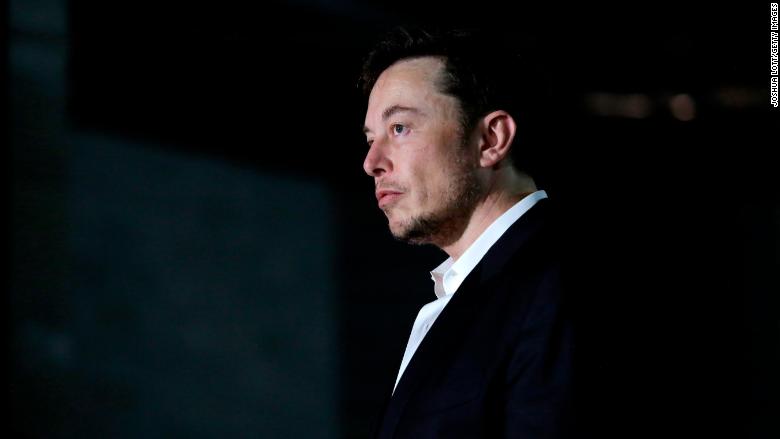 The Wall Street Journal reported Wednesday that regulators were asking whether Musk's tweet "was truthful." And Bloomberg News reported Thursday that regulators were already gathering information about Tesla's public statements about manufacturing goals and sales targets, and intensified that scrutiny after the Musk tweet.
The SEC declined comment to CNNMoney.
Musk and Tesla also face two federal lawsuits accusing Musk of violating federal securities law by making false statements about funding for such a deal in order to boost the company's stock price. Tesla declined comment on the suits.
Tesla stock rose almost 3% in early trading, but it quickly gave up those gains, and it was up only slightly in later trading. The stock was trading at about $358, far from the $420 proposed price for taking Tesla private.
That suggested that many investors remained skeptical of the proposal. There are many obstacles to such a deal.
— CNN's Emma Bowden and Clare Sebastian and CNNMoney's Jackie Wattles and Jethro Mullen contributed to this report.