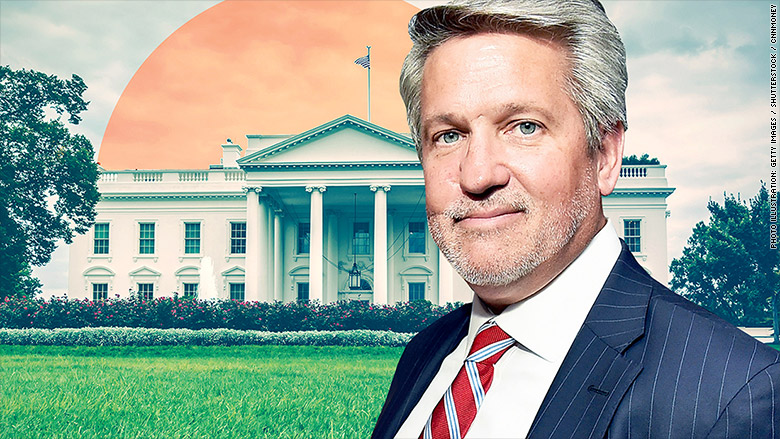 What's Next: The Executive Campaign Producer: Bill Shine's appointment as President Trump's deputy chief of staff for communications highlights the need for a new kind of campaign operative in the Trump era, Hollywood executives and former White House officials from both parties tell me.
The former Fox News chief is executive producing Trump's presidency, these sources said. If the Trump show puts a premium on optics and plot twists to divert media attention, Shine has increased the production value, from plotting the media and marketing strategies to reportedly adjusting lighting, camera angles and back drops.
Trump's 2020 challengers will need their own executive producers who know how to counter-program, the sources said. It will not be enough to have a policy platform and a team of political comms experts versed in messaging and media strategy. They will need EPs who can produce compelling reality television in real time, and who understand how to create "made for TV" moments on an almost daily basis.
The job of counter-programming Trump will likely be one of the most challenging EP assignments in the history of television, given the incumbent's larger-than-life persona and his penchant for controversy. And with no obvious frontrunner on the Democratic side, it's not even clear what that show will look like.
The Big Picture: Half a century after Roger Ailes fixed Richard Nixon's makeup and taught him how to talk to cameras, the synergy of politics and production is about to reach its apotheosis. It could change the nature of the entire presidential campaign.
Bill Shine profiles over the weekend:
• "'Working for one guy': Bill Shine's journey from Ailes enforcer to Trump producer," by The Washington Post's Sarah Ellison and Philip Rucker
• "Fox News to White House: Bill Shine is Trump's new image man," by the AP's David Bauder and Jill Colvin
-----------
Good Morning. There are 85 days til the mid-terms, and 813 days til the 2020 presidential election.
Other things you can expect from future elections: Foreign meddling, misinformation and "fake views" ...
-----------
The Trust Crisis: Fake YouTube Views
"Just as other social media companies have been plagued by impostor accounts and artificial influence campaigns, YouTube has struggled with fake views for years," NYT's Michael H. Keller reports:
• Websites like 500Views.com connect customers "with services that offer views, likes and dislikes generated by computers, not humans."
• "The fake-view ecosystem ... can undermine YouTube's credibility by manipulating the digital currency that signals value to users."
• "YouTube ... said its teams worked to keep [fake views] to less than 1 percent of the total. Still, with the platform registering billions of views a day, tens of millions of fake views could be making it through daily."
The Big Picture: YouTube "helps spur global cultural sensations, spawn careers, sell brands and promote political agendas." But without a reliable ratings system, viewers and advertisers won't be able to trust the true impact of any given video.
-----------
Talk of Tinseltown: Hastings loses CFO
Longtime Netflix CFO David Wells has announced that he will leave the company, a move that's notable given Netflix's massive debt.
What Wells is saying:
• "After discussing my desire to make a change with Reed [Hastings], we agreed that with Netflix's strong financial position and exciting growth plans, this is the right time for us to help identify the next financial leader for the company."
What Hollywood is wondering:
• Who gets to deal with the mounting debt? Because Netflix has somewhere around $28 billion in outstanding debt and content obligations.
The concern over Netflix's debt is especially significant since the company missed growth forecasts by more than one million in the last quarter. As Bloomberg's Shira Ovide has noted, "fast growth and cheap borrowing are a successful pairing until one or both of them stall."
-----------
The Stream: License to chill
Speaking of Netflix, LAT's David Ng reminds us that even as the company increases spending on original programming, most people are still using the platform to watch older, licensed content:
• "A recent study from research firm 7Park Data ... showed that 80% of TV streams on Netflix are licensed TV shows, and that 42% of viewers watch little to no Netflix Original content."
So why is Netflix spending so much on original content?
In a word, Disneyflix:
• "Walt Disney Co. is ending its output deal with Netflix in 2019, pulling its movies as it launches a competing streaming service, which means Netflix subscribers will have access to fewer blockbuster movie titles."
• "TV shows from Disney-owned ABC and 20th Century Fox are likely to go to the Disney service or to Hulu, after Disney's acquisition of most of 21st Century Fox."
• "Netflix could also face licensing challenges as vertically integrated media companies such as Comcast and AT&T explore direct-to-consumer options for content from their respective studios — NBCUniversal and WarnerMedia."
-----------
What TV People Are Reading
"Activist investor Elliott Management Corp. has taken a big stake in Nielsen Holdings and plans to push the TV-ratings company to sell itself," WSJ's Cara Lombardo reports. "The New York hedge fund owns more than 8% of Nielsen, worth at least $640 million ... Multiple private-equity firms already have expressed interest."
-----------
New Tricks: How HBO can grow
Redef's Matthew Ball has four recommendations for Richard Plepler as he looks to grow the company and compete with Netflix ...
• Scale Original Output
• Diversify Original Output
• Cannibalize the Best of WarnerMedia
• Aggressively Invest Internationally
... and two for Randall Stephenson and John Stankey:
• Cut the Price
• Improve the Product
The Big Picture: "HBO [is] the most profitable single network in the world [and[ produces much of the industry's best content ... But to continue to win, HBO, like all successful businesses, needs to change and grow."
-----------
What Next: Oscars Anxiety, con't. The Ringer's Sean Fennessey asks whether the Academy's controversial changes are the right fix for the beleaguered awards ceremony.
See you tomorrow.