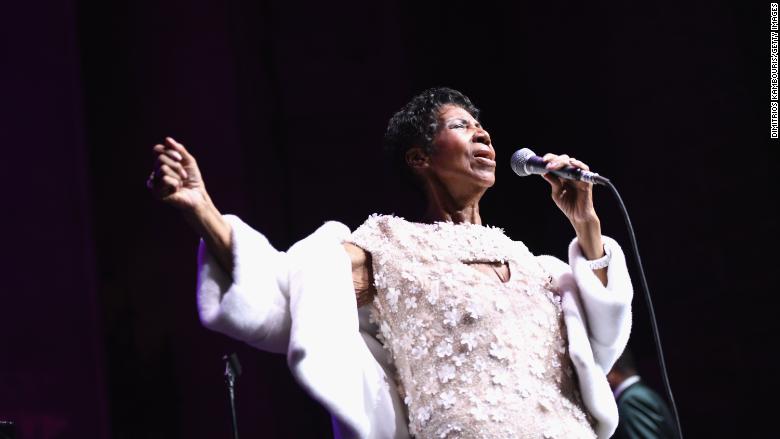 A version of this article first appeared in the Reliable Sources newsletter. You can sign up for free right here.
"Pre-mourning" Aretha Franklin
The digital age allows us to witness "pre-mourning" on a worldwide scale. And that's what we're witnessing right now around the news that Aretha Franklin's health is failing. People are celebrating her life and bracing for her possible death -- and much of this is playing out in public.
Credit where it's due: On Tuesday I heard CNN.com EIC Meredith Artley use the term "pre-mourning" to describe the outpouring of love and concern. That's exactly what it is. Just take a look at a news website, TV newscast, Facebook, or Twitter. There's already a tribute concert being planned for the fall.
"It's very logical on a journalistic and a human level -- she is a global icon," Artley said via email Tuesday night. "A black woman who sings about respect, about being a woman, a moving voice and central figure of civil rights..." Artley said the interest in her life and health and legacy may speak to "a need for some soul and grace in turbulent times." Very true...
Friends and fans rallying around the star
Psychologists sometimes call it "anticipatory grief." A friend commented to me that every time she sees Aretha's name now, "I check to see if she has died."
Think back to June, when there was a digital embrace of Charles Krauthammer in the weeks before he passed away. The same was true when Barbara Bush was in failing health back in April. And I hate talking this way, but I think we've seen some "pre-mourning" of John McCain, given his brain cancer diagnosis.
As for Franklin, Lisa Respers France wrote about the friends and fans rallying around the star... Here's her full story...
Franklin is hearing the tributes
Some deaths come as a shock -- Michael Jackson, Robin Williams, Prince. There was no "pre-mourning" them. Two recent examples were Anthony Bourdain and Kate Spade. But Franklin has apparently been able to hear from some of the people who are concerned about her.
On Tuesday a source close to Franklin told CNN's Don Lemon that the 76-year-old singer "is being visited by people close to her who are reading her messages from friends and loved ones, holding her hand..."
A reminder: Exercise caution...
A warning via the NYT's Ben Sisario:
"The lack of detail about Ms. Franklin's condition led to some premature comments on social media that she had died. On Tuesday, Tim Franklin, a nephew, was quoted in a report by People magazine saying that Ms. Franklin was 'alert, laughing, teasing, able to recognize people.' That comment was rebutted by the rest of the Franklin family... " A family rep said "that Ms. Franklin had met with her nephew in a 'very brief visit two weeks ago.' But by then the People report had been picked up by numerous other media outlets."
My final thought on this: Are some sketchy websites seizing on concern about Franklin to grab some cheap page views? For sure. That's the web at its worst. But at its best, the content connects people and helps them feel a little less alone while pre-mourning the loss of a giant...
NYMag on the block?
Ben Mullin's Tuesday afternoon scoop for the WSJ: "New York Media, owner of New York magazine and several websites, is exploring options including a possible sale, according to people familiar with the matter."
NYMag, Grub Street, Vulture, The Cut, etc. are held by "the heirs of Bruce Wasserstein, a financier who purchased New York magazine in 2003 for $55 million." The owners sorta-confirmed the sale chatter in a statement: "We are focused on building our business organically, but we also explore investment interest and strategic opportunities as a general practice...Given the growth New York Media has seen, it makes sense for us to evaluate the market for opportunities to continue to develop the business."
--> Rafat Ali said it best: "Just because they are potentially exploring a sale doesn't means NYM isn't doing well," he tweeted, "in fact chances are it is doing very well and this is a great time to be a seller of a solid fast growing media biz, not encumbered with crazy high valuations of investors." That's my impression as well... NYMag has been in expansion mode lately...
Introducing FACTAL
The co-founders of NBC News' "Breaking News," which was shut down in 2016, are launching a new startup called Factal.
"The service will cost a few thousand dollars a month (via yearly subscription) and, for now, is aimed solely at businesses who need to make quick decisions (whether to close a store, for instance) in emergencies," NiemanLab's Laura Hazard Owen reported.
Get your media fix with the Reliable Sources newsletter
Here's what co-founder and VP of product Cory Bergman told me: "We've all seen mis- and disinformation in politics, but it's also increasingly pervasive in breaking news about shootings, wildfires and other incidents. If a company has a store a block away from an active shooting, for example, bad information creates confusion and slows the response time to keep people safe. Through a combination of journalists and machine learning, Factal surfaces and verifies early details and alerts companies who have locations physically nearby." A consumer product is likely to follow next year...
Axios hires Felix Salmon and Courtenay Brown
Felix Salmon will be writing a Sunday newsletter, "Axios Edge," with "a focus on big personalities in markets and business," Axios announced on Tuesday.
"With Axios Edge, the company is signaling an expansion of its coverage of markets and finance, an effort that also will include CNBC alumna Courtenay Brown, another fresh recruit," VF's Joe Pompeo wrote...
For the record
-- Journalist Austin Tice disappeared in Syria six years ago today. Tice's parents spent the day publicizing his case... "We know he's alive," his father Marc said... (NYT)
-- "America's silence makes it complicit in Saudi bombing of Yemeni children" is the headline on Jill Filipovic's latest for CNN.com. She says "American journalists and the public are so focused on our domestic disorder that they pay ever less attention to conflicts abroad..." (CNN)
-- Another show of briefing room solidarity: Fox's Kevin Corke deferred to NBC's Kristen Welker when Sarah Sanders tried to cut Welker off... (The Hill)
-- On Tuesday evening, Sanders apologized for her false claim about African-American jobs at the briefing... (CNN)
DOG days of summer
I wish I could say I came up with that headline ;-) But no, it came from the brains of the "AC360" team.
Omarosa's book and Trumpworld's reactions dominated the day... I'm not going to sort through it all... As Jake Tapper said, "This is a challenge for all of us here, we honestly have a story where there are like thirty liars."
But here's what I do know...
Journalists should stand up for decency.
That's what I said on CNN International earlier in the day. Journalists should stand up for decency. Decency is nonpartisan. And Trump's tweet calling Omarosa a "dog" is another example of indecent behavior by the president.
No matter what you think of her... No matter whether you voted for Trump... The insult was beneath the office of the presidency.
I know it's far from the first example... and it won't be the last... but it seems like Trump is using more and more dehumanizing language. Calling someone a "crazed" "dog?" C'mon. Americans will look back at this period in our history with shame, regardless of party... There's a certain amount of shame that comes from seeing a grown man, the leader of the free world, using this kind of language...
Notes and quotes
-- O was on "The Daily Show" Tuesday evening...
-- Chris Cillizza's newsletter has the day's highlights and lowlights here. He says Sarah Sanders' "inability to say -- definitively -- that the President has never used the N-word on tape is startling..."
-- The Trump campaign is taking legal steps against O...
-- WaPo's Ashley Parker with the line of the day: "Like in the 'Jurassic Park' film series — in which the dinosaurs turn on the scientists who created them — Manigault Newman has unleashed Trump's own tricks and tactics against him..."
-- "Inside the White House, aides readied a strategy to try to 'starve' Ms. Manigault Newman of additional attention," WSJ's Peter Nicholas wrote. But Trump ruined that by tweeting so much...
-- Bret Baier's simple Q to Kellyanne Conway: "Why does he feel compelled to keep tweeting about Omarosa?" Conway said he wants to defend himself...
-- Check out Chris Cuomo's Tuesday night essay about why we must hold our leaders to a higher standard...
Checking the Amazon best-seller chart...
On Monday night, Omarosa's "Unhinged" was #5 on Amazon's best-selling books list. Now, as I write this on Tuesday night, the book is at #2.
On the Barnes & Noble site, the book was at #18, and now it's at #3.
I can only conclude that the president's nasty tweets... and all the subsequent media scrutiny... helped O sell some more books.
Correction: This edition of the Reliable Sources newsletter initially misidentified the founders of Factal.