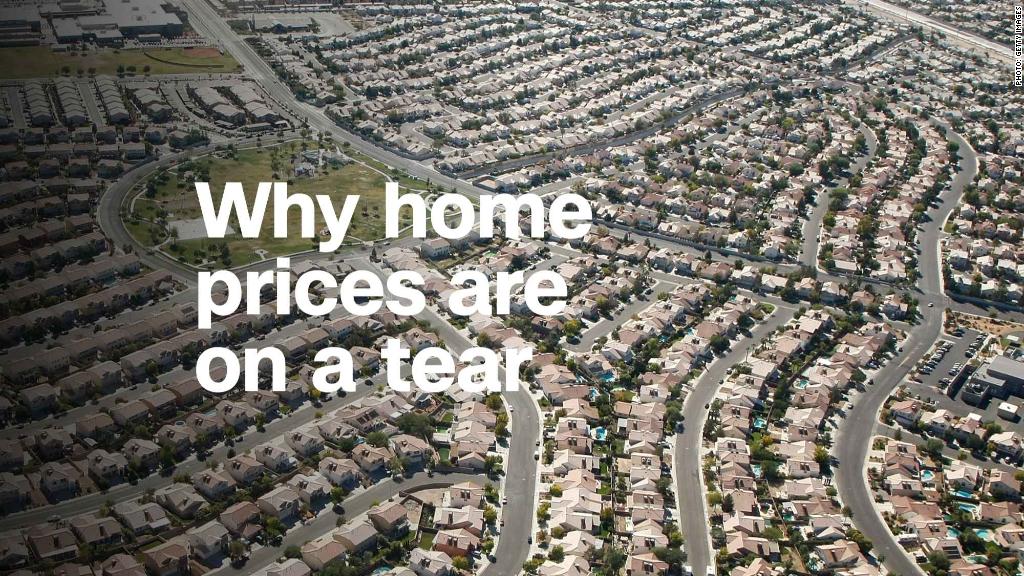 Whenever he wants to see his old house, Nezam Juman walks to the edge of his waterfront property and peers around the river's bend. He can just see the roof behind some trees. It was his dream home, paid for with a cash-out refinance just as housing prices were peaking in Fort Myers, Florida.
"I felt in Fort Myers, I could make it," says Juman, who moved there from expensive Broward County in 2001. He lingers, recalling the bamboo stairs and cherry wood floors he laid himself. "Our home was an opportunity to get a boost in life."
Instead, it became a black hole.
Juman worked as a mortgage originator. In 2007, the housing bust hit like a bomb going off, and all of a sudden nobody was buying. Even after selling some of his family's most personal items, he missed three mortgage payments and the bank began foreclosure proceedings. It ultimately took the house back in 2014.
"That was a very personal house to lose," says Juman, struggling to control his voice.
It was a fate that befell one out of ten homeowners in Lee County. The county had one of the highest foreclosure rates in the country between 2008 and 2013, according to the real estate data firm Attom Data Solutions. In one zip code, 42% of properties went into foreclosure.
Fort Myers was the backdrop President Barack Obama used in February 2009 to dramatize the need for his massive stimulus package, when unemployment in the Sun Belt boomtown was 11.7% and climbing.
Now, ten years after the depths of the financial crisis, the area has mostly healed. Median single-family home prices in Lee County have more than tripled from the bottom reached in 2011, unemployment is below the national average at 3.2%, and construction is everywhere.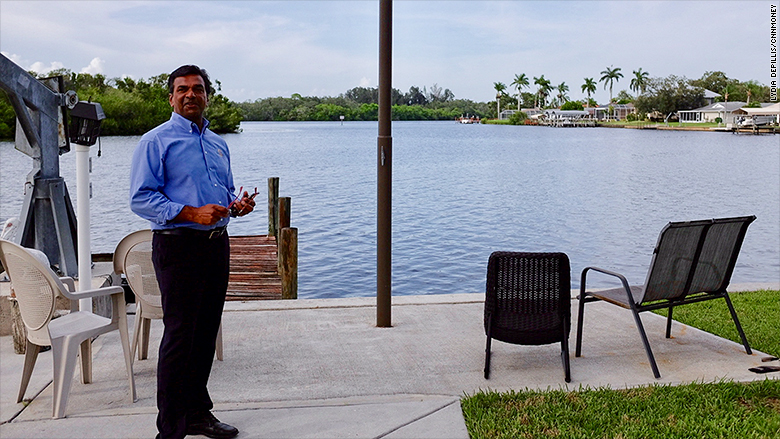 But memories of the crash are still fresh. Randy Thibaut runs Land Solutions, a brokerage that helps sell property to developers and that also closely tracks the housing market. He had projected that 2018 would be a cooling off year, in a gradual deceleration that might allow Florida to get off the roller coaster it's been on for decades.
"We don't want another 2004 and 2005. A sustainable market here would be perfect," Thibaut says.
So far, the issuance of permits to build new houses is again on track this year to exceed the previous year. There's no sign of the fraudulent loans and rampant speculation that fueled the last boom. Still, construction is accelerating while demand for homes shows signs of slowing down, and Thibaut sees history repeating itself.
"We are past our cycle," Thibaut says. "We think we're in the 15th inning."
The birth of a housing crisis
There's a reason why Lee County became the foreclosure capital of the United States.
Its two vast bedroom communities, Lehigh Acres and Cape Coral, were planned in the 1950s. Master developers drained the marshlands, laid the streets, dug canals, and plotted out quarter-acre lots so that home buyers could put $50 down and live the American dream.
The area grew steadily into a tourism and retirement destination, presenting a more affordable route to palm trees and white sand beaches than the state's more crowded eastern coast. Lee County's population of 23,404 in 1950 rose to 440,910 in 2000 — and since then has ballooned by another 67%.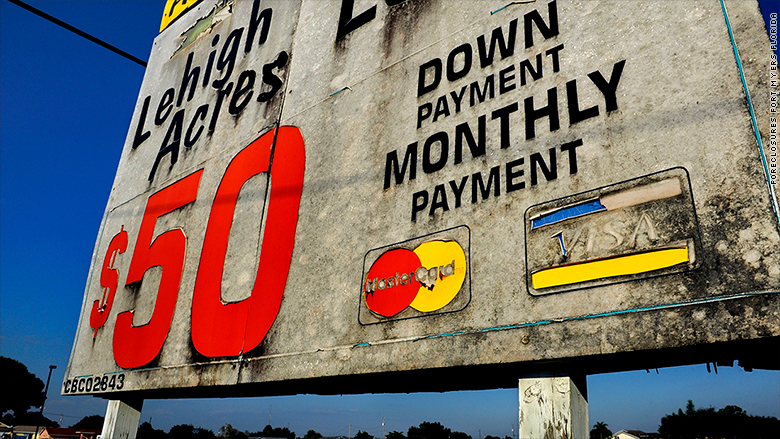 "The cities that got hit the worst were the ones where people wanted to live in the most," says David Diamond, a Naples-based builder of high-end commercial, medical and residential properties who in the 1990s did a brisk business selling brand new, $130,000 homes in Lehigh Acres. "If I can get a loan, where do I want to live? Florida. And one of the most affordable places to live was Fort Myers."
In the mid-2000s, that steady growth started to escalate — fueled by easy money. Everybody has a story from that time: The schoolteacher and firefighter couple who built a $600,000 custom home. The handyman who was buying and flipping homes on the side. The happy hours where everyone seemed to introduce themselves as mortgage investors.
"I would say, 'there's no freaking way that crackerjack box is worth $200,000,'" says Al DeLeon, an insurance agent in Lehigh Acres and Naples. "There were people who were successful in doing this, turning the property and making a profit. But they didn't walk out of the casino. And then they got caught."
Related: 10 years after the financial crisis, have we learned anything?
In spring 2007, Freddie Mac announced it would no longer buy certain risky forms of subprime loans. Housing prices started to decline. In Fort Myers, the fall happened so fast that sales couldn't go through after bids were accepted because appraisals would come in too low.
"Every time I did a mortgage for a client, the values kept dropping, so the mortgage would get denied, every single time," Juman says. "So our incomes went out the door."
Thousands of homes built on spec went unoccupied, driving their builders into bankruptcy. And thousands of homeowners whose livelihoods depended on the real estate industry, either directly or indirectly, could no longer make their payments — banks were rarely willing to modify their loans to help borrowers keep their homes.
In Florida, judges have to sign off on every foreclosure. To speed the process, Lee County set up its now infamous "rocket docket," where homeowners would get a few seconds in a court room before giving their houses back to the bank. At its height in late 2008, the court had a backlog of 30,000 cases.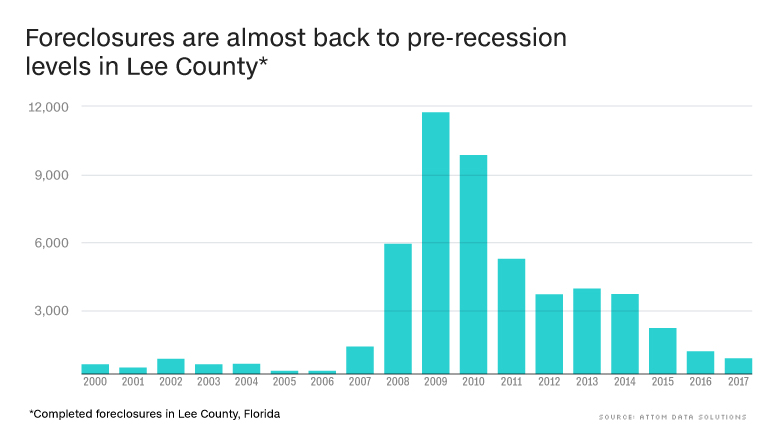 And all those people who lost their homes? Most were forced onto the rental market, often leasing their houses back from the investors who'd bought them at auction. Many left entirely, with no jobs to keep them around, returning to whatever state they'd come from up north.
Juman and his wife stayed. Their credit ruined, the only place they could afford without taking out a loan was a dingy little house on the river whose owner was willing to finance the mortgage herself. He sometimes wishes he'd heeded the signs that Fort Myers' former glittering market wasn't all that it seemed.
"Had we known, we wouldn't have built a big house," Juman says. "I guess I was a casualty."
The long recovery
But nothing can keep Florida down for long.
Unlike rust belt towns that saw their already-weakened industrial bases snuffed out in the recession, Florida's drivers are warm winters, the beach and low taxes. Bolstered by the Affordable Care Act and the burgeoning retiree population, the health care industry remained strong. Florida Gulf Coast University kept growing rapidly, attracting students. Even tourism fared alright, as those who could still afford to take vacations scaled back from more expensive destinations overseas.
As the credit markets started to unfreeze in 2013 and 2014, the big home builders that survived the crash started buying stalled developments. Opportunists with loose cash — from local entrepreneurs to massive private equity investors, like Blackstone and Colony Starwood — snapped up thousands of properties.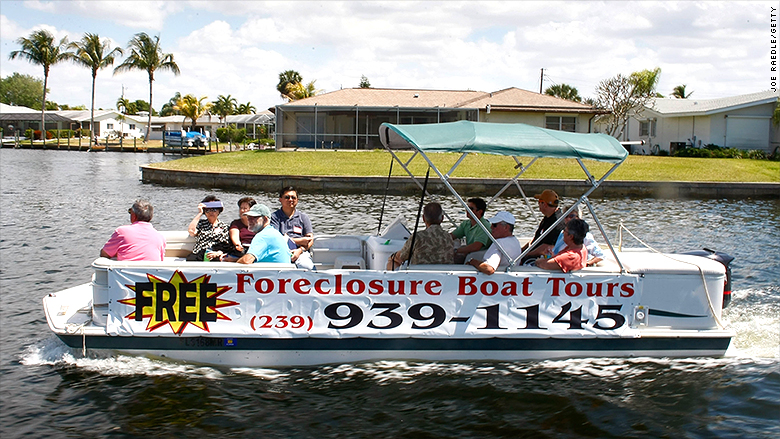 Juman and his wife adapted to the new economy, becoming realtors and managing foreclosed properties that investors had turned into rentals. Those who bought during the bust have easily doubled their money and are now selling off some of that inventory, often to people who lost their homes in the bust and improved their credit enough to buy again.
The market really started to pick up in 2016, and people who delayed retirement during the recession finally figured they could sell their houses up north and relocate to Florida as they'd always planned.
County government, which had lost 48% of its tax base in the crash and laid off hundreds of employees, lowered regulations and took other steps to try to attract businesses. And it seems to have worked: Hertz moved its global headquarters there in 2015, bringing more than 700 jobs. The IT consulting firm Gartner arrived in 2014, and has announced plans to expand to 2,200 people by 2022.
Related: My road back from the Great Recession
Besides professional services and back-office operations for large companies, Lee County has even attracted some light manufacturing, a comparative rarity for South Florida. A local glass contractor, MyShowerDoor.com, is building a $7 million factory to make office partitions and bulletproof glass for schools upgrading their security.
"We're growing exponentially now," says founder and president Bill Daubmann. "Right now is the explosion."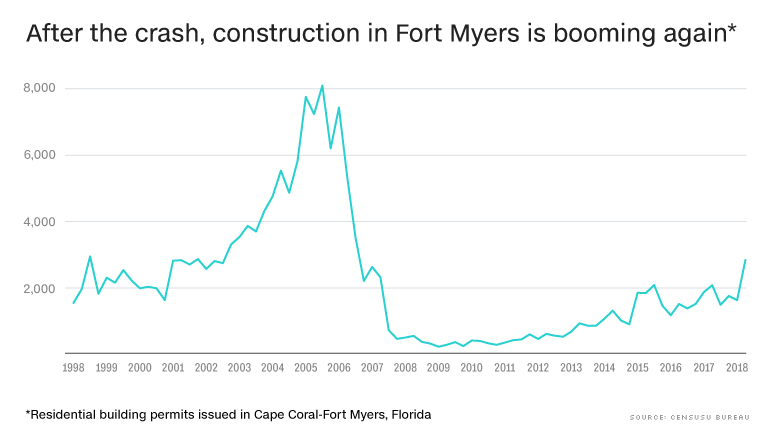 In Lehigh Acres, 40% of strip mall tenants had disappeared during the recession, according to a survey by commercial landlords. "Now they have waiting lists," says Ed Moore, chairman of the Lehigh Acres Chamber of Commerce, who's helping to shepherd a plan for a new town center.
Meanwhile, the main roads through Lehigh and Cape Coral are dotted with bright flags advertising new model homes, with sometimes as little as zero dollars down — eerily reminiscent of the pre-crash frenzy. The endless blocks of still-scattershot development are being filled in again by contractors putting up cookie-cutter houses.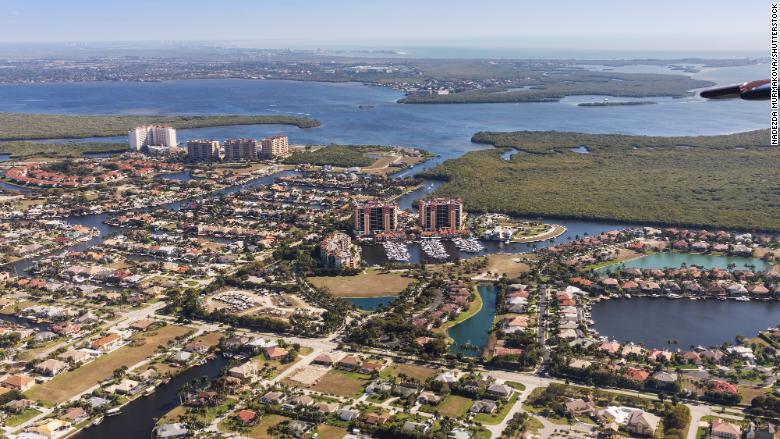 And still, it's not enough to keep up with demand. Rents are increasing, which is hard on the home health aides and construction laborers who commute an hour or more to jobs in the wealthier communities of Naples and Bonita Springs.
"Now that the workforce is here, our biggest obstacle is workforce housing," says Lee County Commissioner Cecil Pendergrass. "Some people don't like to hear 'workforce housing,' but everybody needs to have a home."
The next crash?
The return of development has been a welcome sight for many Fort Myers residents, but some are starting to worry about where the market could be headed.
The median sale price for single family homes in Lee County, which peaked at $315,000 in 2005 and then bottomed out at $81,000 in 2011, is back up to $260,000, according to the Florida Association of Realtors. Foreclosure numbers, which had sunk from thousands to a few dozen per month, started to tick up again this spring.
It's scaring the willies out of Marc Joseph, a Fort Myers-based realtor who during the crash bought a bus, wrapped it in lime green plastic, and led "foreclosure tours" for investors looking to pick up deals.
With prices getting so high again, he worries that buyers are overextending, and might find themselves underwater if the economy stumbles yet again. "If there's any hiccup on a global level, war, another bad hurricane, anything of any kind of magnitude glitches the market, people live paycheck-to-paycheck," Joseph says. "I hate to think the green bus is coming back, but something's coming."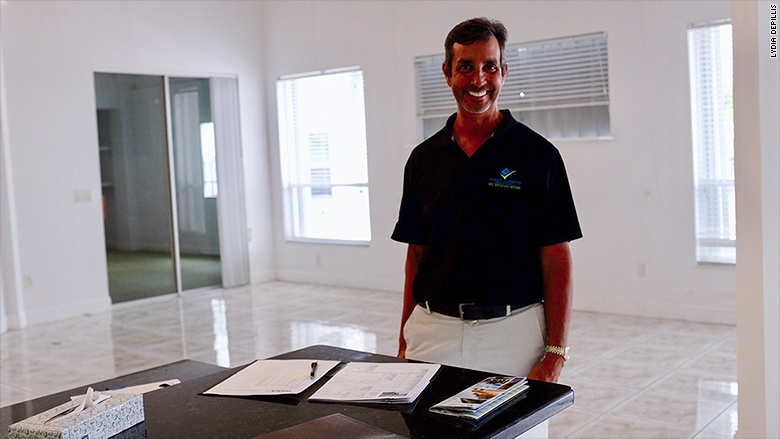 The next crash could come from anywhere: A trade war, spiraling inflation, an environmental crisis that sullies the beaches that lure tourists and retirees. Already, the region is panicking over toxic algae blooms in Lake Okeechobee that are being released into the oceans, threatening beaches with green slime and the smell of dead fish.
Some people who remember the crisis are tapping the brakes, trying to stay away from debt, diversify into multiple sectors, and grow slowly. But Elmer Tabor, a longtime Cape Coral realtor and investor who ran a bank that failed during the mortgage crisis, says he sees newcomers overbuilding like the housing bust never happened.
Related: Four things you can do to be recession ready
"The people who went through it are really paying attention and beginning to tighten up and back off," Tabor says. "We haven't seen the failures of the companies. But what we are seeing is because of greed, people are doing it again."
As for Juman, he and his wife still think about the old house sometimes. They've saved enough money to remodel the little one on the Caloosahatchee River that they've been living in since. He moved the mango tree there from his old backyard, and it's dropping more fruit than they could ever eat. He's going to build another music room, a pool, and a cabana.
This time, they're paying for it with money in the bank, not credit cards.
"I miss my home," Juman says. "But it happened this way."
Correction: A previous version of this story misstated the cost of the factory that local glass contractor, MyShowerDoor.com, is building.