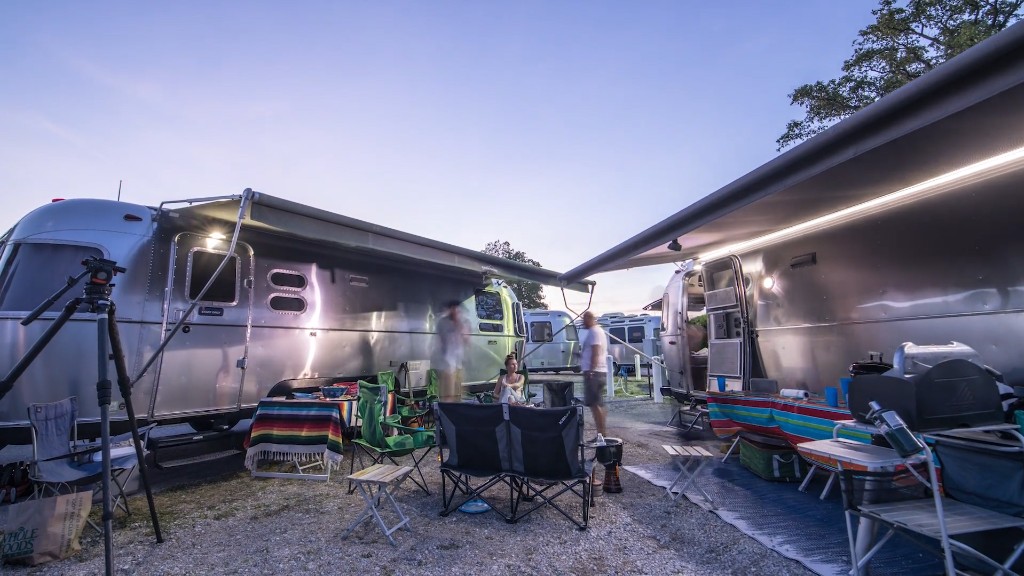 I had to go outside while my wife cooked breakfast. She said she needed room to work.
We were living in a 16-foot-long Airstream Nest. From the hitch to the back door, our temporary trailer home was only as long as the SUV we'd towed it with.
One end of the Nest was taken up with a roughly queen-sized bed. There was a short stretch of hallway with barely enough room for the two of us to squeeze past each other, a stove, a sink, a bathroom -- a shower with a toilet in it -- and a bench seat for two.
The Nest is unlike any other Airstream trailer because it's made of fiberglass, not the signature unpainted aluminum of the company's other trailers. On the other hand, it is very much like other Airstreams in that design aesthetics were clearly a major priority in its creation.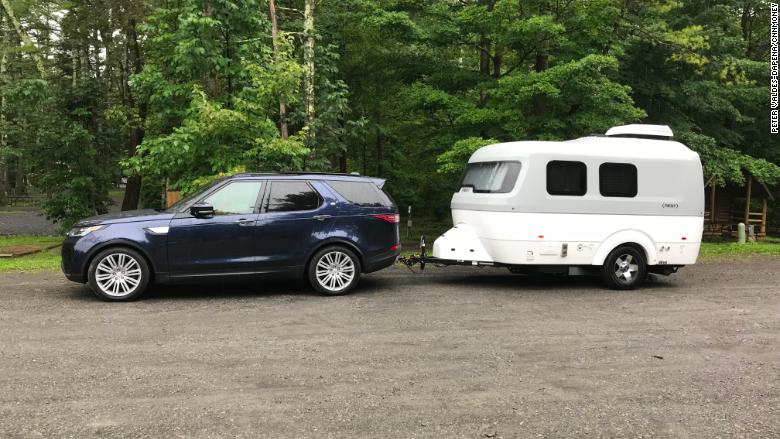 Most camper trailers are shaped like ugly humpbacked boxes. Airstreams are usually bright, shiny metal capsules. Always classic, even when new, they look like optimistic visions of the future that had been towed here from some time just after World War II.
The Nest is a little like that, too, except it's white and gray. You could imagine it parked in a moon crater with a young woman in a space suit stepping cheerfully out of it. This vision of the future is from roughly 1975.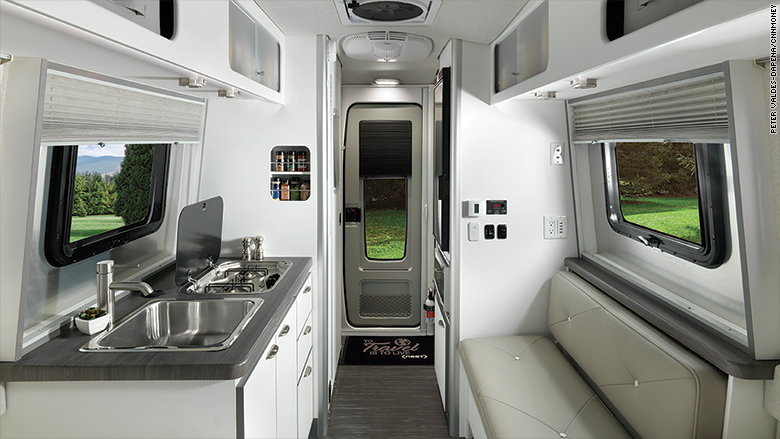 Even the interior, in white, gray and light-colored tones, follows the theme. Mood lighting can be adjusted to any color you like. (I had thought that feature was frivolous but it turns out, when you're living in a little white box, its nice to calm things down at night.)
Neither of us had ever camped before so the whole experience was new to us. Don't misunderstand me. My wife and I aren't nervous city dwellers afraid of bats and spiders. We love hiking in the woods. We'd just never slept there before.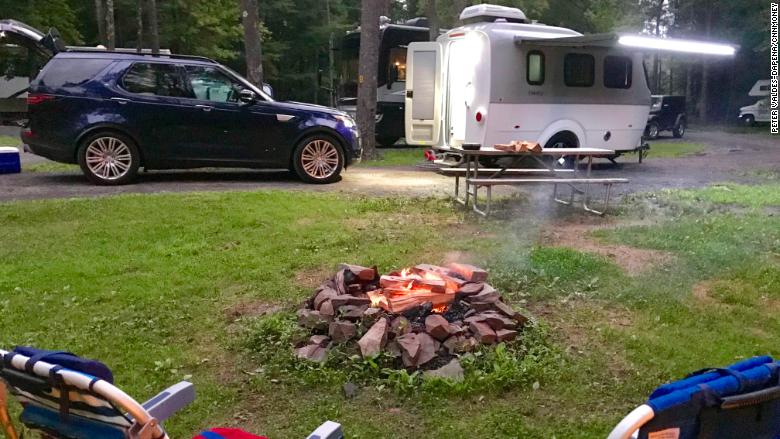 The KOA campground in New York's Catskill mountains, where our little Nest was hooked up to electricity, a water supply and sewage disposal, wasn't exactly "the woods" but there were trees all around. We went to sleep at night to the whirring of crickets.
Except for the second night when we went to the sleep to the sounds of a bunch of young men partying and laughing. Our piece of KOA campground was its own little makeshift neighborhood with people and homes -- motorhomes, trailers and tents -- that appeared and disappeared even over just the short time we were there.
RVs are back and bigger than ever
Our little camper, sitting right in the middle, looked like it could have been a storage unit for one of the mega-motorhomes. The advantage of its size was that it was easy to tow. The diesel-powered Land Rover Discovery we pulled it with barely shrugged at its 3,400-pound weight. And any corner I could get around with the Discovery I could probably go through with the trailer.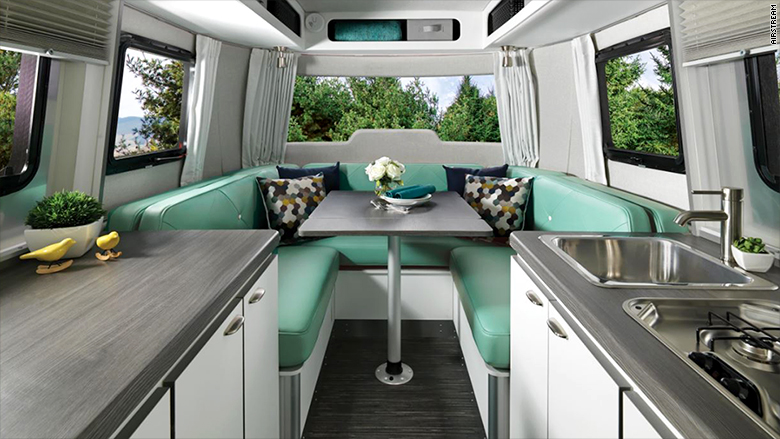 The Nest is honeycombed with cubbyholes, drawers and closets. We would have had ample space for all our luggage and supplies if we'd been staying for a longer time.
The Nest is available with either a permanent bed, which ours had, or with a U-shaped dinette couch that converts into a bed. That provides the option for a little more walking space when you want it.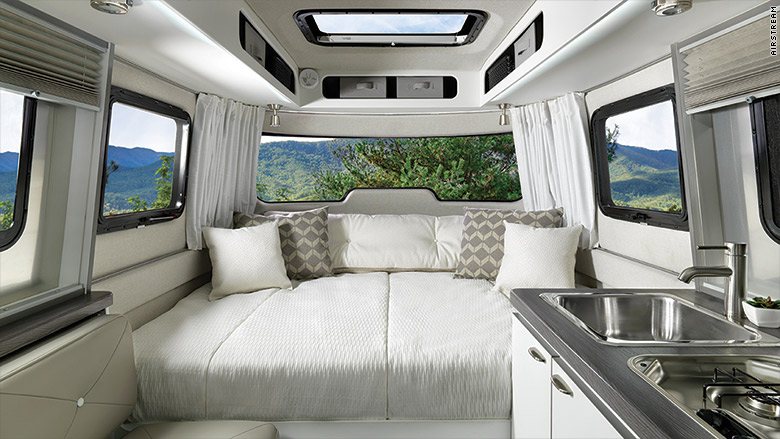 Our Nest was equipped with a two-burner propane stove, a refrigerator and a microwave oven. An easily removable narrow table snapped to the floor in front of the two-seat bench. It functioned as a dining table, work space and as a counter space for cooking.
Despite its small size, the Nest's $45,000 price tag is plenty big. You can certainly get a less stylish trailer for much less. The price makes more sense when seen in the context of Airstream's generally expensive offerings which can reach well into six figures. You can get the even smaller Basecamp for $35,000, but these are stylish luxury trailers and Airstream buyers pay accordingly.
We slept in it, we bathed in it, we cooked in it and ate outside under the trees. It was fun and we'd absolutely do it again. But next time, we decided, we'd want something maybe just a couple of feet longer.