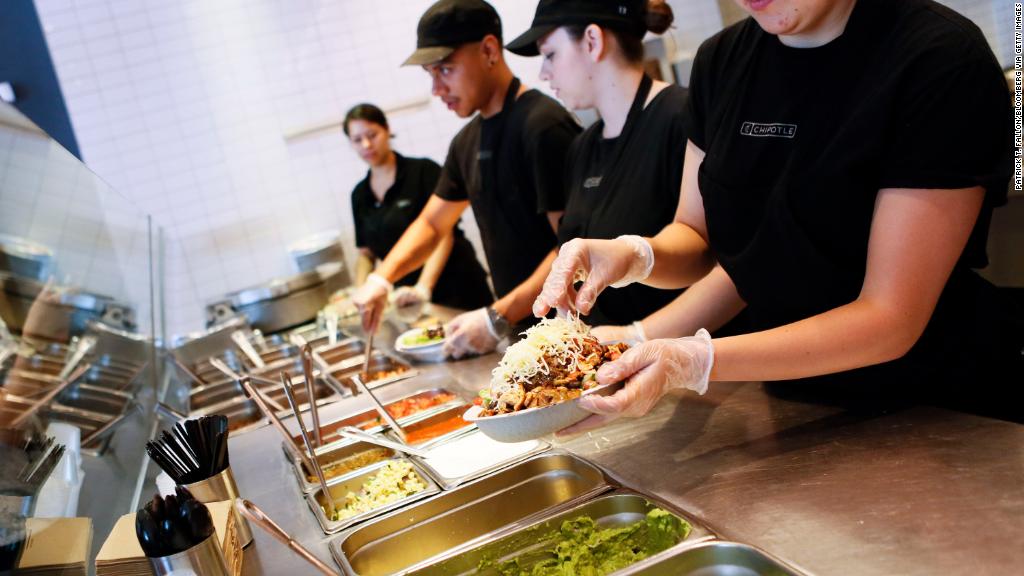 Chipotle will retrain its entire staff after customers got sick at an Ohio restaurant last month.
CEO Brian Niccol said in a statement on Thursday that that starting next week, every Chipotle (CMG)employee will receive a new training on "food safety and wellness protocols." As of June, the company employed about 70,000 people across roughly 2,450 locations.
Niccol added that the company will also start testing employees on food safety standards to help prevent future outbreaks.
People reported getting sick after eating at a Chipotle in the Columbus suburb of Powell late last month. The news sent stock down 6%. On Thursday, shares of the company fell about 3.5%.
An Ohio public health department determined that the cause was a bacteria called Clostridium perfringens, which is caused by food being left at an unsafe temperature. It said that 647 people reported feeling sick after eating at the location. The CDC is still testing samples.
So far, a particular food was not identified as the source of the bacteria.
The latest incident was an unwelcome reminder of Chipotle's previous struggles with food-borne illness. The company suffered a series of health scares in recent years. The most serious was an E. coli outbreak in 2015 that sickened 60 customers in 14 states.
In 2016 the company shut down all of its stores for a few hours to talk to employees about food safety. This time, the stores will remain open and the training sessions will be completed next week during employees' shifts.
"Chipotle has a zero-tolerance policy for any violations of our stringent food safety standards," Niccol said in the statement. "We are committed to doing all we can to ensure it does not happen again."
The zero-tolerance policy means termination. Employees were let go from the Ohio location following the outbreak, but the company would not say how many.
Niccol added that Chipotle closed the Powell location after people fell ill, and that it cleaned and sanitized the restaurant and replaced all of the food.
Recently, Chipotle has taken great pains to win customers back, and their efforts seem to be working.
Sales are rising under new CEO Brian Niccol, who has focused on shortening wait times, improving digital operations and introducing new menu items.
Most recently, the company began testing out new additions to its menu, including bacon and nachos.
— CNN's Jordan Valinsky contributed to this report.