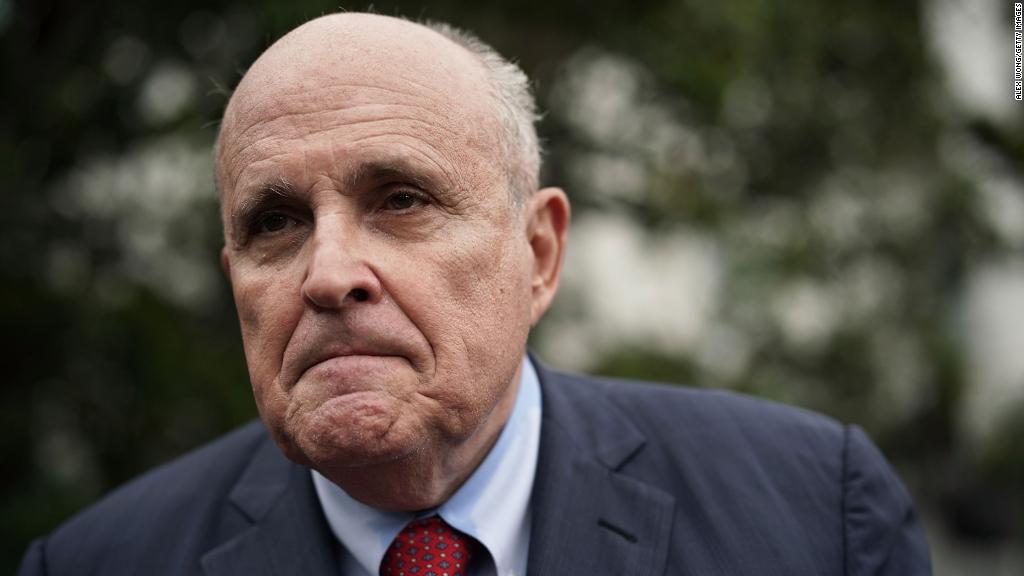 A version of this article first appeared in the Reliable Sources newsletter. You can sign up for free right here.
Rudy's right*
*Yes, there IS such a thing as truth. And the truth needs defending. But Rudy Giuliani was tapping into something real when he told Chuck Todd that "truth isn't truth" on Sunday's "Meet the Press." Something cynical, but real.
No, it won't fly in court. But, as is often pointed out, Rudy is fighting in the court of public opinion. And "truth isn't truth" for Trump's most fervent supporters. They don't trust the usual "truth" suppliers. They feel that the truth is whatever the president says it is, whatever the president's lawyer says it is.
In fact, this is one of Trump's top accomplishments in office: Destroying the notion of an agreed-upon set of facts...
The new "alternative facts"
What is it about Chuck Todd?! Kellyanne Conway's "alternative facts" moment happened on his broadcast. And then "truth isn't truth" supplanted it, also on his broadcast.
THE CONTEXT: As CNN's Caroline Kenny explained here, Rudy was "explaining that he won't let special counsel Robert Mueller rush Trump into testifying because he doesn't want investigators to trap the President into a lie."
THE REACTION: Eugene Robinson was waiting in the wings as a panelist on "MTP." He said "jaws dropped around the set" when Rudy said it...
THE REALITY: "I think the idea that 'truth isn't truth' is going to go down as this White House's legal strategy," panelist Yamiche Alcindor said afterward...
"Don't do 'truth isn't truth' to me"
That was my favorite line of the whole interview. When Todd said "this is going to become a bad meme," Giuliani answered, "No, no, no ... don't do this to me," and Todd won the exchange with, "Don't do 'truth isn't truth' to me." Todd was saying, in essence, don't lie to me and my viewers. Giuliani had lied just a few minutes earlier...
Competing reports, competing truths
But again -- lemme just come back to the point about Trump world's relationship with truth -- we are witnessing what's at the end of a path of 1,000 lies. This is it: "Truth isn't truth." What's a lie when there's no such thing as THE truth? Just competing versions of truth?
Get your media fix with the Reliable Sources newsletter
I talked about this on CNN with Ana Cabrera on Sunday night. To most Americans, I said, this is repulsive. But Trump's fan base chooses to believe that Trump and Giuliani are presenting truth.
"Time for Mueller investigation to file report. We will release ours," Giuliani tweeted on Saturday. So in other words, there will be TWO reports, one about obstruction of justice and another that refutes Mueller and creates confusion about the findings.
For all of us journos, this means one thing: double down on our reporting.
NYT's reporters are on fire...
The Times owned the weekend, first with Saturday afternoon's jaw-dropper about Don McGahn's cooperation with the Mueller probe, then with a Sunday afternoon follow-up about the fallout from that article, then with a Sunday evening scoop about Michael Cohen being investigated for "bank fraud in excess of $20 million."
Maggie Haberman had a byline on all three. (The two McGahn stories were written with Michael Schmidt... The Cohen story was co-bylined with William K. Rashbaum and Ben Protess.)
Key graf in the Cohen story: "The inquiry has entered the final stage and prosecutors are considering filing charges by the end of August..."
Keep this in mind when Trump says the paper is "failing"
Jordan Valinsky's story about Trump's Sunday morning tirade against the NYT included this key factoid:
"In his tweet, Trump again called the Times 'failing,' but the newspaper actually reported a healthy second-quarter profit. Two years ago today, he also called the Times 'failing' and 'dying.' The Times' stock is up nearly 77% since that tweet."
Speaking of that tirade...
"King Kong"
Trump's half dozen tweets on Sunday compared Mueller's "gang" to Joseph McCarthy, introduced the idea of a "John Dean type 'RAT,'" and claimed that "some members of the media" called to "complain and apologize" for the NYT's scoop about McGahn. He also misspelled the word "counsel" three times.
I said on "Reliable Sources" that if we were watching this all unfold from some other country, we'd question the US president's wellness. "Is he okay?"
Trump's Twitter behavior lends credence to one of the many details in Saturday's Times story. It said that Trump's behavior has so exasperated McGahn "that he has called the president 'King Kong' behind his back, to connote his volcanic anger..."
Tweet of the weekend
NYT's Peter Baker: "Shades of 1974? The week started with an enemies list, then came secret White House tapes and it finishes with a White House counsel spilling to a special prosecutor."