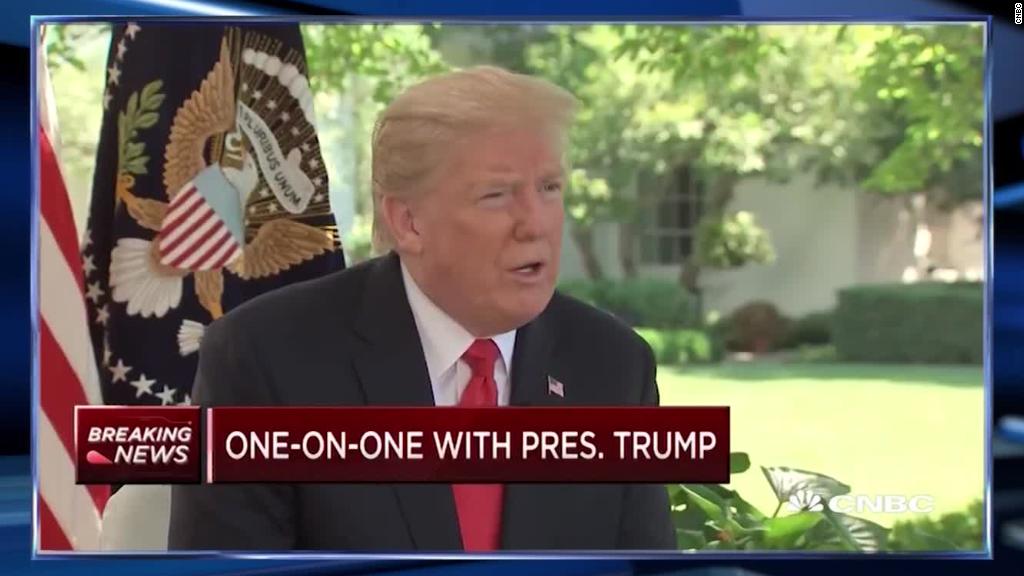 President Donald Trump is chastising the Federal Reserve chairman yet again.
In an interview with Reuters, Trump said he is "not thrilled" with Fed Chairman Jerome Powell for raising interest rates, arguing the central bank should do more to help the US economy.
"I'm not thrilled with his raising of interest rates, no. I'm not thrilled," said the president, who himself appointed Powell to lead the central bank. "I should be given some help by the Fed."
Trump used similar language when he criticized the Fed in a July interview with CNBC.
Presidents have historically avoided commenting on Fed policies. The central bank is designed to be independent from political interference.
A Fed spokesperson declined to comment.
Since Trump took office, the Fed has raised rates five times, including twice this year under Powell.
The Fed has been carefully and gradually raising rates over the past several years to keep inflation in check and to prevent the economy from overheating.
The central bank is expected to raise rates at least two more times this year, citing a solid economy with fewer Americans out of work. It has also penciled in three more rate hikes in 2019.
Despite criticism from the White House, economists give the Powell-led Fed very high marks.
Nearly eight in 10 economists believe the Fed's interest rate policies are "about right," according to a survey released Monday by the National Association for Business Economics. That's the highest in 11 years.
On the other hand, Trump's trade wars and efforts to speed up an already healthy economy have drawn skepticism.
More than 90% of economists surveyed by NABE fear the administration's use of tariffs will hurt the American economy. Seven out of 10 say fiscal policy — the federal government's approach to taxes and spending — is "too stimulative."
The president nominated Powell last year to replace former Fed Chair Janet Yellen. He took on the job earlier this year; his term expires in 2021.
"Am I happy with my choice?" Trump told Reuters, referencing Powell. "I'll let you know in seven years."
Asked by Reuters whether he believes in the independence of the Fed, the president said, "I believe in the Fed doing what's good for the country."
In an interview with American Public Media's "Marketplace" radio show in July, Powell said he was "deeply committed" to maintaining the Fed's tradition of preserving its independence from political concerns.
"We do our work in a strictly nonpolitical way, based on detailed analysis, which we put on the record transparently, and we don't take political considerations into account," Powell said in the interview.
Powell is expected to speak on Friday at an annual economic symposium in Jackson Hole, Wyoming.
— CNNMoney's Matt Egan contributed to this report.