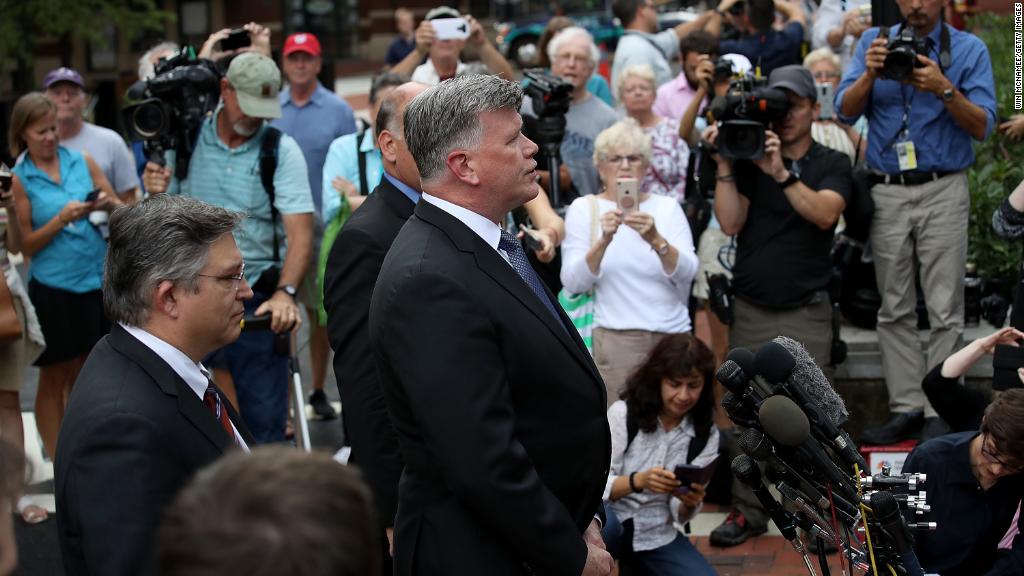 Sometimes news trickles out. And other times, like Tuesday, it hits like a flash flood.
Michael Cohen's guilty plea came within minutes of the verdict in the Paul Manafort trial on Tuesday afternoon. Just before 4:30 p.m. ET, phones lit up with successive news alerts about two felons who had been in President Trump's inner circle. Cable news channels had to interrupt breaking news coverage of one for breaking news about the other.
"If someone wrote the last hour as a chapter in a piece of Trump fan fiction, it would seem too over the top," New York Times reporter Maggie Haberman said on Twitter.
"If this last hour was the plot of a 'West Wing' episode, you would roll your eyes and say 'Yeah, right,'" CNN's Chris Cillizza tweeted.
The Drudge Report dubbed it "TRUMP HELL HOUR," citing Manafort and Cohen's guilt in bold red letters.
In between filing updates to stories, journalists marveled and laughed at the news overload.
CNN contributor Ana Navarro -- who's been on vacation this week -- said, "There's still 9 days left in August!"
And they're typically some of the quietest days of the year. But not in the Trump era.
There had been reporting -- accurate, it turns out -- that federal prosecutors were likely to move ahead with the Cohen case before Labor Day.
Related: Reliable Sources: Epic coverage of a historic day
There has also been speculation that Robert Mueller could complete a report about alleged obstruction of justice by Labor Day, although that remains to be seen.
MSNBC host Chris Hayes quipped on Twitter: "Really glad I took vacation last week!"
It took a few minutes to recover from the flood of news.
But it quickly became clear that the Cohen guilty plea was the most important story of them all, because of the potential consequences for Trump.
"If there was a movie script about what happened today," CNN commentator Jen Psaki said, "you wouldn't believe it."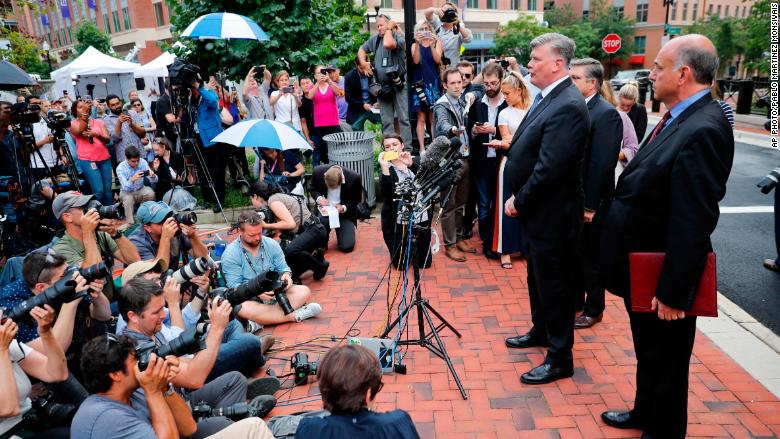 Anchor Anderson Cooper responded: "This is like one of those movie montages where several things happen all at once, and you're like, 'Oh, it's getting to the end of the movie, because this is the montage.'"
At 8 p.m. ET, The New York Times website went with a banner headline: "COHEN PLEADS GUILTY, IMPLICATING PRESIDENT."
The Washington Post used a double-barrel headline to incorporate both guilty counts: "Cohen, ex-Trump lawyer, pleads guilty as jury convicts Trump's former campaign chief Manafort."
CNN's homepage read, in all caps, "COHEN PLEADS GUILTY AND IMPLICATES TRUMP."
The homepage used an unusual format that also highlighted the Manafort verdict, Trump's rally in West Virginia, the indictment of Republican congressman Duncan Hunter, and the arrest of an undocumented immigrant in the death of 20-year-old Iowa student Molly Tibbetts.
Fox News' homepage, on the other hand, led with the Tibbetts case, pushing the bad news for Trump further down the page.
About that Hunter case, Politico's Eric Geller observed on Twitter: "A sitting member of Congress is indicted and it's like the fourth biggest story of the day. Oh also he was the second lawmaker to endorse Trump. The first, Rep. Chris Collins, has also been indicted. This is real life."