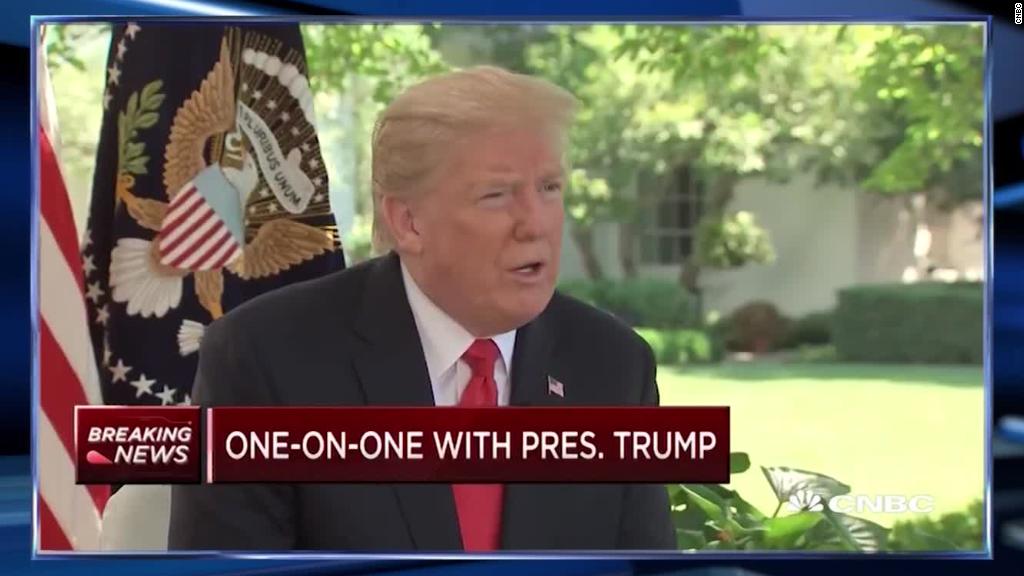 The Federal Reserve is warning that an escalating trade war would pose a big threat to the economy.
But it's sticking with its plan to raise interest rates — whether President Donald Trump likes it or not — as long as the economy remains on course.
Policymakers said it would "likely soon be appropriate to take another step" in lifting rates if the economy keeps growing as expected, according to minutes of the most recent meeting released Wednesday.
But Fed officials described the economic threat of a trade war in stronger language than they previously had as a growing risk to their plans.
They discussed at length concerns that a "major escalation" of trade disputes could speed up inflation and cause businesses to pull back on investment.
Such turmoil could wind up reducing household spending and disrupt companies' supply chains, participants noted.
Recent tariff increases have already begun to cause higher prices for some businesses, according to Fed officials. Others have reduced or delay investment spending because of uncertainty about future trade policy.
Still, some Federal Open Market Committee members noted that most businesses concerned about trade disputes hadn't cut back their spending or hiring, but "might do so if trade tensions were not resolved soon."
For now, the central bank is standing by its plan for higher rates as the economy strengthens.
The Fed is expected to raise rates twice more this year, starting in September.
The Fed meeting, held July 31 and August 1, was the first after Trump began lashing out at Fed Chairman Jerome Powell for hiking rates. The president told CNBC in July that was "not thrilled" with the Fed's actions.
He used similar language on Monday in an interview with Reuters, arguing the central bank should be doing more to help the economy.
"I should be given some help by the Fed," said the president, who himself appointed Powell to lead the central bank.
Presidents have historically avoided commenting on Fed policies. The central bank is designed to be independent from political interference.
The Fed's minutes made no mention of Trump's criticism as a factor in its decision-making.
Since Trump took office, the Fed has raised rates five times, including twice this year under Powell. The Fed has been carefully and gradually raising rates over the past several years to keep inflation in check and prevent the economy from overheating.
After two further rate hikes in 2018, it has penciled in three more rate hikes in 2019.
Powell told the "Marketplace" radio show in July that he was "deeply committed" to maintaining Fed independence.
"We do our work in a strictly nonpolitical way, based on detailed analysis, which we put on the record transparently, and we don't take political considerations into account," Powell said in the interview.
Powell is expected to speak on Friday at an annual economic symposium in Jackson Hole, Wyoming.