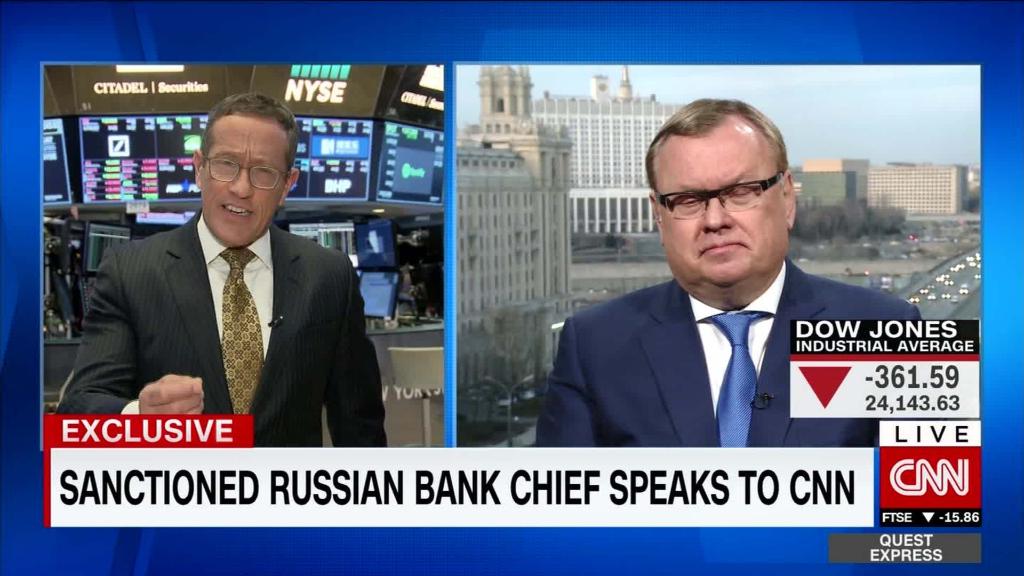 Russia has been selling US government debt and buying gold. A lot of gold.
Official data show the Russian central bank increased its holdings of gold by nearly 29 tons in July, the largest monthly increase since November 2017.
The central bank previously added 20 tons in May and 17 tons in June. Its total holdings of the precious metal have increased 37% since the start of 2016, and are now worth an estimated $76 billion.
The gold purchases have coincided with a dramatic reduction in the central bank's ownership of US government debt, which plummeted 84% between March and May to just $14.9 billion. Treasuries now make up only 17% of reserves at Russia's central bank.
Eugene Chausovsky, senior Eurasia analyst at the geopolitical intelligence firm Stratfor, said the gold purchases were designed to decrease Russia's exposure to the dollar at a time when the relationship with the United States remains tense.
Moscow may also be worried that sanctions could prevent it from selling US Treasuries in the future or stop Russian banks from using dollars to conduct transactions.
"Russia has an interest in insulating its economy as much as possible from the US dollar in anticipation of stronger US sanctions," Chausovsky said.
Finance Minister Anton Siluanov said earlier in August that Russia would continue to sell US debt in response to sanctions.
"We have significantly reduced our investment in US assets," Siluanov said. "In fact, the dollar, which is considered to be the international currency, becomes a risky tool for payments."
While it did not respond to a request for comment on Wednesday, the central bank has previously said it was looking to diversify its portfolio.
Russia has surged up the list of countries with the largest gold holdings, surpassing China earlier this year, according to the World Gold Council. The United States is by far the largest holder of gold with 9,000 tons.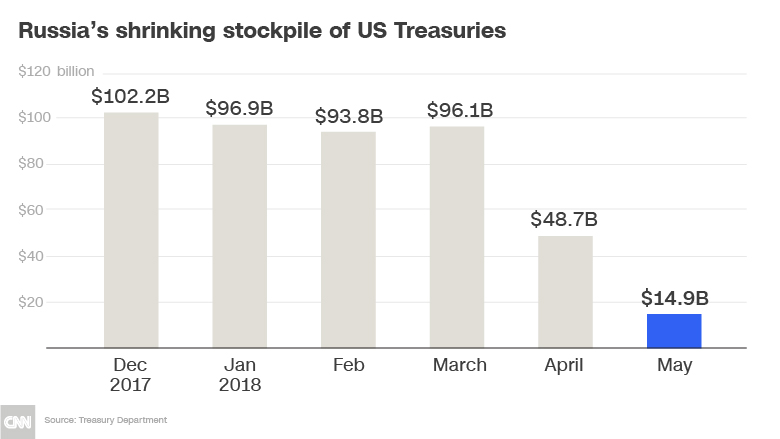 Economic pressure on Russia has increased since 2015, when western countries hit it with sanctions over its involvement in the conflict in Ukraine.
More sanctions were imposed this year after the United Kingdom linked the Kremlin to the attempted murder of a former Russian double agent. The United States has sanctioned several Russian individuals and companies and put tariffs on imports of Russian steel and aluminum.
Analysts said that gold stockpiling suggests that Moscow is expecting even more pain.
"It highlights the way in which fears about an escalation of sanctions on Russia have increased — and that relatively modest sanctions imposed can have large indirect impacts because institutions and investors begin to anticipate the next steps," said William Jackson, chief emerging markets economist at Capital Economics.
The ruble has slumped from 55 per dollar in February to as low as 70 per dollar last week.
Russia's central bank is rebuilding its foreign reserves following a currency crisis in 2014 and 2015, when it burned through almost $150 billion trying to defend the ruble. Its total reserves are now worth $458 billion, still $66 billion less than before the crisis.