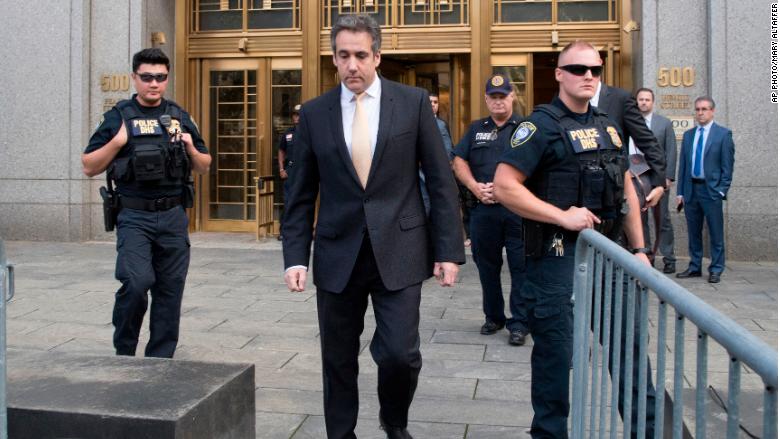 A version of this article first appeared in the Reliable Sources newsletter. You can sign up for free right here.
Now what?
This Google Trends chart shows a huge spike in US searches about "impeachment" in the 24 hours after the Michael Cohen and Paul Manafort bombshells. Impeachment is being talked about on cable news every hour, with some people taking it seriously and others dismissing the possibility. On CNN, ex-Trump campaign aide Michael Caputo told Poppy Harlow that Trump is closer to impeachment than he was 48 hours ago.
Meanwhile, over in Sean Hannity's bubble, thoughtful conversations about President Trump's legal morass are just more evidence of a grand plot against the prez. "The destroy-Trump liberal media is cheering in unison for Team Mueller, every step of the way," Hannity claimed Thursday night.
So now what? I guess this is my long way of admitting that I don't know.
Lanny's TV tour
Ever since Michael Cohen pleaded guilty on Tuesday afternoon, his lawyer Lanny Davis has been everywhere. Seriously, he's given more than 20 TV interviews in the past day. And he's been talking to print reporters and radio stations too. On Wednesday evening I saw him on Chuck Todd's MSNBC show, Martha MacCallum's Fox show, and Anderson Cooper's CNN show, just to name a few. He has several more interviews slated for Thursday. It's a flood-the-zone strategy -- and in some ways he's just playing catch-up, since Rudy Giuliani has been a frequent guest on cable news too. It's also reminiscent of Michael Avenatti's cable-centric strategy. This televised legal drama is a spin-off of The Trump Show...
Why he's doing it
I asked a friend of Lanny's about the say-yes-to-every-show strategy. "He has not been able to speak for a while because of the criminal investigation," the friend said. "Now that Cohen has pled, he can go and talk again and wants to do everyone he promised he would do for weeks. He will do it all now and then stop."
The friend added: "Avenatti and Giuliani have been talking non-stop --- now it's Lanny's turn to defend his client."
Lanny's latest
He said on "AC360" that Cohen "might be able to be useful to the Special Counsel about whether Trump knew ahead of time about the hacking of the Hillary Clinton e-mails... I think what he can say would be useful and that's the way I have to leave it."
What about the Enquirer?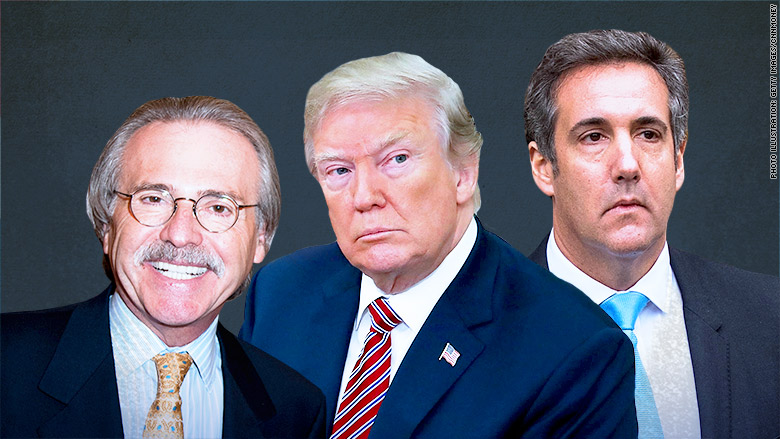 The National Enquirer's partnership with the Trump campaign -- to "catch and kill" stories that might hurt Trump -- was even more extensive than we knew. That's one of my takeaways from Michael Cohen's guilty plea on Tuesday. Here's my full story for CNNMoney...
WSJ says Pecker "provided prosecutors" with key info...
The government's filings show how the Enquirer was weaponized by Trumpworld -- with the full knowledge and assistance of American Media Inc. CEO David Pecker. Famed First Amendment lawyer Floyd Abrams told me that "if Mr. Pecker and his company acted as is alleged, there should and very likely would be no viable First Amendment defense for them."
But AMI and Pecker do not seem to be in any imminent legal trouble. The WSJ reported Wednesday night that Pecker "provided prosecutors with details about payments Mr. Cohen arranged with women who alleged sexual encounters with President Trump, including Mr. Trump's knowledge of the deals..."
-- Reps for AMI and Pecker have not responded to requests for comment since the Cohen news broke. I wonder if an outlet known for embarrassing celebs is now feeling some of its own embarrassment...
-- MORE: The NYT has another big story about this, "How a Tabloid Enabled Cohen To Keep Scandals Under Wraps," on its Thursday front page...
Jim Rutenberg on this week's "Reliable" podcast
One of the authors of that story, Jim Rutenberg, joined me on this week's "Reliable Sources" podcast. The famed Enquirer "tip line became a trip wire" helping Trump, Rutenberg said on the pod. He's been covering AMI for the better part of a year, so we talked about "catch and kill," underhanded tactics elsewhere in the "gossip world," and potential legal consequences. Plus, he described sprinting across the NYT newsroom when Cohen pleaded guilty on Tuesday...
Listen to the pod via Apple Podcasts, TuneIn or Stitcher...
Ridiculous!
"Can you stand here today and say the President has never lied to the American people?" NBC's Hallie Jackson asked at Wednesday's press briefing. She pointed out that Trump said "he knew nothing about these payments, when, in fact, we now know he knew everything about these payments. So has he lied?"
"I think that's a ridiculous accusation," Sanders said. I know that's a ridiculous answer. Lying is one of the few constants of the Trump era.
Some fact-checkers have been reticent to label falsehoods as "lies," for much-debated reasons. So that's why Wednesday's decision by the WashPost was notable: For the first time, Fact Checker columnist Glenn Kessler applied the L word.
"The president's statement was a lie — and the people speaking for him repeated it," he wrote. Here's his anatomy of the lie...
Quote of the day
"In a divided, disbelieving nation, will this really turn out to be the epic moment it looks like? Or will Trump's intense, years-long campaign to undermine the media -- and truth itself -- pay off now, in the clutch?"
-- Margaret Sullivan's latest column, titled "This is the moment all of Trump's anti-media rhetoric has been working toward..."
CNN suspends Paris Dennard
Pro-Trump commentator Paris Dennard, who previously worked at Arizona State University, was fired from his job there four years ago "for making sexually explicit comments and gestures toward women, according to documents and a university official," WaPo's Aaron Davis reported Wednesday evening.
Dennard is well known to CNN viewers for his staunch defenses of POTUS. He told the Post that he still believes the harassment allegations are false.
When I reached out to CNN PR for comment, a spokeswoman responded with this: "We are aware of reports of accusations against Paris Dennard. We are suspending Paris, effective immediately, while we look into the allegations."
Trump's "Fox & Friends" chat airs Thursday
Trump tweeted Wednesday evening, "I will be interviewed on @foxandfriends by @ainsleyearhardt tomorrow from 6:00 A.M. to 9:00 A.M. Enjoy!"
No, the interview is not three hours long. It was taped on Wednesday, and Fox released clips throughout the day... It was evidently more of a chat than a hard-hitting interview... with questions like "Michael Cohen, tell me about your relationship with him."
But there was some news made... Trump said the hush money payments "came from me..." And Ainsley Earhardt said on "Hannity" that Trump told her that he is considering a pardon for Paul Manafort...
He says 80% of the media is the "enemy of the people"
Earhardt asked about Trump's media attacks in the gentlest way possible -- "is the press the enemy of the people?" -- prompting more of the same from POTUS. He always tries to drive a wedge between "good," approved outlets and "bad" ones... "real" versus "fake" news... This time, he said the "fake news" is the enemy, and "it's a big chunk, OK? Somebody said what's the chunk. I said 80%. It's a lot. It's a lot." He went on to say the NYT is "crazed" and "like lunatics."
Omarosa's book is No. 1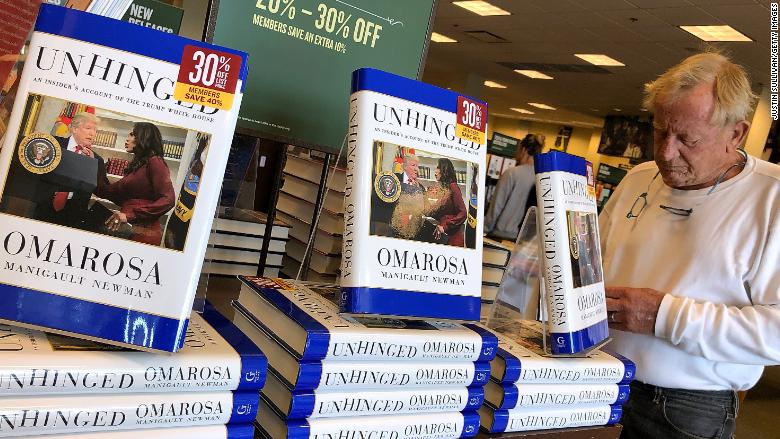 You'll recall that I was underwhelmed by Omarosa's performance on the Amazon and B&N sales charts last week. While she never quite hit No. 1 on Amazon, her sales were strong enough to snag No. 1 on the most prestigious list in publishing, the NYT's. "Unhinged" debuted at the top of the Times combined print and e-book best seller list on Wednesday. Here's my full story...
The latest from her publisher
No specific sales figures or info about new printings, but a Simon & Schuster rep said "we're delighted that readers have responded enthusiastically and it is selling well in all formats, print, ebook and audio. Omarosa continues to promote the book and is committed to telling her story." More...