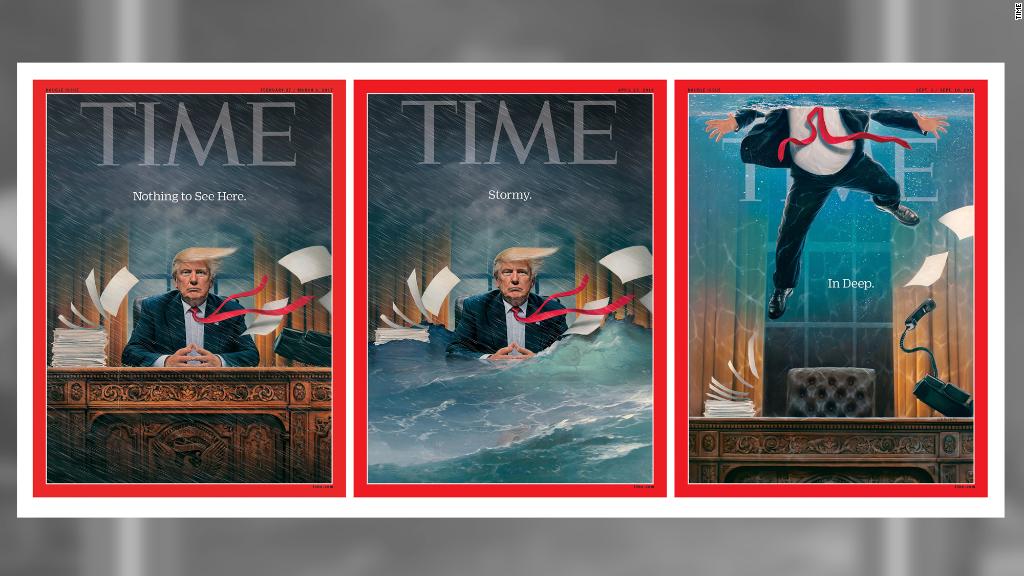 The mounting turmoil surrounding Donald Trump's presidency is laced with complexity and divergent legal theories, a dizzying drama of he-said-she-said that demands a rigorous study of the news.
Or you could just look at a trio of Time Magazine covers. The newest issue, out this week, comes with a provocative, if unsubtle, illustration on the front: the Oval Office is flooded and Trump, up to his neck in water, is treading for his political life.
It's the latest in what has become an intermittent series of sorts for Time Magazine. Since the early days of Trump's presidency, the magazine has depicted the chaos surrounding his administration as an ever-intensifying storm sweeping through the Oval Office.
The first cover came out in February of 2017, a month into Trump's first term, and showed the president's hair upended by a strong gust of wind, papers flying off his desk. In April, more than a year after the first cover, Time ran another iteration, using the same image as the first but with water submerging Trump's desk. That illustration of Trump was adorned with the headline,"Stormy." The cover story in that issue follows the FBI's raid of attorney Michael Cohen's office, where authorities seized documents relating to Cohen's payment to adult film actress Stormy Daniels to keep quiet about an alleged affair with Trump.
And now this week's cover, coming on the heels of news that Trump's former campaign chairman Paul Manafort was found guilty on eight counts of financial crimes and Cohen pleaded guilty to eight criminal counts that include campaign finance violations: a White House deluged with scandal and controversy.
Each image is the work of Tim O'Brien, a Brooklyn artist who has contributed more than two dozen Time covers.
After the first Trump cover back in February of last year, O'Brien said he "assumed the level of chaos could not last." But he told Time that "as the never-ending flood of breaking news washed over the White House, and the firings, the scandals and the general mayhem filled each news cycle, I felt the storm metaphor was as relevant as ever."