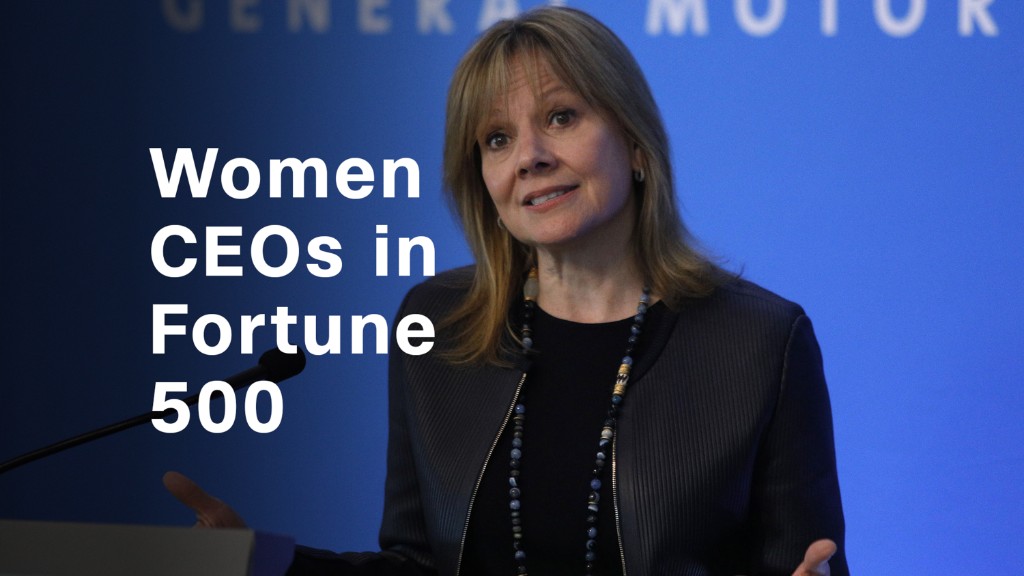 Advanced Micro Devices is winning the chip war against Intel. At least that's what Wall Street thinks.
AMD stock has more than doubled this year and is trading at a nearly 12-year high. That makes AMD the best performer in the S&P 500. AMD (AMD) recently passed heart pump maker Abiomed (ABMD) to take over the top spot.
AMD's gains are partly coming at the expense of semiconductor giant Intel (INTC), whose stock is only up about 2% this year on concerns about lower profit margins and possible product delays.
Intel is also reeling from the scandal that led to the resignation of CEO Brian Krzanich two months ago. (He had an improper relationship with an employee.)
Renaissance in the PC business
But what's really interesting about AMD is that it is benefiting from increased demand for PCs. Yes. PCs! Even though we live in a smartphone world, lots of businesses still need PCs and AMD's Ryzen chips have been taking market share from Intel.
AMD's surge is being led by CEO Lisa Su -- one of the few women CEOs in tech, let alone Corporate America.
Su, a veteran of tech giants Freescale (now owned by NXP (NXPI)), IBM (IBM) and Texas Instruments (TXN), joined AMD in 2012 and was named CEO in 2014.
With Su on board, AMD has strengthened its ties with the big PC companies. She said in a conference call with analysts after its most recent earnings report last month that "we have great relationships" with companies like Dell, HP (HPQ) and Lenovo (LNVGF).
Su added that many of these and other laptop makers have sold out of products using AMD chips. She said the company has quickly restocked and expects that it will have a larger presence in the PC market for the back-to-school and holiday shopping seasons.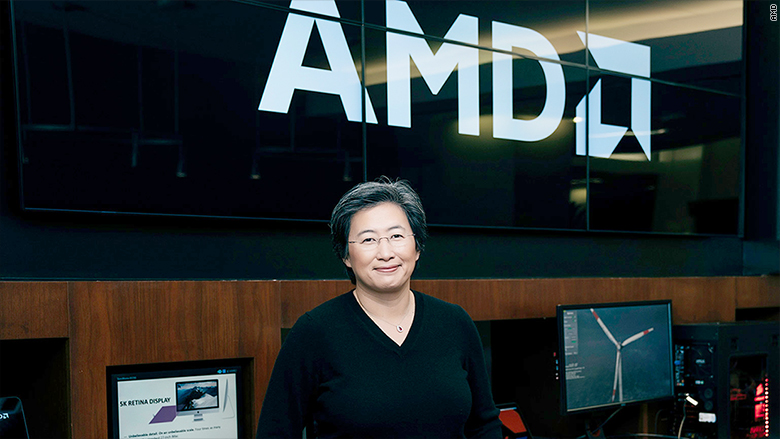 Under Su's watch, AMD also became a bigger player in gaming and is benefiting from the boom in the gaming market. Its Radeon graphics cards are important components for consoles made by Sony (SNE) and Microsoft (MSFT) as well as PC games.
The gaming business has been a huge positive for AMD rival Nvidia (NVDA)as well. Nvidia's shares have also been a market darling, surging nearly 40% in 2018 and more than 1,000% over the past three years.
Graphics processors are also important for cyrptocurrency mining, although both AMD and Nvidia have recently said that demand in the crypto market has started to wane following a huge plunge in the price of bitcoin this year.
But Wall Street is clearly impressed with what Su has done at AMD over the past few years.
"Lisa Su's understated and strong leadership along with consistent messaging to investors/customers has garnered significant accolades," said Rosenblatt Securities analyst Hans Mosesmann in a report this week.
Mosesmann upgraded his price target for AMD to $30. That's the highest on Wall Street and 30% higher than its current price.
Next up, Fortune 500?
But the next big task for AMD may be stepping up its advertising in order to further take advantage of some of Intel's problems. Intel made a big name for itself with its Intel Inside marketing campaign.
Su told analysts in July there's no reason AMD can't be a more recognizable company for consumers either. She said the company is very focused on boosting awareness for both the Ryzen and Radeon brands.
And if all that works out, Su could find herself as head of a Fortune 500 company at this time next year.
AMD came in at 506 in the magazine's most recent ranking, which is based on annual sales. Analysts are forecasting a revenue jump of more than 25% for AMD in 2018.