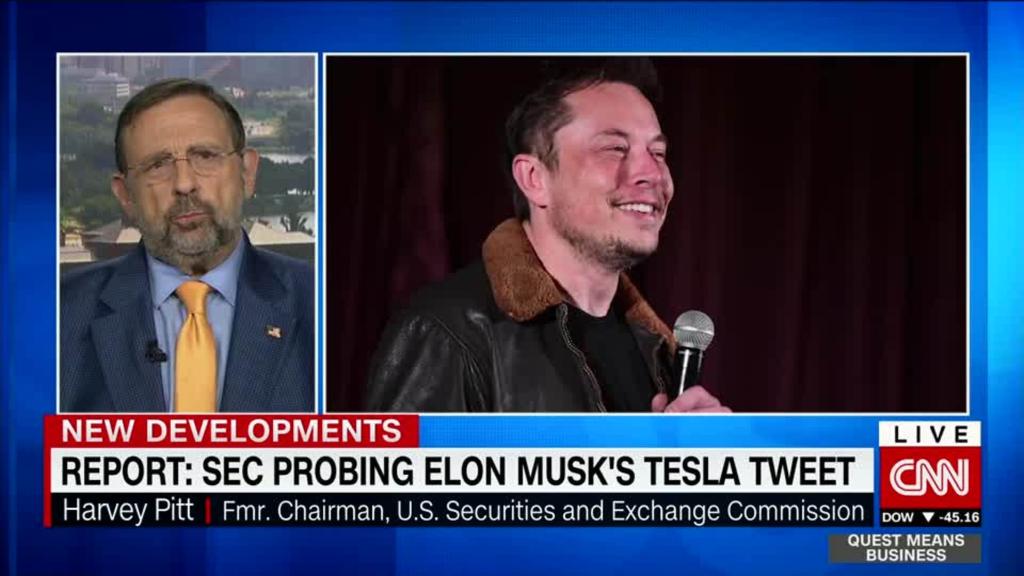 Tesla stock sank in recent weeks on doubts about Elon Musk's plans to take the company private. Investors don't seem much happier with his decision to stay public.
The stock was down about 2% in early trading on Monday, at $316. That would represent a drop of about 18% from its high on August 7, moments after Musk tweeted his plans to take the company private.
The decline over the last three weeks has shaved $12 billion off the value of Tesla (TSLA) stock, although it is still worth more than some established automakers such as GM (GM) and Ford (F). The value of Musk's personal stake has fallen $2.4 billion.
The market never seemed to believe that Musk could pull off his plan to buy out shareholders at $420 a share. The highest the stock reached was $387 on that first day, about 8% below Musk's proposed price. And it never got near that price again.
Late Friday, Musk announced he would abandon plans to go private. He said shareholders large and small had made clear they would prefer a public Tesla, and that taking it private would be more time-consuming and distracted than he thought.
"We absolutely must stay focused on ramping Model 3 and becoming profitable," he said.
But some investors will doubt whether Musk can live up to promises that Tesla can maintain its production goal of 5,000 Model 3s per week can be maintained, and whether that will give the company the cash flow it needs to become profitable.
Tesla has posted narrow quarterly profits only twice. Musk has said the company will be profitable in the second half of this year.
Musk still faces possible sanctions from the SEC and shareholder lawsuits over his August 7 tweet, which promised he had "funding secured" to take Tesla private. The shareholder suits charge that was an improper effort to manipulate the stock. And the SEC is reportedly looking into the matter.
Tesla and the SEC have declined comment on a possible investigation to CNNMoney. Tesla has declined to comment on the shareholder suits.