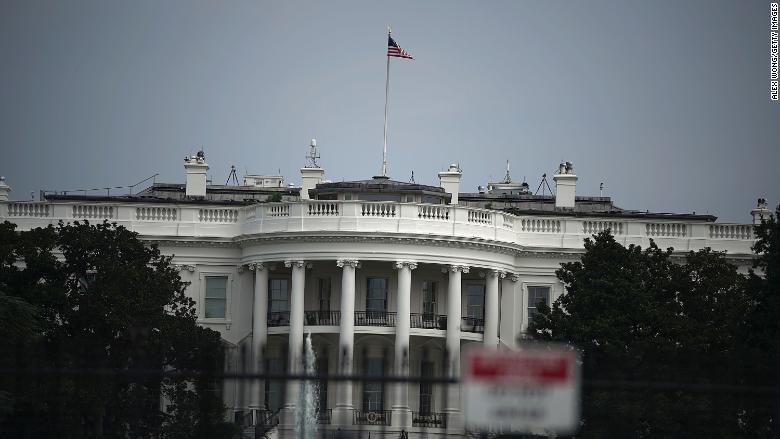 A version of this article first appeared in the Reliable Sources newsletter. You can sign up for free right here.
"None of this should have been hard"
John Berman opened up "AC360" Monday night perplexed. Perplexed as to why it took the White House a storm of controversy to do what was right and offer praise for Sen. John McCain. "What took so long? And why was the president in the wrong place two full days after the senator died?" Berman asked. "What was so hard?"Berman added, "None of this should have been hard."
He's right -- none of this should have been hard. But the White House chose to begin the week with another self-inflicted PR wound, instead of doing what was right from the start. While the federal buildings in the surrounding area continued to lower their flags in honor of McCain, the White House did the opposite Monday morning. The flags were raised to full staff, igniting a whirlwind of controversy -- a controversy the White House ultimately had to quell by lowering the flags back to half staff and issuing a statement from the President. Talk about a PR blunder...
Bad optics
Throughout the day, at several different times, reporters asked Trump if he had any thoughts to share on McCain. Each of those times, Trump declined to comment. At one point he just chose to stare straight ahead as ABC's Jon Karl questioned him just a few feet away. Video of reporters asking Trump questions about McCain and the president awkwardly ignoring them played on cable news throughout the day. The optics were bad, to say the least.
Behind the scenes
NYT's Katie Rogers, Nicholas Fandos, and Maggie Haberman published new reporting Monday night about what was taking place behind the scenes at the White House. According to their reporting, Trump initially "refused repeated requests" from VP Mike Pence and John Kelly to acknowledge McCain's death with a statement...
The tipping point
Something changed later in the day, and Trump finally released a statement lauding McCain's military service and ordering the flag to be lowered until Saturday. So what happened? That part is unclear. Asked about Trump's change in heart, Sarah Sanders told CNN that Trump's decision and statement "speaks for itself."
>> Jim Acosta on Twitter: "Make no mistake. The president and his team had every opportunity to get this right. It took nearly 48 hours for WH to do what should have been done Saturday -- issue a full, respectful statement honoring McCain along with a proclamation that orders flags to fly at half-staff."
Bloomberg reassigned reporter after Wells Fargo CEO called to complain
Wells Fargo and Bloomberg News are facing some heat. Earlier today, I reported via sources that a Bloomberg News reporter who covered Wells Fargo was reassigned earlier this year after the bank's CEO phoned the news organization's editor in chief and complained about the reporter. That incident, I'm told, rocked the banking team and was a contributing factor in the departures of some of the unit's veteran reporters. You can read my full story here...
What happened
>> The Bloomberg News reporter, Shahien Nasirpour, wrote a story in March that called Wells Fargo the "preferred financier for the U.S. gun industry."
>> After his story, Wells Fargo CEO Tim Sloan sent an internal memo to employees reacting to the story.
>> The Wall Street Journal obtained Sloan's memo and published a story on it. Nasirpour asked Wells Fargo PR for a copy of the memo, but the bank declined his request. A heated conversation ensued between Nasirpour and a spokesperson for the bank.
>> Following the contentious convo, a member of Wells Fargo PR contacted Caroline Gage, global executive editor for finance at Bloomberg News. Gage asked Nasirpour to apologize to Wells Fargo PR. Nasirpour agreed to do so and did.
>> Later in the month, Bloomberg EIC John Micklethwait summoned Nasirpour for a convo. He told Nasirpour that Sloan had called to complain about his conduct. Then, to Nasirpour's surprise, he said he had made the decision to reassign him to cover the Trump Organization.
"We make decisions...purely on what is best for our readers"
In a statement, a Bloomberg News spokesperson told me, "Bloomberg publishes 5,000 stories a day and, like every news organization, we get push back from the companies we cover. We make decisions about how we cover those companies based purely on what is best for our readers." A Wells Fargo spokesperson declined comment.
Read more of Monday's Reliable Sources newsletter... And subscribe here to receive future editions in your inbox...
Warren slams Wells Fargo CEO
Reacting to the news, Sen. Elizabeth Warren issued a fiery tweet, writing that Wells Fargo customers "would be better off if CEO Tim Sloan focused more on addressing the dozens of scandals plaguing his bank, and less on getting a good journalist reassigned for doing his job (which includes reporting on those scandals)."
I'm curious...
This whole episode has me wondering: How often does Wells Fargo CEO Tim Sloan phone news outlets to complain about reporters/press coverage?