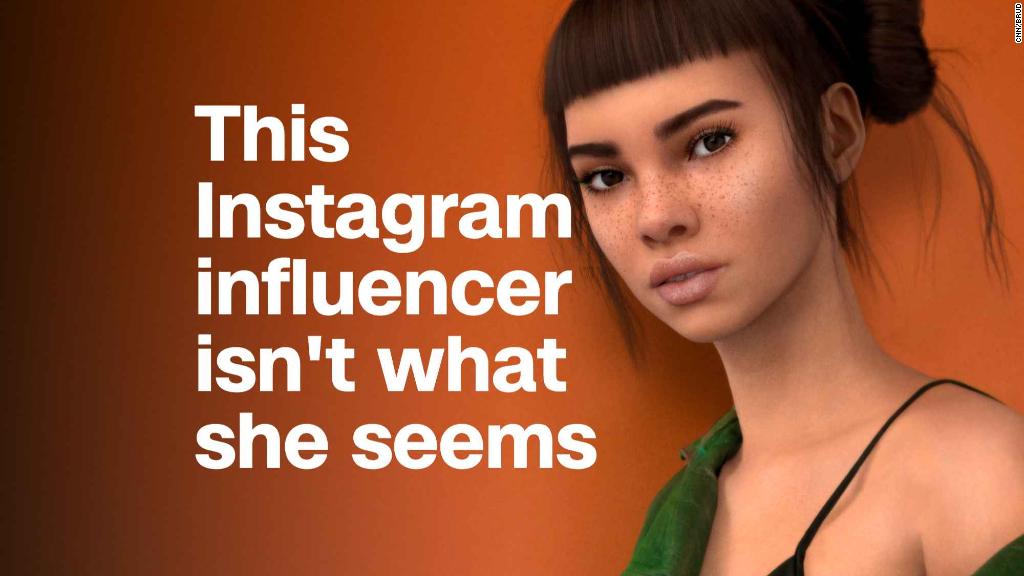 Instagram just announced three features designed to bring a measure of security and peace of mind to the platform as it tries to avoid some of the trust issues roiling its parent company, Facebook.
The new tools will make it much easier for users to know who's actually behind some of the platform's biggest accounts. It also is introducing a new verification system for celebrities and public figures, and offers support for the use of third-party authenticator apps.
The goal is to increase transparency and help users learn more about the accounts they follow. Instagram wants to address some of the problems facing it and other platforms, such as Facebook (FB) and Twitter (TWTR), which have in recent weeks shut down hundreds of accounts linked to Iran, Russia and others seeking to sow discord and disinformation.
"Keeping people with bad intentions off our platform is incredibly important to me," said Mike Krieger, cofounder and chief technology officer of Instagram, in a blog post. "That means trying to make sure the people you follow and the accounts you interact with are who they say they are, and stopping bad actors before they cause harm."
The "About This Account" tool lets users check the legitimacy of any account that reaches "a large audience" by revealing a wealth of information that can indicate its authenticity. The details include when the account started, the country in which it's located, other accounts with shared followers, any username changes in the past year and ads the account is currently running.
Facebook would not share how many followers an account must have, but said it's focused on accounts that have a significant risk of misleading people.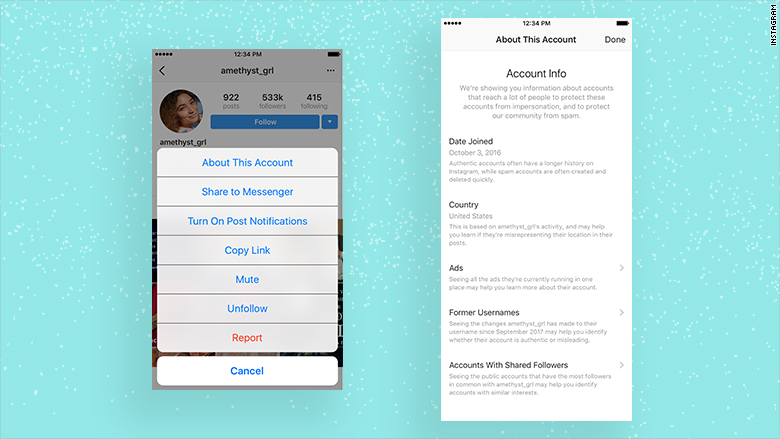 Celebrities, public figures, and other notable accounts can also now apply to have their accounts verified by providing Instagram with their user name, full name, and a copy of a legal or business ID. Once verified, their accounts will feature a blue "verified" badge similar to the one Twitter uses, letting people know the account is the real deal.
It's also adding the option to use third-party authenticator apps, such as Google Authenticator, for a secure way to log into Instagram.
Instagram hopes the increased transparency will help users weed out the sort of fake accounts and pages that have peppered social media in recent years. Last week, Facebook said it had taken down 652 pages, accounts and groups — including some on Instagram — that it identified as part of coordinated disinformation campaigns that originated in Iran. Twitter and Google (GOOGL) said they had also disabled similar Iran-linked accounts on their platforms.
Earlier this year CNN reported the biggest page on Facebook claiming to be part of the Black Lives Matter movement was a scam with ties to a middle-aged white man in Australia.
Analysts say Instagram's latest efforts are a way for it to try to avoid future issues.
"In all this discussion of fake news and [election] meddling, Facebook has been much more in the crosshairs than Instagram," said Debra Aho Williamson, principal analyst at research firm eMarketer. "Instagram has been perceived as a safe haven."
By introducing these features, it can help indicate to users that Instagram takes safety and the accuracy of information shared on its platform seriously.
"It's becoming the unfortunate reality of social media," Williamson said. "These services need to go the extra mile."