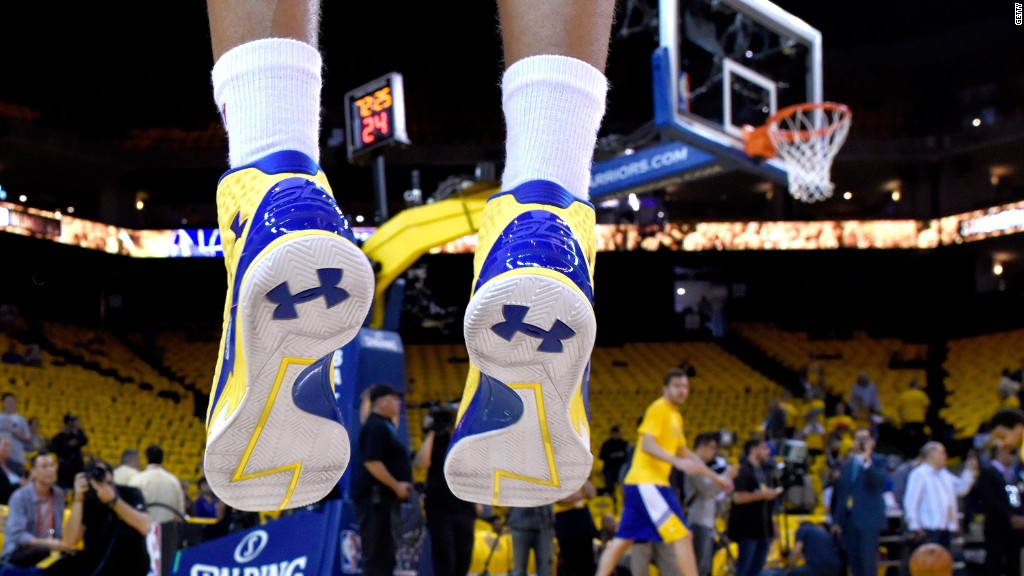 Dick's Sporting Goods had a tough quarter because of Under Armour — not guns.
The nation's largest sporting goods retailer said sales fell at stores open for at least a year. The decline was worse than analysts expected, and the stock fell around 7% Wednesday morning.
Dick's (DKS) placed the blame squarely on Under Armour (UA): "We experienced continued significant declines in Under Armour sales as a result of their decision to expand distribution," CEO Edward Stack said in a release.
Fissure with Under Armour
Under Armour has started to sell more at department stores like Kohl's (KSS) and Macy's (M) as the brand tries to break out of a slump and reach more middle-income shoppers. Kohl's has said Under Armour's sales have surged since the expanded partnership began.
But that left Dick's in a bind.
At Dick's stores, Under Armour clothes and sneakers are usually placed in the back and are not much different than the merchandise Kohl's sells, noted Jane Hali, the CEO of investment research firm Jane Hali & Associates.
The tension with Under Armour reflects how closely Dick's fortunes are tied to the success of vendors and their own distribution strategies.
Under Armour dropped 4% during early Wednesday trading as investors worried about its relationship with Dick's.
Gun question
Dick's policy on guns had little impact on its results last quarter.
After the deadly February high school shooting in Parkland, Florida, Dick's announced it would stop selling assault-style weapons and high-capacity magazines. It also raised the minimum age for gun sales to 21.
Last quarter, Dick's stock surged 27% after it reported a big jump in online sales and stemmed in-store losses.
Dick's even said in its latest annual filing that customer demand for firearms and hunting merchandise had been weak, leading to sluggish sales.
"Dick's disappointing earnings are not about their ban on assault rifle sales or any of their other social stances," said Bob Phibbs, CEO of the consulting firm Retail Doctor.
What's working at Dick's
Despite a weak spot in Under Armour, Dick's has strengthened other areas of its business.
It has also benefited from a changing sports retail environment.
Dick's has been taking advantage of the collapse of Sports Authority and Golfsmith. "The sporting goods industry is experiencing consolidation as competitor bankruptcies are leaving behind significant market share," Dick's said in the annual filing.
Online sales, athletic clothes, and Dick's exclusive brands like CALIA by Carrie Underwood and Reebok posted double-digit increases last quarter. Dick's moves to sharpen its focus on digital growth and private labels are paying off.
Another positive sign: Dick's inventory level shrunk last quarter. That means it is making smart merchandise decisions and avoiding getting caught carrying too much stuff.
The retailer is currently going through a broad strategy change.
It is opening fewer stores a year and investing more money in improving online delivery speed and offering better prices. It used to outsource its website to third-party providers, but took control of digital operations last year.
Dick's long game
Dick's believes it can leverage its reputation and experience selling sporting goods to create an in-store experience athletes and sportswear shoppers can't find at big box retailers or online.
Dick's is trying to become a place customers go with questions about which baseball bat or basketball shoe to buy.
For example, it has invested in little league and youth sports sponsorships as a way to "stay top-of-mind for athletes and their families." It also wants to improve its selection of higher-margin white-label brands to differentiate itself.
Phibbs, however, believes Dick's is falling short of helping shoppers make decisions about sports equipment.
"Dick's isn't investing in the customer experience," he said. "They are leaving money on the table when customers walk into their stores and don't receive the help they need."
Continuing to invest in low prices and improving stores will become key for Dick's in the coming months as it attempts to stand out in a crowded retail landscape.
A looming danger: Nike, Dick's largest customer, is overhauling its business model. It is selling more of its sneakers and clothes through its own apps and stores, rather than relying on retailers.