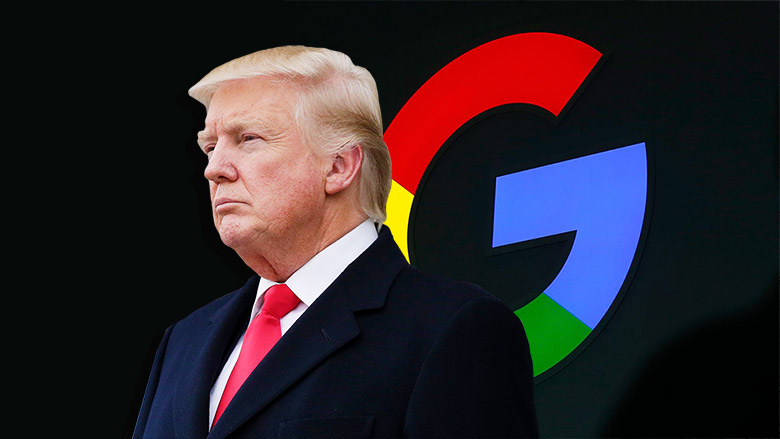 A version of this article first appeared in the Reliable Sources newsletter. You can sign up for free right here.
Welcome to the Reliable Sources newsletter and congratulations on making it halfway through the week. This is Oliver Darcy again at the helm.
Trump continues war with Big Tech
President Trump's war with Google (GOOG) spilled into a second day on Wednesday. The president raised eyebrows when he posted a video to Twitter that suggested Google had promoted President Obama's State of the Union addresses, but not his. "#StopTheBias," Trump tweeted. The problem? Google said in a statement shortly after that it had in fact promoted Trump's 2018 address... BuzzFeed has a full debunk here...
>> Full statement from a Google spokesperson: "On January 30 2018, we highlighted the livestream of President Trump's State of the Union on the google.com homepage. We have historically not promoted the first address to Congress by a new president, which is technically not a State of the Union address. As a result, we didn't include a promotion on google.com for this address in either 2009 or 2017."
White House mum
After receiving Google's statement, I reached out to Sarah Sanders. I asked her if the White House will address the matter or issue a correction. I also asked why the president was sharing misleading info aimed at damaging a private business on Twitter. I didn't receive a response...
Steve Bannon, however, has some thoughts...
One person who did want to chat was Steve Bannon. I had texted Bannon earlier in the day to see what he made of Trump's war on Big Tech. Bannon, after all, has been talking about this tech stuff for some time now. Earlier tonight he gave me a ring. Some highlights of what he said...
>> Asked about Trump pushing misleading info to advance a war on Big Tech, Bannon said, "The president often times sees information and thinks it ought to be in the public dialogue." Bannon said the "direction" of Trump's rhetoric is "correct" and that his tweets on issues often help get things "into the conversation."
>> Bannon said Big Tech's data should be seized and put in a "public trust." Specifically, Bannon said, "I think you take [the data] away from the companies. All that data they have is put in a public trust. They can use it. And people can opt in and opt out. That trust is run by an independent board of directors. It just can't be that [Big Tech is] the sole proprietors of this data...I think this is a public good." Bannon added that Big Tech companies "have to be broken up" just like Teddy Roosevelt broke up the trusts."
>> Bannon attacked the executives of Facebook (FB), Twitter (TWTR) and Google. "These are run by sociopaths," he said. "These people are complete narcissists. These people ought to be controlled, they ought to be regulated." At one point during the phone call, Bannon said, "These people are evil. There is no doubt about that."
>> Bannon said he thinks "this is going to be a massive issue" in future elections. He said he thinks it will probably take until 2020 to fully blossom as a campaign issue, explaining, "I think by the time 2020 comes along, this will be a burning issue. I think this will be one of the biggest domestic issues." Bannon said the "#MeToo movement has brought the issue of consent front and center" and argued that "this is going to bring the issue of digital consent front and center."
Swisher's take
Kara Swisher, on the other hand, does not appear to be a fan of Trump's Big Tech rhetoric. She wrote a blistering piece in the NYT on Wednesday, skewering Trump for what she said was a "ludicrous attack" on Big Tech. In her piece's opening line, Swisher wrote, "Here's the truest conundrum of the social media age: Those who complain loudest about being silenced never ever shut up."
>> Another section of interest: "Rather than attacking techies, he should send them a gold-embossed thank you note. Instead, as is his way, Mr. Trump huffs and puffs away on issues that have finally bubbled up to him from the ever-growing cesspool of online anger, especially the truly ludicrous idea that Silicon Valley does not like conservatives."
Author of bogus Google study: Regulation of Big Tech not the answer
The blogger who wrote the bogus study that asserted 96% of results returned by Google for the "Trump news" search query wrote an op-ed in WaPo on Wednesday. In the op-ed, Paula Bolyard said she stood by her study, but shot down the idea of regulating Big Tech.
Read more of Wednesday's Reliable Sources newsletter... And subscribe here to receive future editions in your inbox...
>> Bolyard: "Let me be clear: While suspicions about inherent biases being baked into the systems at Google and other tech platforms are certainly warranted, I do not believe that government regulations are the answer to that problem."
This all sets the table for next week's hearing...
Donie O'Sullivan emails: Sheryl Sandberg, Jack Dorsey, and an empty chair. Next week's Senate Intel Committee hearing on what social media companies are doing to protect the integrity of the midterm elections could turn into quite the spectacle. The committee asked for someone from Google or its parent company's C-suite, but instead the company offered a lieutenant. Not good enough, say Senators Richard Burr and Mark Warner...
A source familiar with the committee's negotiations with Google told me that Google's unwillingness to send a senior executive was a rookie error. "Here's the irony - this would've been an easy way for Google to win some goodwill. Pichai could've sat there, looking cooperative, while Facebook and Twitter took the vast majority of the incoming [questions from senators]," the source said.
>> My take: The source is right -- Facebook takes a lot more heat on this topic than Google and Twitter.